I should totally create this kit and market it on eBay to all brides:
Mags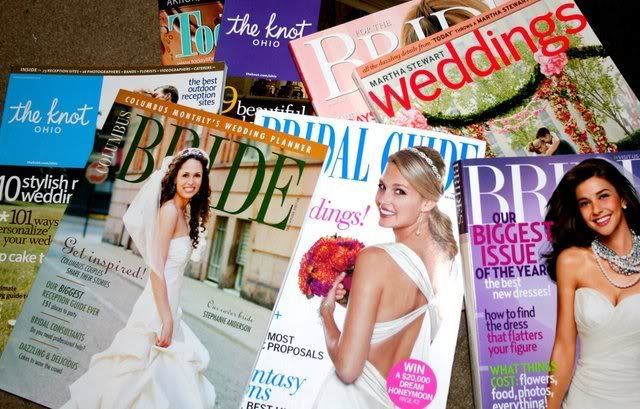 Of course, pretty much every bride starts with bridal magazines. I love them and can't get enough, even though they do make me feel bad for not having $40,000 to spend on a wedding! It makes me laugh to read about crazy brides, though. Can you imagine crying because the color of the garlands doesn't match the color on the thank you note trim? Good times. I'm not supposed to keep all of the ones I buy because we don't have the room, so every little while I rip out the pages that I like and give the rest to an engaged friend.
Books (the best)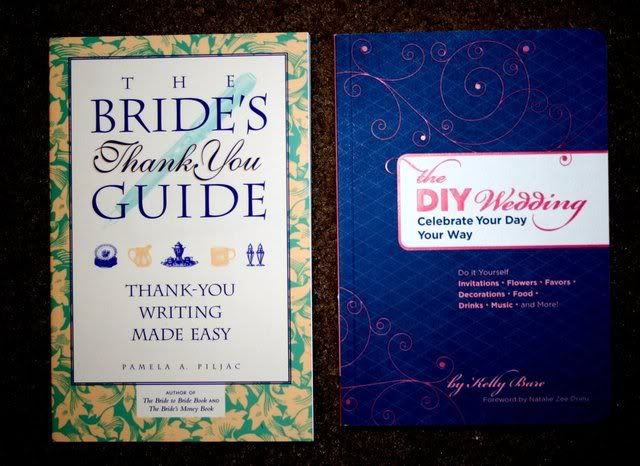 I hit Barnes and Noble not too long after we were engaged and scoured the aisles. Ultimately, these were the best buys. The thank you note book has already come in handy because I never know what to say in thank you notes and I had to do a bunch for christmas, our engagement, and my birthday. It's cheap and a lifesaver. I highly recommend it. The DIY book is fantastic. It includes a lot of great website suggestions, like http://www.wastenotpaper.com and http://www.mygatsby.com.
Books (the worst)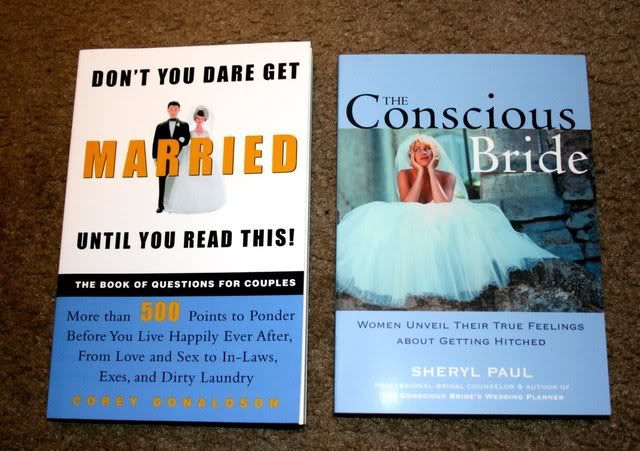 I absolutely hate it when I realize I've wasted money on books, and let me tell you: these books were a WASTE! Kyle and I are still trying to get through the book of questions to ask each other, but we aren't really getting anything out of it. I might be a bad fiance, but I don't really care what kind of sea creature he sees himself as. The other book was bought after I read Emotionally Engaged (which I COMPLETELY recommend) but this one just doesn't quite meet expectations. I think it's for people who really, really get nervous when they think about getting married. I'm dying to get married. Bring on the bells.
Book (the Disney)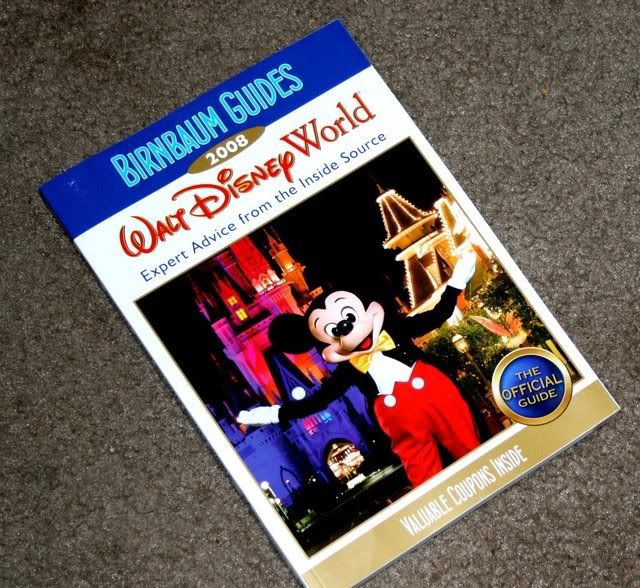 We read a ton of travel guides, but this is the one I'm using for the wedding planning. It's great because you can easily find little things to tell your guests or stick in the newsletter, and we always use at least some of the coupons. Even if you're truly disneyfied, an updated guide book comes in handy and these are the best of the best.
Box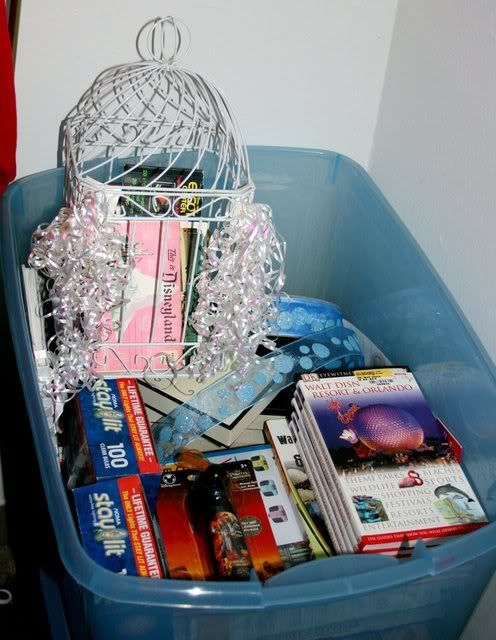 I'm not allowed to leave wedding stuff all over the apartment for the next 10 months (mean, controlling fiance who would rather sit on the couch than use it to hold craft supplies and invitations). So, I've been given the hall closet and some big old rubbermaid tubs. I guess I'll survive.

Bag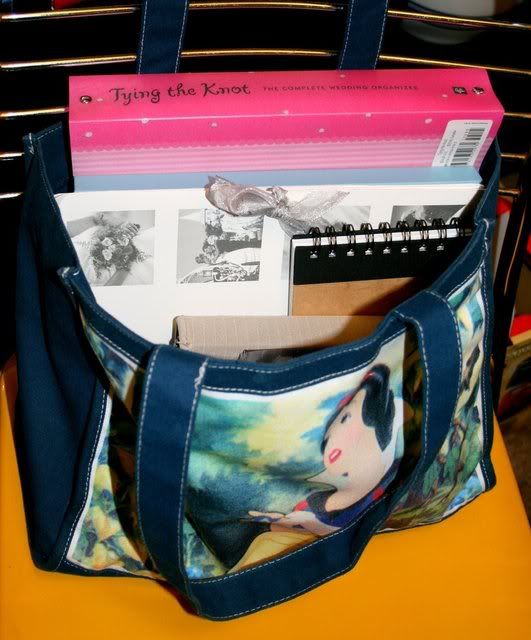 This is the official wedding tote. I use it to carry the latest magazines and my planning stuff around the apartment and it comes in really handy when we head upstate for a weekend with the inlaws. In the bag: a series of colored pens and highlighters, scotch tape, scissors, post-its, headbands and hairclips, my DFTW folder, a small spiral notebook for making lists, a box of thank you cards for engagement gifts, the wedding planner my attendant Nate got me (cute because he's a total guy and ended up buying me the pinkest planner out there when I made him a bridesmaid), and my blue book.

Blue Book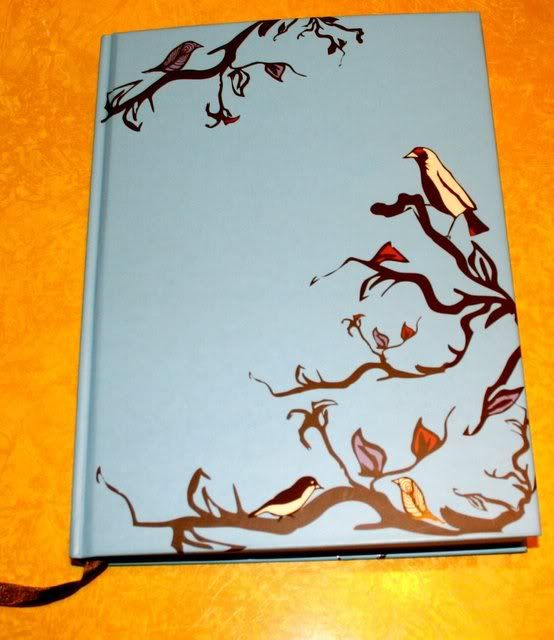 LOVE the blue book. Don't know how I'd survive without the blue book. The blue book is a large blank journal I bought at B&N (the company who makes them is called Working Class Studio). It has hard covers and big blank pages that are perforated for easy tear out. I use it as a general idea/inspiration/design journal. It's also where I put the torn out magazine pages. The great thing is that anything can be taped into the book, so I have engagement cards, magazine articles, advertisements, magnet samples, fabric samples, receipts, and other little things all mixed in with my lists, doodles, and notes. I'm about halfway through with it and I'm hoping it lasts me to my wedding day because it's so fantastic! I highly, highly recommend it.