So, since we last talked, two things happened. Or rather, one thing didn't happen but should've and then another happened hardcore. The first is that I canceled my haircut when I woke up feeling sick and indecisive. So, here I am with split ends and more time to make that ever important highlighting decision. The second is that my bachelorette party was last night. Booyah.
I'll admit it, I'm not a huge fan of bachelorette parties. Most of my friends didn't really have them when I lived in Utah and the few that did totally ran with that whole "last night as a single girl thing." Personally, I don't think an impending marriage is any reason to hang out in trashy bars and have strangers lick things off of you, but apparently I just didn't get it.
Anyway, I was understandably nervous about the whole bachelorette party idea. I actually didn't even want to have one originally, but I was talked into it (or overruled, depending on how you look at it) and so, last night, I was at the mercy of Neaner and her party scheming…
…and it was seriously the most fun I've had…maybe ever.
It started when Drew picked me up and drove me over to Neaner's apartment. The guest list turned out to include my five absolute favorite people from law school…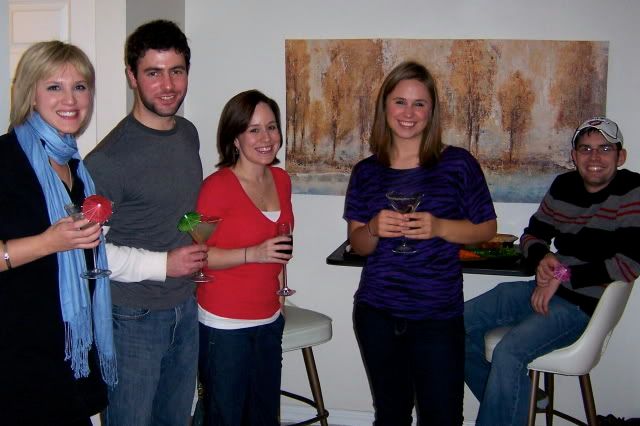 Kristen, Nate, Emily, Janean, and Drew
…and they had gone all out. They decorated the apartment in our wedding colors: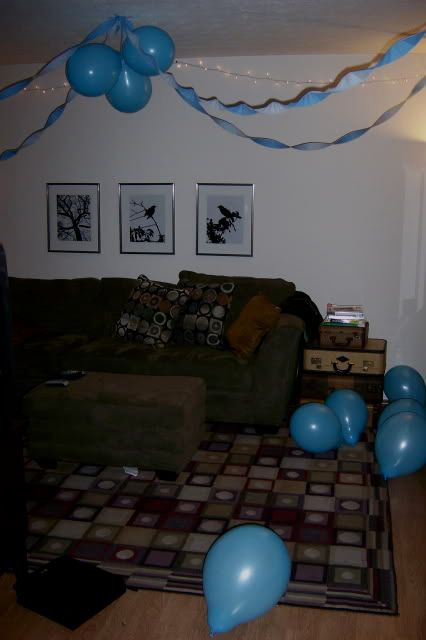 And Kristen made me the world's greatest bachelorette party cake, complete with Officer Johnson, male stripper: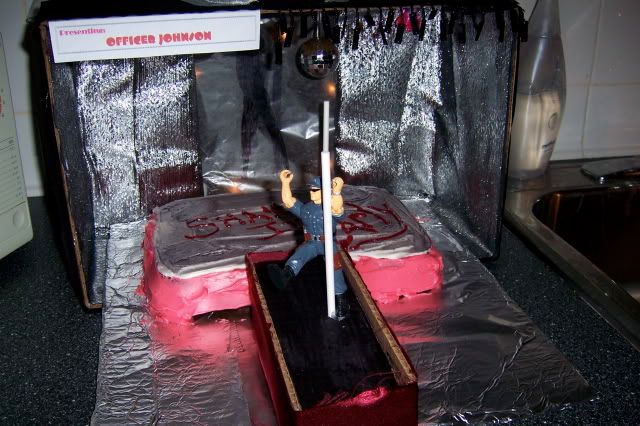 (this is what it actually looked like when I saw it. I love the lighting effects madly.)

I also got a sash and a veil. I'm actually not sure who made the sash…I think Neaner made it, but Nate was unreasonably excited about it for some reason.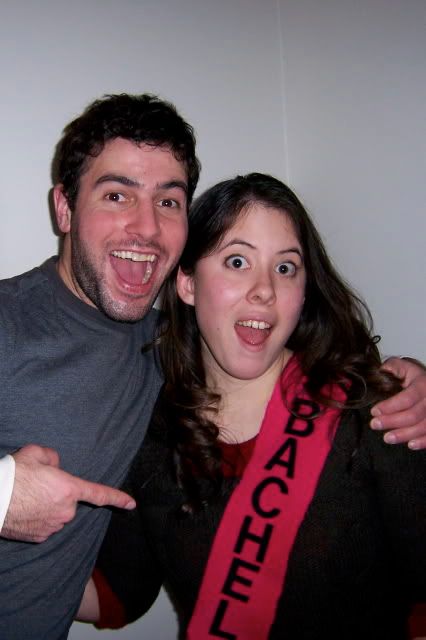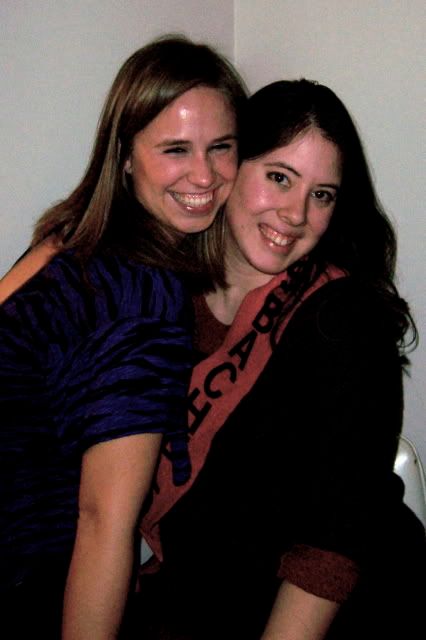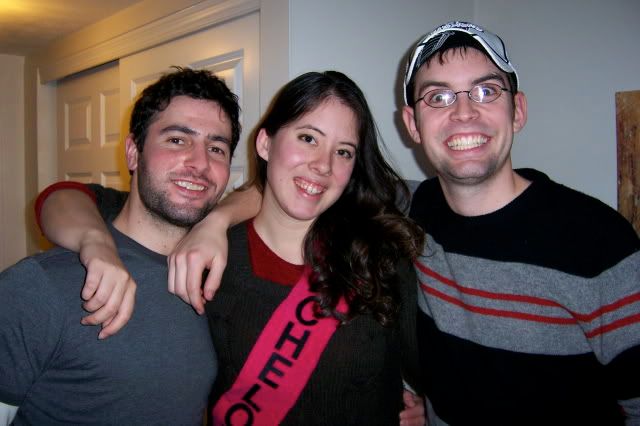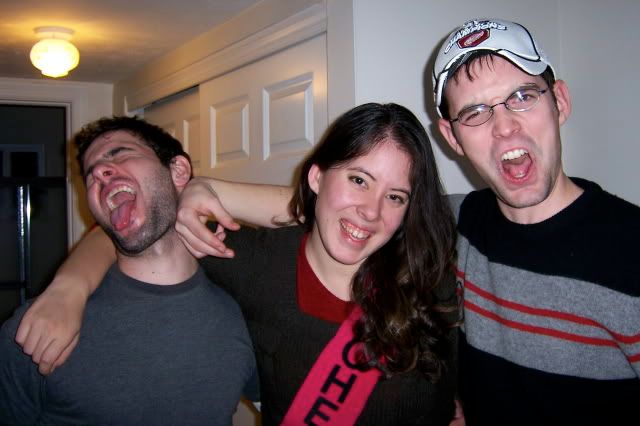 (Drew checking out Nate's man stubble)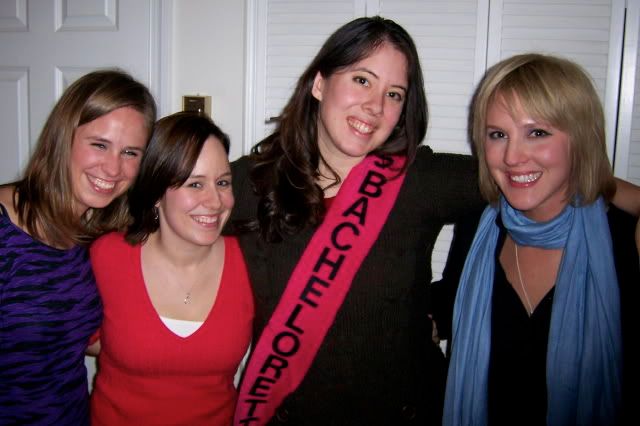 Janean made all sorts of treats and yummies, which is impressive because she's not that in to cooking. I was worried that everyone was going to push carbs on me, but they'd provided shrimp and raw vegetables in support of me not being a wedding day blimp. Everyone also helped out by taking care of the pizza rolls for me, so I wouldn't be tempted. Thanks, guys!
After we snacked and chatted and drank for a while, Kristen gave me an early wedding present, which she wrapped up in custom gift wrap featuring our engagement picture!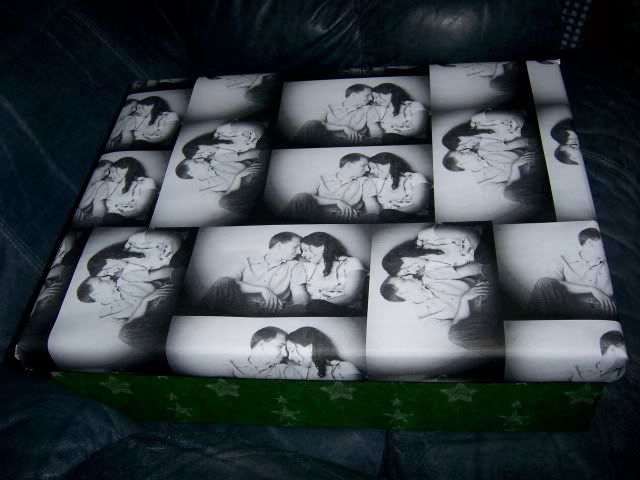 She'd gotten us Apples to Apples! Anyone who knows us knows that we're big time into board games and party games, so I was really excited. We broke it out immediately…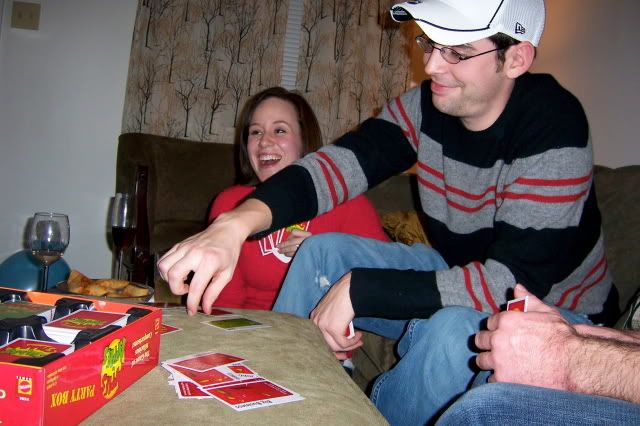 Throughout all of this, drinks were being served. I was actually doing ok even past my ninth shot of JD, but then Neaner gave me and the boys a Tequila shot…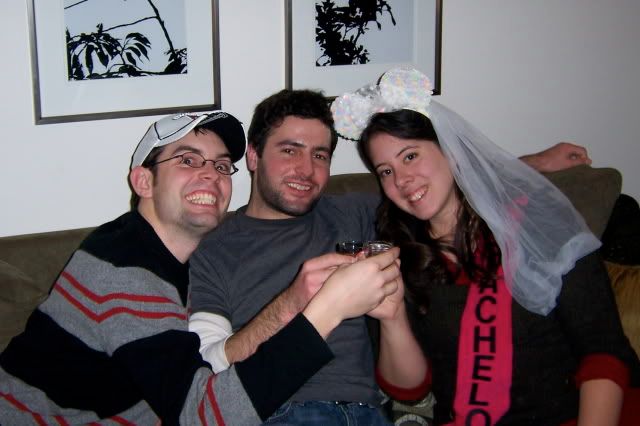 …and that was the beginning of the downward spiral…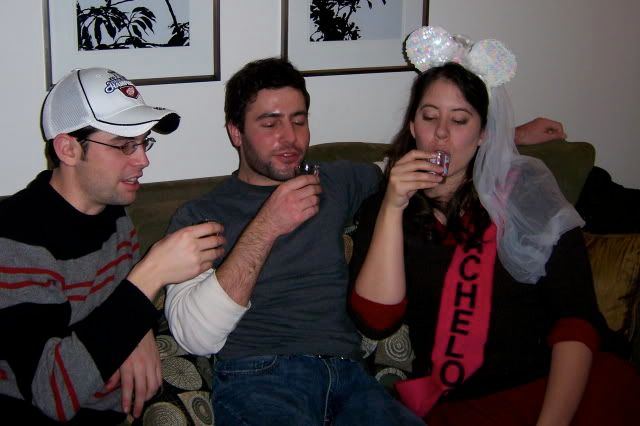 …which involved lots of hugging and playing with huge balloons…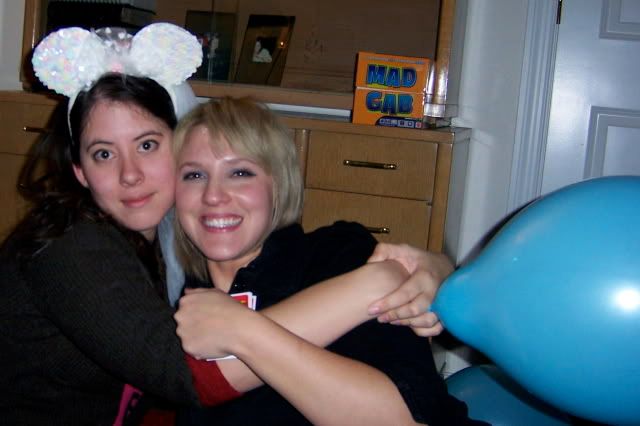 …until we went out into the world to share the madness…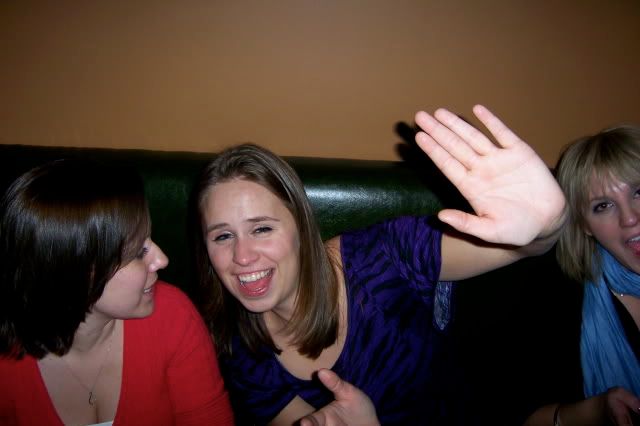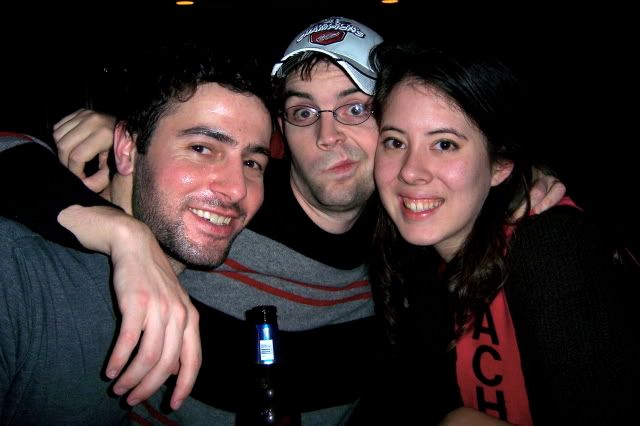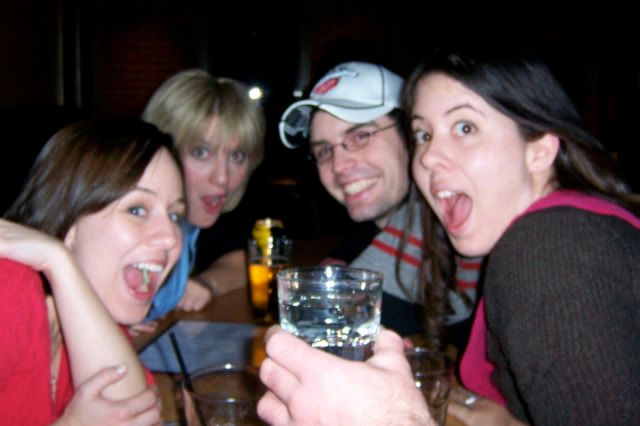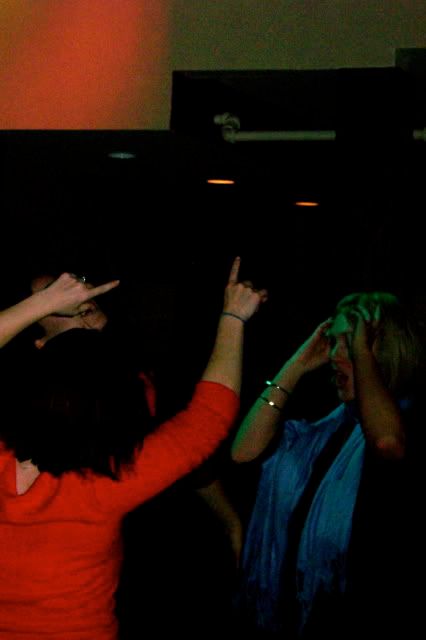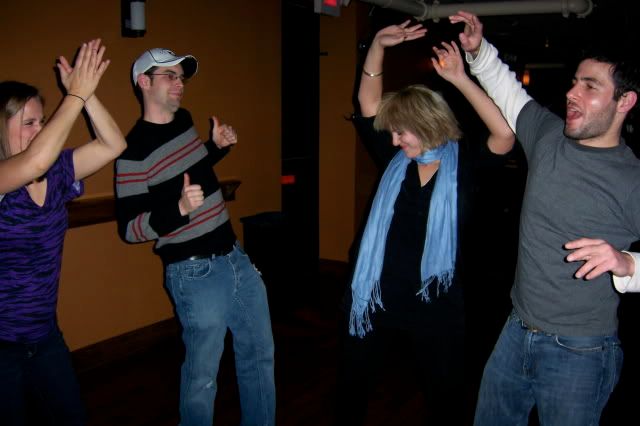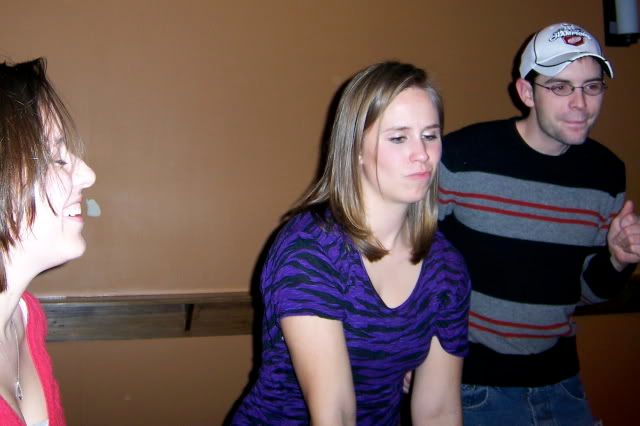 (I'm so much cooler when I'm on the south side of 20 cocktails, don't you think?)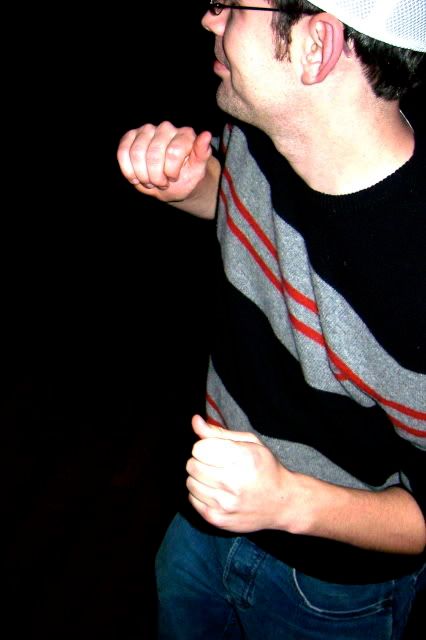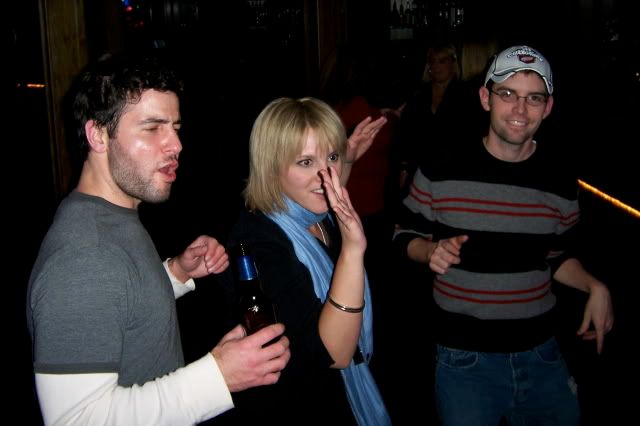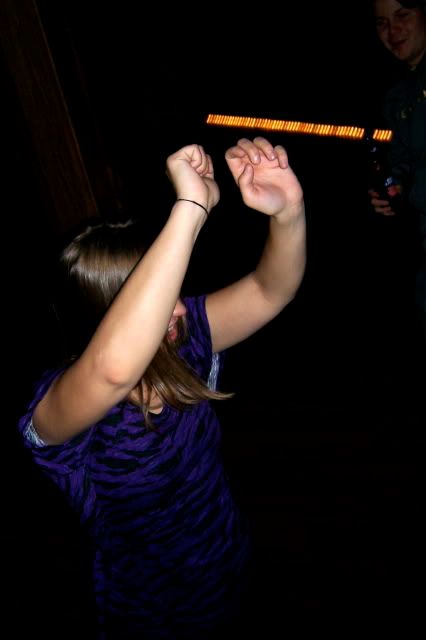 And then, somewhere through the haze, Emily grabbed me and announced that she was dealing with a wardrobe malfunction. She told me that she ripped her jeans, but when she turned around I realized that she really needed to have said "I was wearing jeans and now I'm pretty much not." Her brand new Banana Republic jeans completely failed her.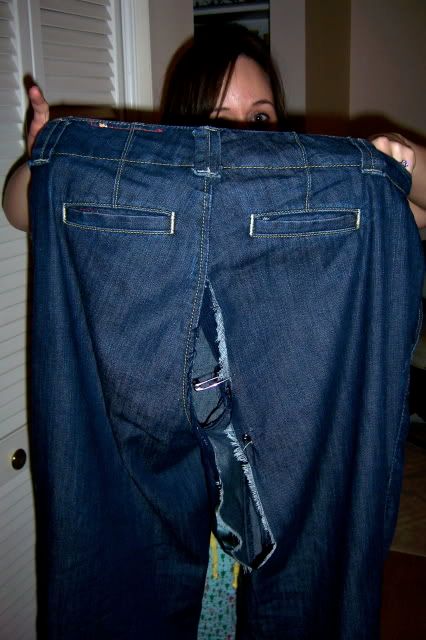 So that pretty much wrapped up our evening out, which was good because they had to pour me into the car as it was and my feet/legs are killing me this morning. I also have a mysterious scratch on my chin and Kristen had a raised bruise on her hand this morning, so who knows what might have happened to us if Emily's pants hadn't decided to try to leave on their own.
We went back to Neaner's and watched Grease for a while in our PJs, but around 3 AM we were realizing that we might have outgrown the party-all-night phase of life.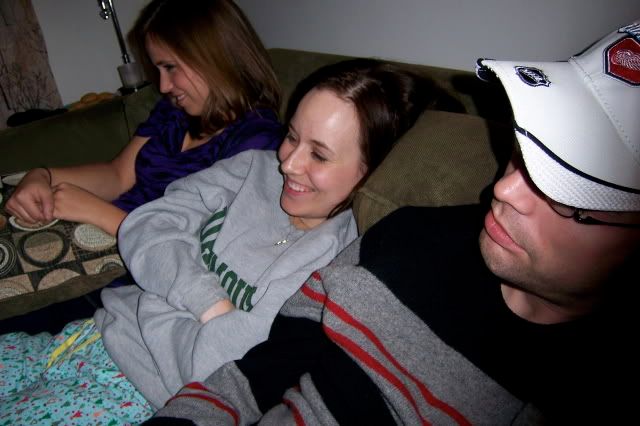 This morning brought one of my favorite party weekend traditions: Sunday morning breakfasts at the diner. I even let myself have carbs (an english muffin!) so I'm pretty much in deficit as far as being a good dieter for the week, but it was so worth it.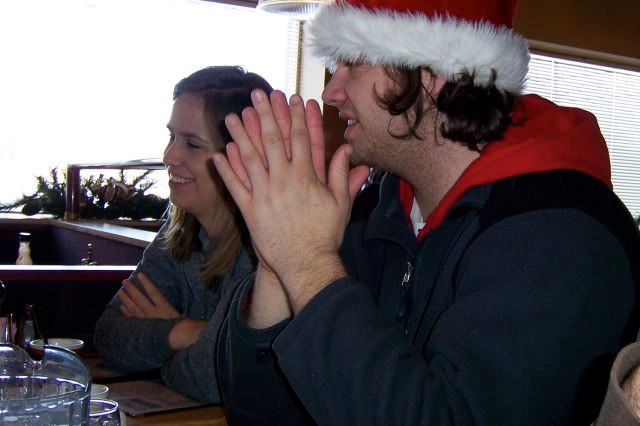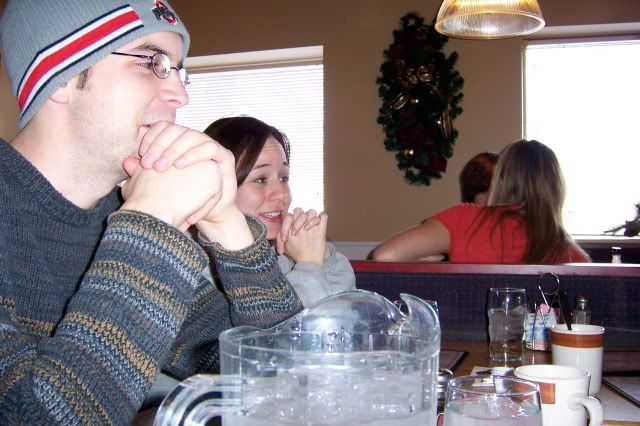 Thanks to everyone who came out…I had an amazing time. Love you guys!!