Day One (Saturday) – Part One
We woke up at 4:30AM on Saturday morning. I had printed out our itinerary the night before and had a general sense that our plane left around 6:30, but being completely neurotic I always like to arrive at the airport really early. Our friend Grey, who is our official drive-us-to-the-airport friend, showed up at 4:45 (bless his heart) and we ran around like headless chickens trying to get everything into the car.
We had woken up a little by the time we got to the airport (10 min drive) but apparently we hadn't woken up enough because when we got to the check-in kiosk we realized two things: 1) I had left my wallet attached to the keys in the ignition of the car Grey was driving back to our apt and 2) We had forgotten one of our bags. This really just points to my insane state of mind. I usually check, re-check, and triple-check EVERYTHING before we fly anywhere. I don't think I've forgotten a bag for anything in my life and here we were, with Kyle and Grey doing 80 MPH back to our place and me chewing my nails to stubs in front of the Delta check-in desk.
By the time Kyle came back with the lost bag and my wallet, it was 5:45. I wasn't worried about it because that left us almost an hour before our flight and the Columbus airport isn't exactly LAX. However, when we went to check in, we were denied. It turns out that I had printed out the itinerary for our February trip to Napa (for which our flight leaves at 6:45 AM) whereas our flight to WDW was leaving at 6:00 AM. Delta has a strict "check in 30 min prior to the flight" policy…something about luggage or some other inconvenient crap.
The woman behind the kiosk shrugged and told us to get in the GIANT we-have-issues line. Luckily, we were saved by two things. One was that I started to get that whole trembling lip thing that signals tears. The other is that my sweet husband-to-be had his Mickey groom ears on and so we were attracting positive attention. One of the Delta agents, who will be now referred to as our Delta Guardian Angel (DGA), came over and quickly rebooked us on a flight that was leaving at 7:30 AM. It meant a difference of only an hour from when we would have gotten there originally. After thanking her profusely, we made our way to the gate.
Of course, the drama did not end there. We sat at the gate for about ten minutes before they made an announcement that something was wrong with the plane. Then, ten minutes after that, they made another announcement. Apparently, the Columbus airport has one mechanic…and they keep him on call…but for some reason they couldn't find him at home…at 6:10 in the morning…
So, we sat and sat and sat. The captain kept coming back on to let us know that they still couldn't find him. Kyle stood in line with his Mickey ears on, but since there were about 40 other people in line, there wasn't much that the guy at the podium could do. So, Kyle went off in search of Starbucks and I sat and left angry blogs about how much I hate Delta. Then, suddenly, DGA appeared out of nowhere. Apparently they had called her up to help with all the chaos and she spotted me in the crowd.
She called me up to the podium and then grabbed one of my bags and took off! I scurried after her and she rapidly walked me to another gate while slipping me new boarding passes and whispering that I needed to keep hushed about our new arrangements because everyone else would be irritated if they knew we'd been rebooked. Not only did she rebook us magically (for the second time!), she put us in first class on a flight that was leaving in ten minutes. Kyle booked it back from Starbucks and off we went to Atlanta!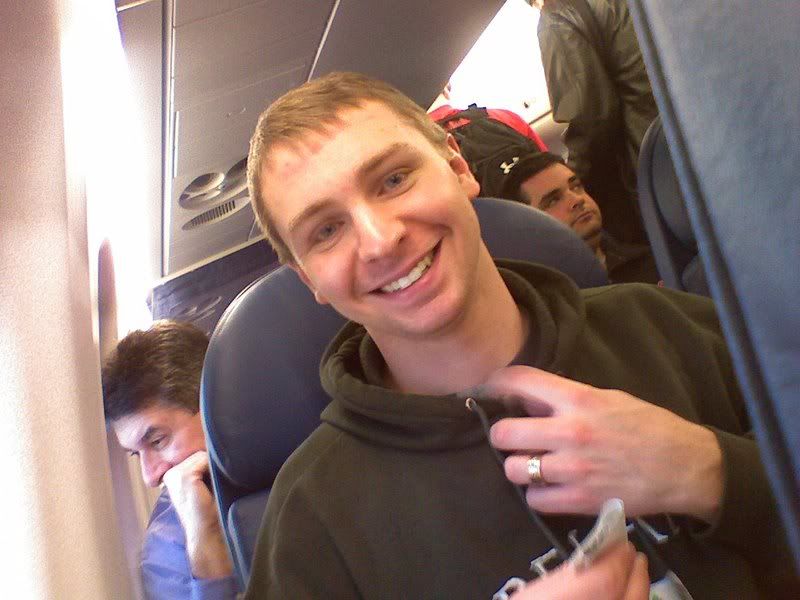 The flight from Atlanta to Orlando found us back in coach, but at least we were in an exit row. It was actually pretty nice because it was a big plane and it was mostly empty, except for the occasional rowdy family. One such family was behind me and the stewardess did the cutest thing. She took all the boys up to meet the pilot in the cockpit. I thought they stopped doing that sort of stuff in the eighties, but off they went, following her like the Lost Boys.
The cuteness factor was taken down a notch when there was an incessant dinging that started after they went up front and rang throughout the entire plane. At first we laughed about how they must be having fun up there with all the buttons, but after what was seriously about ten minutes of dinging we were starting to curse under our breath. Suddenly, another stewardess came and started fidgeting with my armrest. I wasn't touching it at all, but when she fidgeted with it the dinging stopped. When she walked away I turned to Kyle and said "that was weird". It was at that point that he confessed that he had accidentally had his elbow on the attendant-call-button for that whole time and had only realized it when she came over to see why our seats were dinging. Yeah…
Since we were in an exit row, we ended up sitting across from the stewardess who was in the jump seat. She turned out to be really chatty and she just kept talking and talking for the whole flight, which was sort of nice because she made it fly by. At the end of the flight, she snuck us a bottle of red wine, warning us not to show any other passengers. (Apparently, Delta employees can only be nice to passengers as long as they don't tell anyone)…
We made it from the airport to Pop Century with absolutely no drama whatsoever. I love that we don't have to pick up our luggage anymore, thanks to Disney's Magical Express. We were just whisked off to WDW for our fairytale…