Day Two (Sunday) – Part One
We usually wake up super early on our first full day of a WDW vacation, but this time we let ourselves sleep in since my family hadn't gotten in until late and we were spending the day with them. We actually did wake up pretty early, but we stayed in bed and watched TV so that we could let my family sleep. Of course, by the time I actually did call them, I found out that they were all up, that my aunt and cousin staying at the Pop had left without us, and that they were all getting ready to have breakfast. We were left in the Disney dust! I grabbed the duffle bag that had our flowers in it and we caught the bus/monorail over to Poly. We probably could have taken more, since the plan was to slowly move all the wedding stuff over there, but since we had a couple of days to go we figured the flowers would be enough.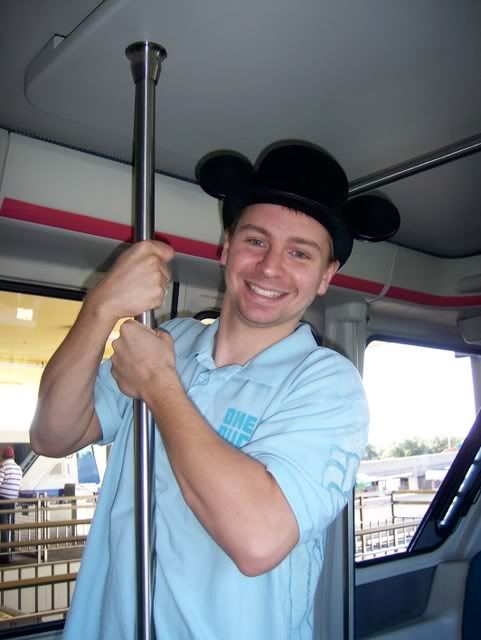 We made it over to the Polynesian quickly and met everyone for breakfast at the Kona Café. I love seeing my family, especially when I haven't seen them for a long time. To give you the full count, it was my mom, my stepdad, my little brother, my aunt, my uncle, my other aunt, my cousin, and my two grandparents. Kona was a ton of fun. I have to admit that I had never been there before. In fact, the only thing that I knew about it was that Van likes to go there for tonga toast and coffee. It's funny the things you retain about people you've never met, isn't it? Kyle got the tonga toast and mmmmm did it smell good. I was a good girl, though, since I was still on a diet. I admit that I was tempted by the free creampuffs that they sent us, but in the end I only had a nibble.
After everyone had enjoyed breakfast (except for the crash-dieting bride who enjoyed a Lara bar), we went to check out their hotel rooms. It's amazing the difference between a value resort room and a deluxe resort room. I won't go into all the details, but I can tell you that we went home that night and just shook our heads at our 70's themed wallpaper trim.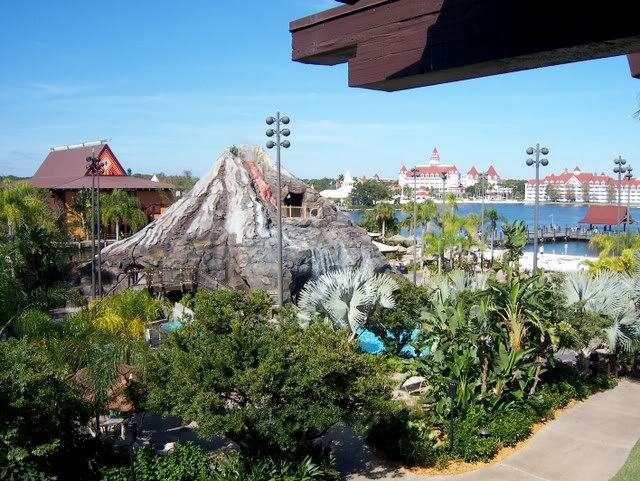 After we took a couple of moments to enjoy the resort we couldn't afford, the whole group headed over to the Magic Kingdom. It was quite the journey since we were traveling in a big group and we had two wheelchairs. My mom was also struggling a bit to keep up because she's getting over a pretty serious knee injury. It took us longer to get over there than it should have because we went the wrong way and ended up walking (and wheeling) to the TTC instead of going up to get on the monorail. It's so embarrassing to be the Disney experts and start out a week's vacation with "uh…we don't know where…wait, how did we…ok, I think if we go this way…screw it, let's just get on this boat…"
Everyone got through the bag check and in the gates with no real trouble. I collected tickets and Kyle took off right away to get everyone fastpasses for the Pooh ride. (My grandma has a bear thing.) We were sort of a slow-moving bunch, especially by Kyle and my standards, but we were able to keep a good pace and hit a respectable list of rides.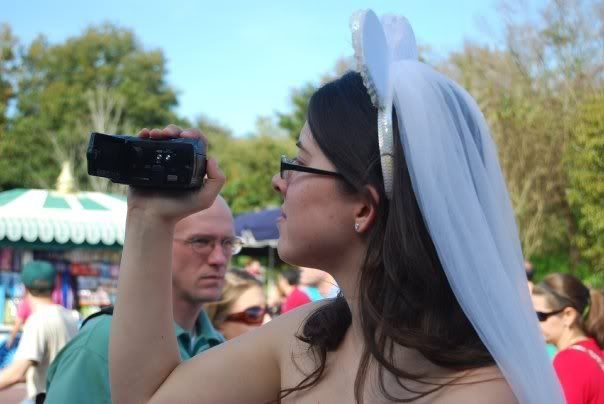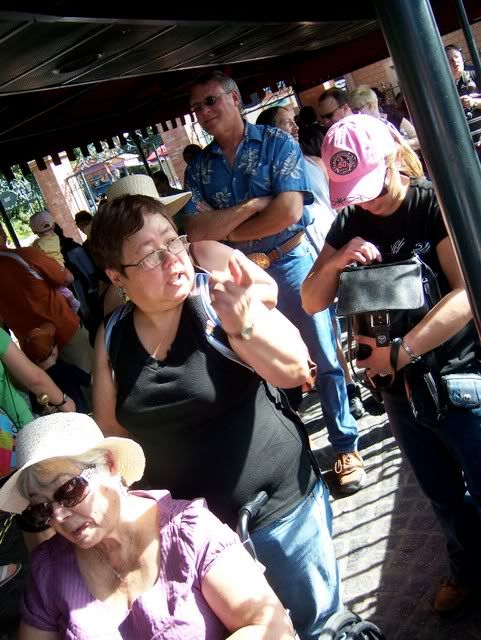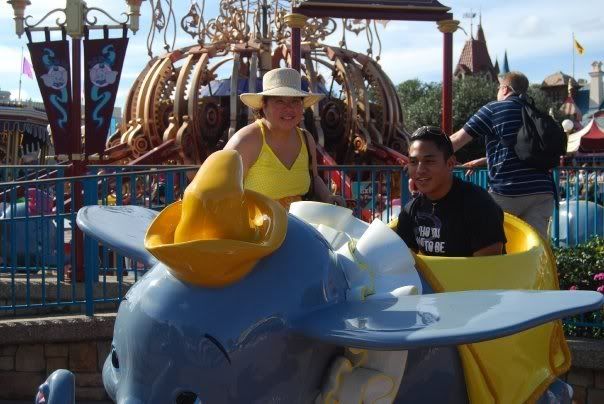 We had a little bit of a snag in the Haunted Mansion. I was worried about my grandma getting onto the moving walkway and into the doom buggy, since she has a little bit of trouble, so I dispatched Kyle to walk in front of her and help her in before getting into his own. Somehow, we forgot to save one for him, so Kyle, my mom, and I all rode through the ride smashed into one of those tiny cars. We were cozy to say the least, but somehow we got back out!
Random funny story – so we had worked out this system where Kyle went off to get Fastpasses while the rest of us made our way from point A to point B with the wheelchairs and such, which ended up being a fabulous plan. We'd gotten fastpasses for the Jungle Cruise (turns out you don't need them if you have wheelchairs) and we were waiting around in the front of the ride for our fastpass time when suddenly two cast members came up. It turns out that one of them reads my blog and recognized us, which was just too funny! I wish I had thought to get a picture with her, but I was so surprised I let her slip off without even catching her name…