Day Two – Part Two
At some point in the afternoon, everyone got hungry so we headed over to Pecos Bill's for fries and burgers. Call me tacky and insane, but I freakin' love Pecos Bill's…mainly because I love to load my fries up on cheese and mushrooms from the condiment bar. Yes, I know it's weird to eat a meal that is 90% condiments, but I don't care. I love it.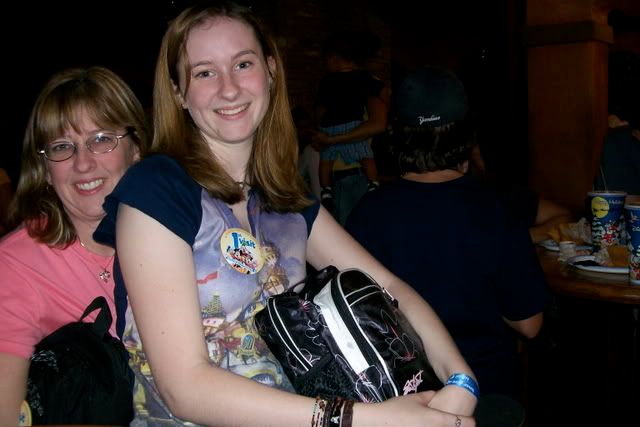 While we were there, we caught up with some family friends that I've known since birth. It really started to sink in that we were bringing people from all over the country and all different parts of our lives together. I mean, I guess that's what the point of any wedding is, but the fact that we were sitting in the Magic Kingdom with 12 of the people who are central to my life was pretty incredible. I also started to get the sinking suspicion that no matter what happened on the wedding day, the fact that everyone was going to be there meant that it was going to be awesome…(but more on that later, of course)…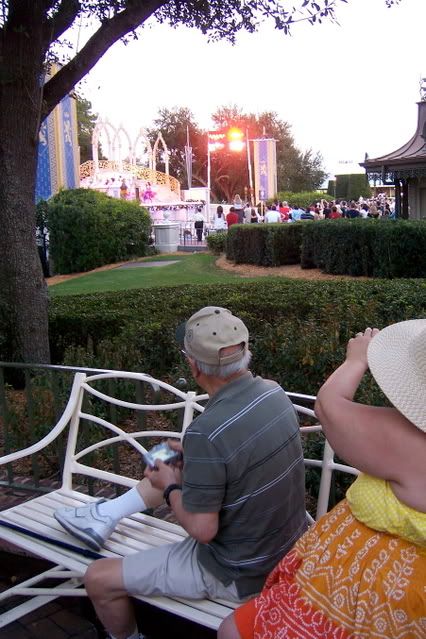 My grandparents were done with rides after we finished eating, so we took them over to see the stage show and to nab good seats for the parade and fireworks. After they were situated, the rest of us ran back to ride Splash Mountain, which was not closed like we thought it was going to be. We filled up the log with our party (and weighed it down a considerable amount) so we ended up getting soaked. There's nothing like the sun setting down on the MK while you walk around wringing out your t-shirt.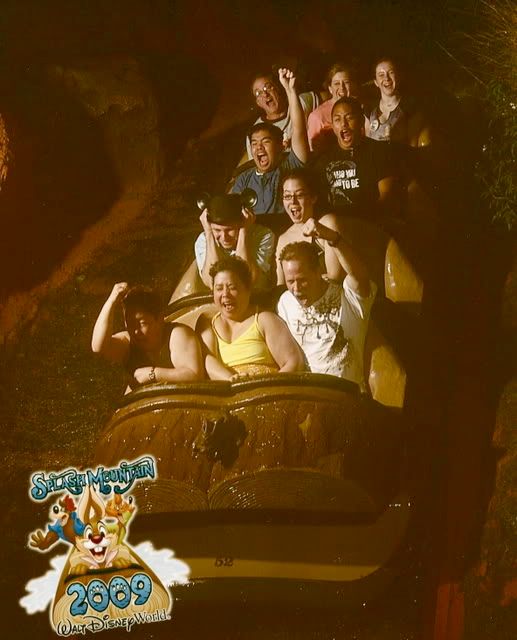 (if I didn't look naked, this would be the greatest photo ever)
Kyle's brother and his girlfriend caught up to us after we got off the ride and we all caught the light parade from the wooden sidewalks of Frontierland. Once the parade was over, everyone started to head towards the castle. And by everyone, I don't mean just our party…I mean EVERYONE in the whole park started to head to the castle. So, when my aunt called and said that they were saving us a spot down front, my initial thought was "yeah, right."
Luckily, my uncle is really tall and he was waving a pair of those light-up ears like there was no tomorrow, so we actually made it to the impressively large spot that they had saved. I will say this about my family – when it comes to saving stuff, you really can't beat them. They'll be all polite and sweet one minute and then the next minute you've got lots of tiny, angry Chinese people who are telling you off. It's pretty scary.
I've never seen the fireworks from right in front of the castle. Part of that may be because you can't actually see the fireworks from right in front of the castle. See, the fireworks are actually set off in Fantasyland, so when you're right up in front, the fireworks are behind the castle and you only catch a bit of one every so often. The view of the castle was incredible, though. It was still done up in the holiday lights and it was simply stunning. Kyle filmed the whole thing so I could sneak peeks back at my fam. I loved watching their faces every time a really big one went off. I wish I'd gotten some pics, but it would have ruined the moment.
It was extra magic hours so we headed over to Tomorrowland after that. My cute grandparents just kept going and going! We thought for sure that they would tire out after a while, but they were having a ball.
As it got later and later Kyle and I decided to split off from everyone and go ride rides with his brother, his brother's girlfriend, Craig, and his wife, who had all met up with us at the park. The video above has fun clips of us hanging out. The six of us did the late night rides thing, got thoroughly soaked on Splash Mountain, and didn't get back to the resort until after midnight. That's ok, who sleeps at WDW, anyway?