Ok, back to the trip report…at least until I get more Root photos!
So continuing the story of everything that happened in the days before we left, we'll look at my favorite last minute project. And when I say last minute, I really mean last minute! On the afternoon of the day before we left, I realized that we didn't have any programs for the ceremony. It was one of those things that I had assumed would happen, but that never had. We could have sneaked by without programs, but I actually really like getting wedding programs. I like trying to figure out which attendant is which and keeping track of how much longer I'm going to have to sit there. So, I really wanted us to have programs. Of course, since it was 3 P.M. and our plane left the next day at 6 A.M., I had sort of run out of time.
A little bit of back story – also simmering on the back burner was a spool of ribbon that I picked up at an after-christmas sale. It was perfect for our wedding colors, so I bought it and then realized I had no idea what to do with it. It was really wide, wire-edged ribbon…not the kind that you can wrap gifts with or use to tie to anything. I tried to incorporate it into the centerpieces, but failed miserably. So, the ribbon lay neglected on the kitchen table, topping off a large pile that I like to call "what the hell did I buy that for, anyway?"
In a flash of last-minute inspiration, I went home that night and designed a one-sided, one-page program that could be printed on cardstock, folded up, and wrapped with the ribbon. I unabashedly cruised other Disney Brides' trip reports and copied their designs for their programs. I then added in a little bit of artwork from the early days of wedding plan and voila!
I must say, I'm pretty proud of them, myself!
The MWord Doc: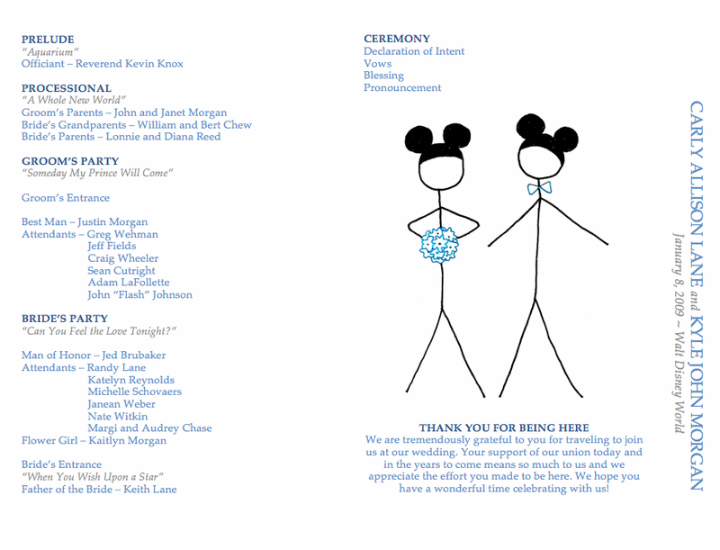 The result: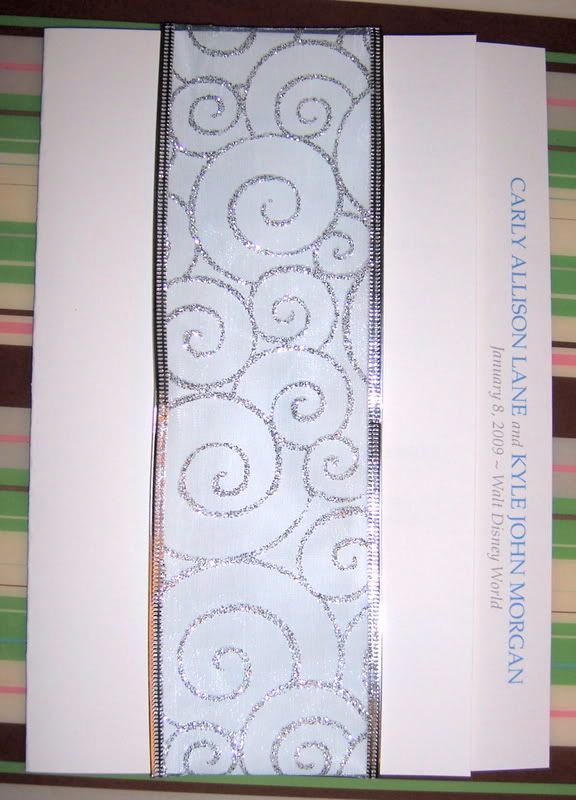 At the wedding: