Day Five – Part One
I woke up at 6:30 in the morning. I don't mean that I rolled over and fluttered my eyes open and lazily stretched out. I sat up at 6:30, wide-awake, with one single thought in my head: Holy Effin' Shiznit, I'm getting married tomorrow.
Waking up in a Disney resort hotel room is disorienting because if you have those drapes closed there's pretty much no way to tell what time it is. I could see a little bit of light coming through, but I couldn't tell if it was early morning light or late morning light or afternoon light. Since I had startled myself awake, I immediately defaulted to an unshakeable belief that we were late for our day and proceeded to bark at Kyle to wake up before it occurred to me to look at the clock. The poor kid jumped up, took one look at the clock, gave me a look that would have withered flowers, and rolled over.
Any rational person would have felt bad and gone back to sleep in the proper apologetic fashion, but I was running on pure adrenaline and I jumped out of bed and did a couple mini-laps around the room, before deciding that Kyle and I should just get up anyway. I turned on the light and started poking at Kyle, who was in his own bed (we let ourselves have our own queen size beds at Disney) and who had pulled the covers up over his head. I knew he didn't want to get up, but in my bridal panic I gave getting-things-done priority over his sleep time and assumed that he'd understand later.
When I took the covers off of his head, however, I was startled by how he looked. He was totally pale, totally sweaty, and quite obviously deathly ill. In fact, I'm not sure if I've ever seen Kyle look so sick. I ran around the room turning off all the lights and then sat on my own bed for a while, watching him sleep with that little wheezy breath that people get when they are sick, and all I could think was "Oh my god, I broke him. I broke Kyle. I stressed him out and made him run around all week and kept him out too late and now I've broken him. We're getting married tomorrow and I've probably killed him. He's going to lay right there and die and we aren't even at a nice resort."
The whole not-disturbing-those-who-are-deathly-ill thing really limited the amount of stuff that I could do now that I was up. I knew that the breakfast was being served, but I didn't want to go without Kyle. I did go down and get him some tea so he could take some medicine, but after that there was nothing to do but let him sleep in the dark, so I gathered up the few notes I had left to write to the bridal party and snuck out to the balcony to write them. Tracy came over after a while and said that Justin was also deathly ill and grabbed some medicine for him. I don't know where Kyle and his brother were or what they managed to inhale, but it was freaking deadly and they were both severely out of commission. After a while, Kyle did manage to wake up and I went and got us breakfast, but he was in really bad shape. He just stayed in bed, all glassy-eyed, staring at Stacy and her stupid top 7 list run over and over again.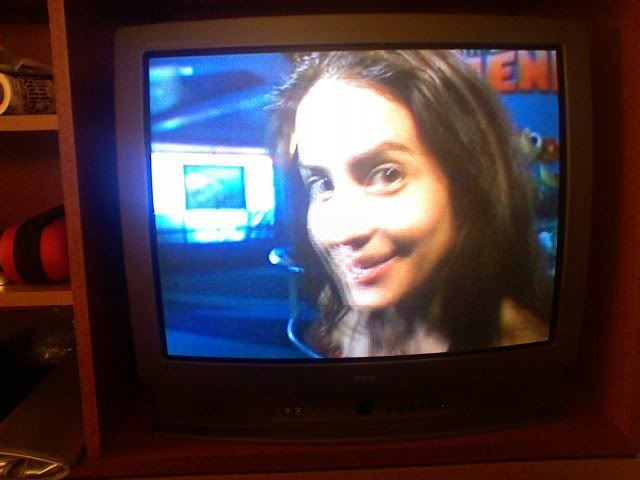 As the clock ticked closer to 11 AM, I started to panic. Our room looked like a bomb had gone off, with clothes and crap everywhere and I didn't have any of the attendant gifts wrapped for the rehearsal that night. I ended up grabbing Kate, Nate, and Neaner,who were passing by our window and they helped me get everything wrapped, bagged, and labeled. They also let me drag our unneeded luggage into their room, since we'd be coming back to Pop Century for our wedding night, and helped us carry everything downstairs.
Kate saved our sorry butts by having a rental car. Instead of dragging poor sick Kyle onto the bus with all of our luggage, which was the original plan, we were able to load everything into Kate's car and just drive over to the Grand Floridian. We also were able to stop at Publix on the way, so Kyle could drop $50 on cold remedies. I think we actually bought everything that a person with a cold could ever possibly use, which is lucky since he proceeded to take an entire box of Advil Cold and Sinus. By then, he was doing a lot better than he had been doing that morning, but I could tell he still didn't feel good. I wasn't doing too hot myself, but since I was only slightly tired and sniffly (whereas Kyle had the plague) I felt pretty lucky.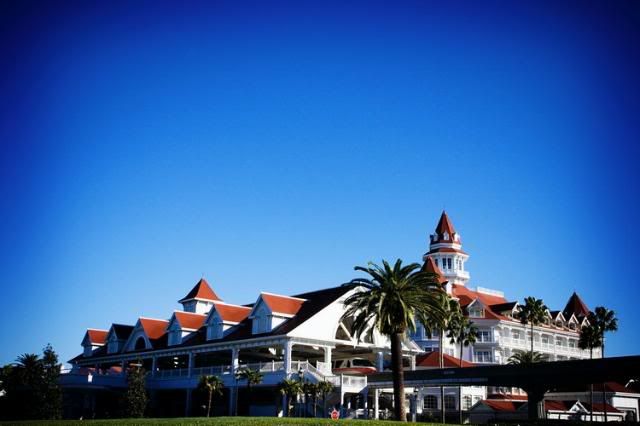 By the time we got to the Floridian, it was around 1:00. Check-in is usually around 3, but I was hopeful that we could get in early, especially because the GF is a deluxe resort. Kate and Kyle dealt with the luggage people while I went in to check-in. I totally should have taken Kyle with me, though, because I was wildly intimidated by the whole process. The person I thought was going to check me in actually called someone else to walk me over to some other person who called some other person to come and get me. By the time I actually got to the person I needed to talk to, I was completely weirded out and more than a little tired of being shuffled around.
The man I needed to talk to walked briskly up to me, put his hand to his headset, quietly said "we are go", and then escorted me back out to the car where Kate and Kyle were waiting. I don't know who he was talking to, because I didn't see anyone else who was…going, or whatever…so a little part of me thinks that he was just talking into his headset to intimidate me. Kate left to park the car and Kyle and I were taken up to the third floor to the actual check-in desk, an elevator ride which required a key card. Apparently that was this man's function…to walk up to me, intimidate me, swipe his card, and drop us off. I don't know how much he makes, but I think I would be really good at that.
The woman who checked us in was very nice and we were really starting to feel all posh and refined up there in the concierge level check-in, when suddenly one of the bellmen brought up another guest and asked a question about luggage. Apparently the guest was checking out and she needed to ship something but she had waited until the last minute and for whatever reason they wouldn't be able to ship the thing from the resort. I guess she had to go somewhere else and she was worried about missing her connection? I'm sorry I'm so vague on details, but I wasn't able to understand much that the guest was saying because about 4 seconds after they walked up behind us she burst into tears, put her face in her hands, and started moaning, "I don't need this right now! I don't need this right now!"
That was awkward.
I got the impression that that sort of thing doesn't happen very often on the concierge level because the woman who was helping us just sort of sat there stunned for a second and then said, "I'm sorry, ma'am, but I will help you as soon as I finish helping these people." Then she sort of motioned for the bellman to take the guest over to the side, but when he asked her to have a seat, she started wailing louder and fanning herself wildly as though she was afraid she was going to have a total breakdown. They tried to convince her to sit down for a second, but she just stood there and shook her head. I told the check-in woman that we would just wait, but she wasn't having it and since we hadn't gotten our key or any information, there wasn't a lot we could do.
As all of this was going on, the man whose job it is to intimidate people and then bring them upstairs brought another couple up in the elevator. As they stepped out, the man hesitated and I think he thought seriously about taking them back down to the lobby, either because it was pretty noisy up there in concierge or because he's supposed to space guests out enough that they don't run into each other. Now here we all were, me and Kyle, the check-in lady and the bellman, the bewildered couple who had just gotten off the elevator, and the man with the headset…all watching this poor woman weep.
There was a horrible moment where I thought that we were just going to wait until the woman cried herself out, but then the man with the headset took the woman's package from the bellman, instructed the bewildered couple to have a seat, and swept the woman off into the elevator, never to be seen again. The woman helping us rushed through the rest of her shpeal on our stay at the resort, told us that our room wasn't ready, and then dismissed us. The bellman rode down with us in the elevator and said something about how he would have been happy to help us carry our things to our room but since we didn't have things (they were at the luggage desk) and we didn't have a room, he was just going to make sure we got back ok. I had the weird suspicion that he wanted some sort of tip, but since his only function was to bring crying women into our lives and then make sure we didn't get lost getting on and off of an elevator that only travels three stories, I didn't try to find some cash.
Honestly, Kyle and I were terrible about tipping at GF because we're bad about tipping in general. By the time that bellman left us standing in the lobby, we had dealt with seven individual GF employees. I'm sure one of those employees at some point was supposed to get a tip, but since we didn't know who or when, we didn't tip anyone. In fact, I think the only person who got tipped the whole time we were there were the people who brought us room service because Kyle and I do have the basic understanding that when someone brings you something to eat, you're supposed to tip them. Beyond that, we were pretty clueless.
We caught up with Kate downstairs and we all drove over to the Polynesian to hang out a little bit until the room was ready. My bridal tea was scheduled for 3:30, so we were cutting it a little close by not having a room at 1:30. I busied myself with other things and put Kate to work ironing out the pashminas. My mom and I attempted to steam my wedding dress, which still bore signs of having been stuffed into my checked luggage, but there was so much dress (!) that we just didn't have the time. I started to get more and more antsy as the clock moved closer to 3:00, but luckily we got the call that our room was ready around 2:15 and we headed over. Kate dropped us off so she could go home and get ready for the tea and we made our way up through the maze of keycard-only elevators to our room on the concierge level.
I know I'm a total brat, but when I first walked into our room I was disappointed. I kept hearing about concierge level this and that and I had seen pictures of other people's GF rooms, so I was expecting a great big room with plenty of space for people who wanted to hang out. Our room was the same size as our room in Pop Century, though, with the difference being that we had a Jacuzzi tub and a king-sized bed. Since I was expecting a huge suite, I was pretty let down. And then I walked over to the balcony and saw the view. Oh, the view!
Gorgeous. Incredible. Our balcony looked out over the water and right across the way to Cinderella's castle. It was positively lovely and it totally redeemed the room in my eyes. When I walked back in I started to see all of the little details – the fine furniture with Disney accents, the patterns in the wallpaper, the fresh flowers tucked into carefully folded towels, the GF seal on the folded edge of the toilet paper…What the room lacked in size it made up in personal attention.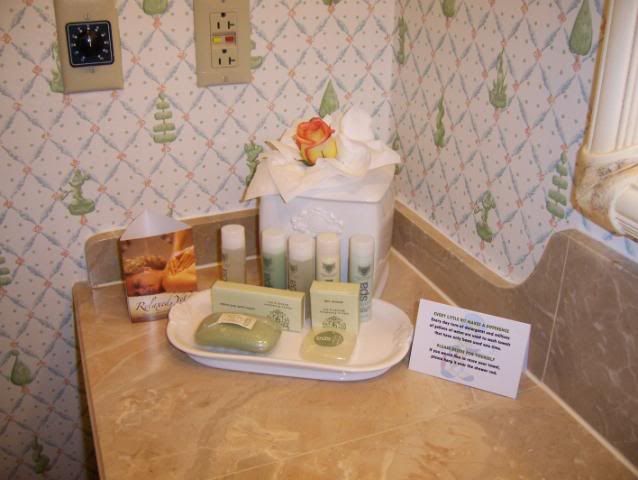 Unfortunately, I didn't have long to enjoy it. We got in to the room at 2:30 and at 3:00 we still didn't have our luggage. Since I needed to be at the Whitehall Room at 3:30 for the bridal tea, I had a mild panic attack in which I may or may not have unleashed a torrent of unladylike words. Luckily, the luggage showed up around 3:10 and I was able to dash around and get ready. I had planned on curling my hair and doing my nails and putting on jewelry and all sorts of things before the tea, but the day had been so crazy and I was so short on time that I just tossed the dress on, grabbed my hat, fastened my heels and took off for downstairs, leaving Kyle to rest and enjoy the room without me.