Day Five – Part Three
After my friends all took off to go to Raglan Road, I sat on the balcony of our beautiful hotel room and started to feel sorry for myself. It wasn't a full-blown-woe-is-me type of sorry, just a gee-this-isn't-how-I-pictured-this sorry. I felt bad for Kyle because he was sick and I knew he'd probably be sick for the wedding. This was the one night we'd have in this $1000+ hotel room and we were going to be sick for it. I also felt bad about not going with my friends because I don't get to see most of them very often and they had flown all the way down here to celebrate with me, only to be kicked out because I hadn't finished all the wedding stuff. And, of course, I felt sorry for myself because I wanted to fill up the tub, order room service, and enjoy the luxury of our accommodations, but I had wedding chores that I couldn't get out of. So I sat for a little bit and just let myself be kind of blue.
Kyle was supposed to be laying down during all of this, but after a while he came out. I gave him a hard time about being on the balcony, since I'm sure it didn't help his cold, but he stayed out with me for a while and chilled out. He asked me if I needed help with anything and I told him not to worry about it. Then he asked me if I wanted my mom to come over. To be honest, I totally did. I wanted both of our moms and I wanted them in our room fixing everything and I wanted them now. But, on the eve of your wedding, you're not supposed to want mom to fix it all. Plus, my mom was headed down to Downtown Disney for the first time and I didn't want to rain on her fun. So, I said no, that I was just fine. And then Kyle told me that I was a terrible liar and that he had already talked to my mom and that she was on her way over. And that's why he's my favorite human.
I felt a lot better after mom got there. I don't mind being sulky and stressed out around my mom because she's seen it all, so I complained about bustling the dress and about not wanting to steam it and about feeling like I was way too fat to be wearing something strapless. She said all the mom things about how I looked fine and it was all in my head and nobody would notice that it wasn't steamed and bustling it would only take a minute. Then we ordered a really nice dinner from room service and watched the fireworks from the balcony while I walked around in my dress and tried to feel like a real bride.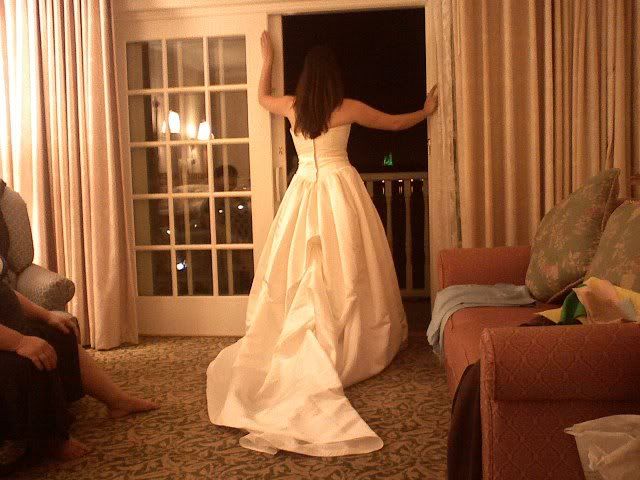 As a side note, I read a ton of articles that talk about what you're supposed to eat before your wedding. You're supposed to stay away from fats (obviously), salts, things with a lot of fiber, sugars, and meat. You're also supposed to drink a lot of ice water and eat very small meals every hour or so. For the record, I read all of these articles and cut them out and kept them and memorized them. And on the eve of my wedding, I sat in my hotel room in my wedding dress with my mom and my fiancé and I ate penne pasta with grilled shrimp that was completely doused in the richest alfredo sauce and topped with a cup of shredded asiago cheese. And it rocked my world.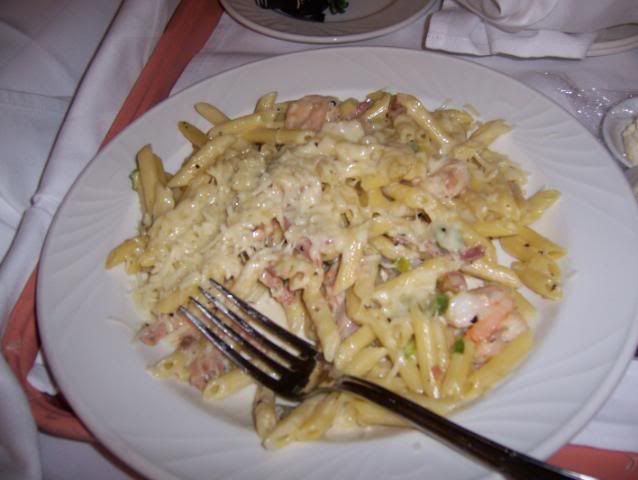 It took longer than a minute to bustle the dress. Mom worked on it for an hour while I called vendors and organized payments and did lots of last minute things. Kyle snuck out a couple of times to the concierge lounge and brought us back things like sparkling water and chocolate covered strawberries.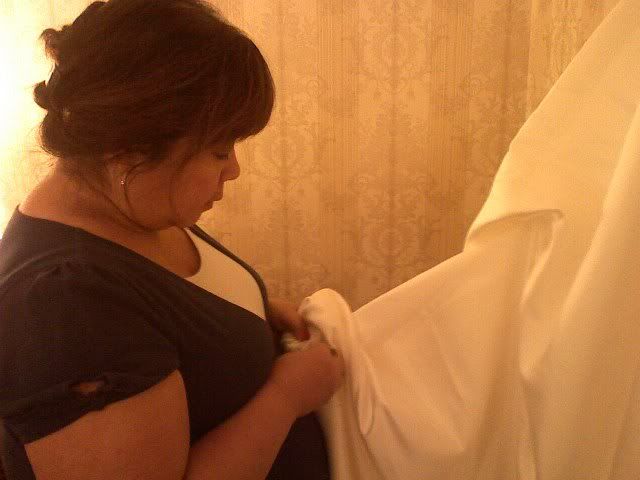 It wasn't as exciting as being out at Raglan Road, but it was really, really nice. In fact, I think it's my favorite time that I've ever spent with my mom because it was just so calm and happy and quietly exciting.
After mom left around midnight, we stayed up for a little bit and just hung out. Kyle was doped up on a lot of cold medicine and he was singing me Disney songs while I plucked my eyebrows and did all the other things that girls have to do when they're being photographed 5000 times the next day. Then we turned off all the lights and sat up in bed for a little while, watching the colors change on Cinderella's castle. I know most people don't spend the night before their wedding together, since it's traditional for the bride and groom not to see each other before the ceremony, but it was really nice to have a little spot of quiet where we could look forward to the next day without having anything left to stress about. If we had to do it again, I wouldn't change a single thing about that night…