Day Five – Part Two
I was really excited about the bridal tea. The whole idea to have a bridal tea started when I saw Vanessa's bridal tea and was wildly jealous. My mom decided that a bridal tea was the perfect thing for her to host as a wedding event and so she worked with Marion to create a nice little ladies-only party. She also suggested that people dress appropriately for the tea…although appropriate for tea was sort of left open to interpretation…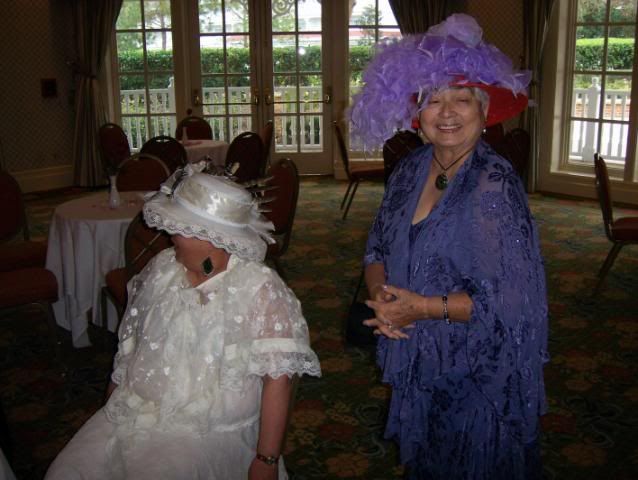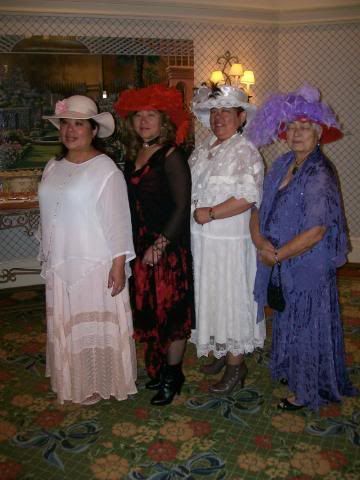 …as you can see, some of our guests really ran with it! I love that people dressed up and really got into it because it added a whole other element of fun to the party. Mom had gone all out with the decorations and had made beautiful little favors for everyone. She had also gathered quotes and messages from the guests and then put them into a basket for me to keep.
The food spread was to die for. In addition to tea, we had a whole range of finger sandwiches and crudités and desserts and so on. I was actually ravenous when I got down there so after quickly saying hello to everyone, I pounced on the food. It might be slightly tacky for a bride to go to town on a buffet the day before her wedding, but I was so over my diet that it was time to party.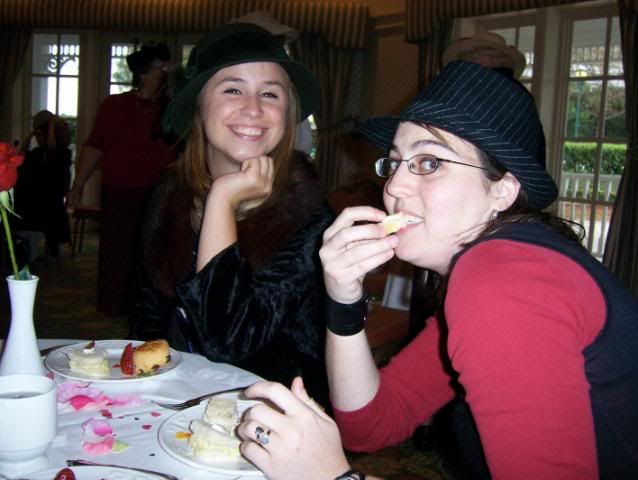 It was really nice and relaxing to hang out in this space with all of these ladies and just be generally happy about the wedding happening the next day. There were some people there that I hadn't seen in years and years and a couple of people that I hadn't met before, so I was happy that I had time to chat with them at the tea instead of trying to fit everyone in to the reception. I did sort of feel like I didn't spend quite enough time talking to anyone, which is a feeling that would continue throughout the rest of the trip, but I tried really hard to cover my bases.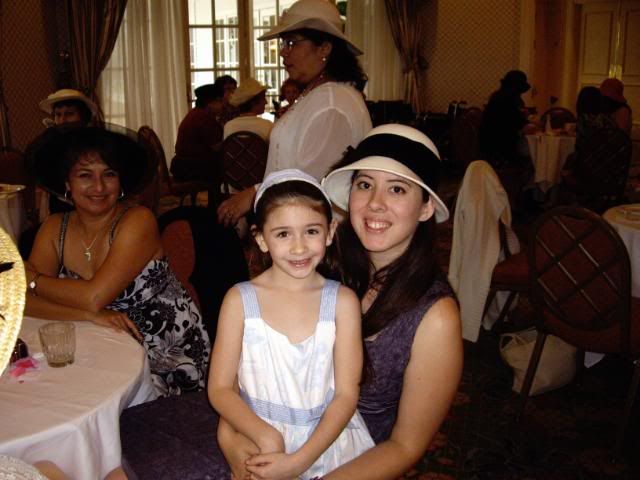 As the tea started to wind down, mom and I noticed that there was a ton of food left. As it turned out, there was a miscommunication about who needed to tell who how many people were going to the tea and they had set out enough food (and charged us) for seven or eight extra guests. It seemed such a shame to waste it all, so mom and I decided to ask if we could take any back with us.
Marion actually wasn't available during the tea because she was doing another wedding, but she had left us in the hands of one of the GF servers, so my mom walked up to him and, in the most refined voice possible, inquired about doggy bags. There was something so ridiculous about asking for a takeout container in such a nice place that as soon as he left to "look into it", my mom and I dissolved into a total giggle fit and almost didn't recover. Needless to say, he did not bring us doggy bags. He did let us bring in some extra people, however, so all of the guys who were out in the hallway waiting for the rehearsal to start were able to come in and polish off the rest of the food.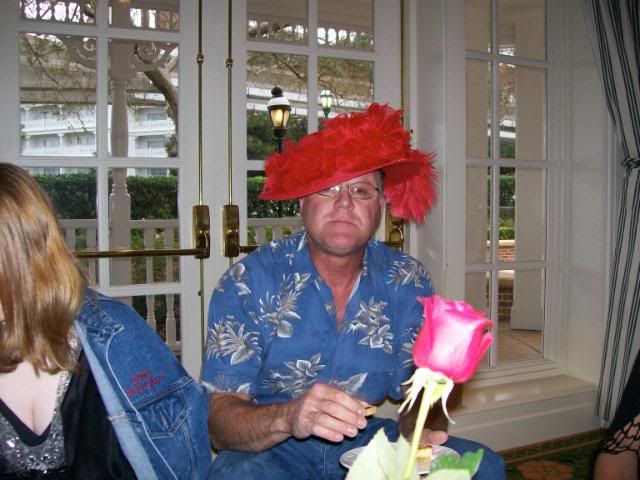 While everyone was finishing up, I went out into the hall to meet Theresa, our officiant's wife. She was nice enough and waited patiently for us to herd everyone from one room to the other for the rehearsal, but the whole thing ended up being pretty weird. I will say, it wasn't all Theresa's fault.
There were three independent things which contributed to the weirdness of our rehearsal:
our officiant wasn't there,
our wedding coordinator wasn't there, and
we weren't in the place where the ceremony would actually happen.
All of these things were things that made no sense to me. After all, it's not like we didn't all understand the general gist of what was going to happen. Parents go down the aisle, Kyle and his men go down the aisle, my attendants go down the aisle, flower girl goes down the aisle, father + bride go down the aisle, we get married, everyone leaves in the reverse order of how they came in. And we're done.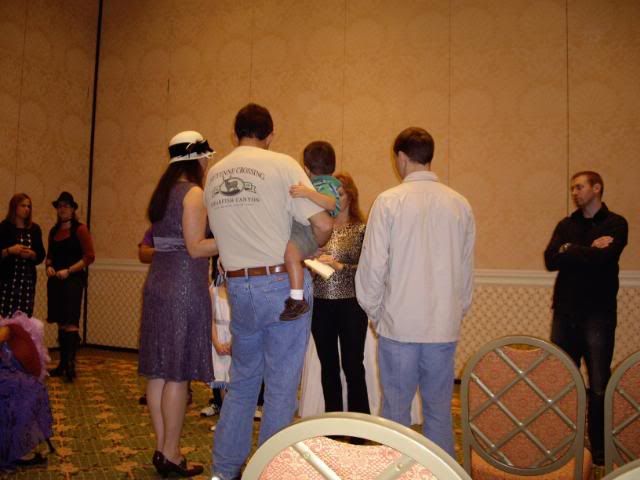 So, I'm not totally sure what the rehearsal was for. I suppose it was helpful to have everyone line up so they knew what order they were going down the aisle in, but honestly it complicated it to have the non-coordinator and non-officiant there because they were giving everyone the wrong directions. We wanted to have them seated, but they stood them up. We wanted them to go down one by one, they had them walk together. We knew who was there, they were calling out names from lists that had been abandoned in February. It was just chaotic.
And then the Theresa factor kind of kicked in. She was nice enough, but she was sort of sharp and she kept snapping at people and then raising her eyebrows at us like she was saying, "boy, all of these people are out of control. You're damn lucky I'm raining them in." I wanted to flick her on the nose and tell her to stop yelling at our friends, but instead we just tried to get the whole thing over with. As it turned out, she didn't have the vows we had written and sent in and then she actually argued with Kyle about whether or not things should be included. Hi, is it your ceremony? Are you even going to be there? No? Then shut up.
We also hadn't practiced the kiss, which was fine by us, but she made us do it a couple of times as though we were idiots who didn't understand the process instead of two annoyed customers who were hardcore fed up with her little snide remarks. All in all, the whole thing was kind of a wash. The people running the show couldn't remember anything we told them for more than 3 minutes and it didn't really matter to them because they weren't even going to be at the wedding. I sort of felt bad for pulling people out of the parks to come to it, actually, because it was not that necessary. We were able to give everyone their gifts and ties and pashminas, though, so that sort of redeemed the moment.
I had been worried that people would be upset about the fact that there was no rehearsal dinner, but nobody seemed to think twice about it. I think everyone was ready to do their own thing anyway, so most of Kyle's friends dispersed quickly. My friends hadn't seen our hotel room, so we all went upstairs and hung out for a little bit. I love my friends.
I knew that they were all going out and from the looks of the pictures they must have had a good time, but there was no way I could go with them. It was 7PM and it was the night before the wedding. My dress wasn't steamed or bustled. The centerpieces were sitting around in various boxes and shopping bags. I hadn't even started thinking about place cards. My nails weren't done, my hair wasn't washed, I hadn't talked to any of the vendors, and my fiancé was downing more cold medication than is probably legal in the continental United States. Yeah, I wasn't going anywhere…