Day Four – Part One

On Tuesday morning we woke up early to open Animal Kingdom with my family. Already, the red flags were flying. Usually when we wake up at WDW we're up and about really early, bouncing around the room and grabbing hot chocolate and singing along to the resort television commercials. Tuesday morning found us dragging ourselves out of bed, bleary eyed and bleh. We both took a packet of Emergen-C and a multivitamin, but the reality is that we weren't getting enough rest. We were opening parks with the people in our group that opened parks and then when those people went back to the resort to rest we were busy closing the parks with the people who had slept in. It had only been a couple of days, but all the stress involved in getting ready for the trip had really left us without much of a cushion as far as not wearing ourselves out.
Most of the time, I'm the whiner. I get sick all the time because I have the immune system of a newborn and I'm the one who gets tired/hot/hungry. Kyle is the one who pushes through without complaint, especially when we're at WDW. So when we were sitting on the bus to Animal Kingdom and he put his head on my shoulder and said that he was only going to stay at the park a little while, I knew we had overdone it. There we were on the bus at 8 AM, with our matching t-shirts, completely wiped out.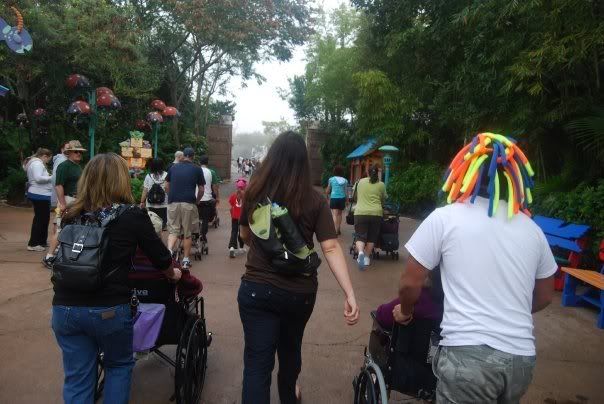 We made it to the park and caught up with my family, most of whom were wearing 6 pounds of pins around their neck. I sent Kyle with all the tickets to get fastpasses for Expedition Everest and the rest of us made a beeline for Kilimanjaro Safaris. My grandma had been wanting to ride that ride more than any other, so everyone was pretty excited. Even at our slow pace we made it to the Safari before Kyle came back. Honestly, I probably shouldn't have had him run back to Asia, but I was still thinking that we were doing all right. He made it back to us, fastpasses in hand, and we made our way up the line to the Safari. Apparently if you're in a wheelchair you don't really have to wait because there's a whole other car just for special needs vehicles so we walked right on. It was a good safari…no giraffes (bah!) but pleasant with a non-annoying tour guide.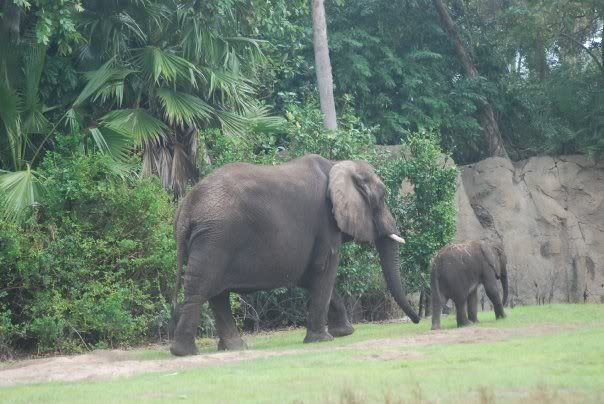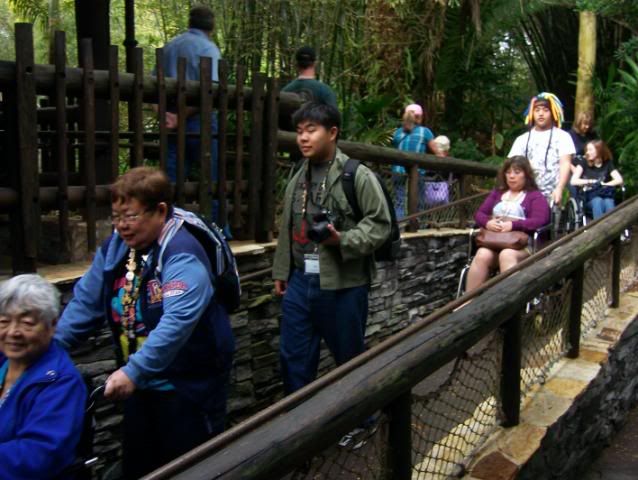 After the safari there wasn't much to do but make our way over to Everest. I like Animal Kingdom, but honesty there isn't a lot there. We never go to Rafiki's planet watch, we rarely hang out with the characters in North America, we hate the whole midway/dinosaur thing they put up in Dinoland U.S.A., and we think that Kali River Rapids gets you way too wet. Oh, and I don't do Bug's Life because I don't like getting poked in the back and I've never been able to keep my eyes open for Dinosaur because I'm a complete coward and I'm pretty sure that dinosaur at the end will actually try to bite me.
So, once everything on that list was crossed off, all that was left was the trails, Everest, and the shows. I think my family was a little confused by the fact that Kyle and I were meandering slowly towards Asia instead of marching firmly on with purpose, but between the exhaustion and the fact that we needed to wait for our fastpasses, we weren't in any hurry. We were able to spot at one of the picture spots and get group picture with the Tree of Life in the background, which was really nice.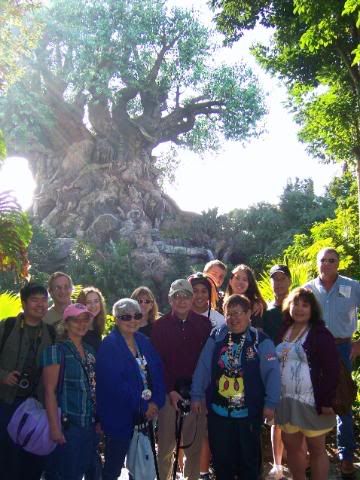 One of the Photo Pass photographers did it with both his camera and mine and he did a really nice job, especially since we were backlit. I hate it when the PP photographers intentionally take crap photos with your camera so you have to buy the nice ones they take on theirs. C'mon, Disney. I'm sure you're doing ok without needing to have your photographer take a shot that includes only my chin and my husband's elbow.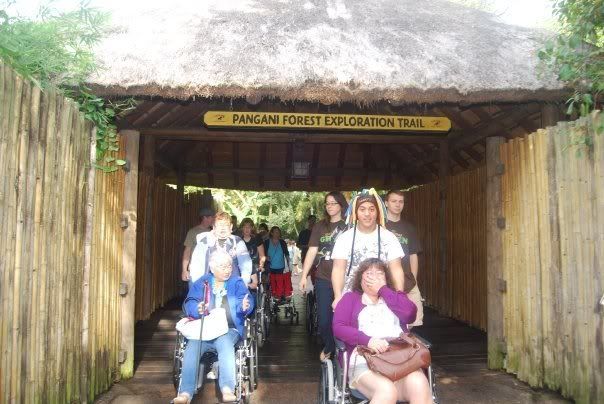 We made it up to Asia and the group decided to split up into Everest riders and non-Everest riders. Kyle and I went with the Everest riders, but I'm not sure why. I know this is sacrilegious, especially since it's Stacy's Number One Must See Attraction at Walt Disney World, but we're not huge fans of Everest. In fact, I would say that we're bigger fans of the line for Everest than we are of Everest itself, but being idiots we always fastpass it, thereby missing the line and the best part of the ride.
The thing about Everest, if you've never ridden it, is that Disney did a very nice job. It's a smooth ride that doesn't jerk your head around or use cheap props to simulate being on Mt. Everest. Everything is very detailed and smooth. That being said, it's not an easy ride to go on. Not only are there lots of tall drops and swirling around in the dark – the ride also goes forward and then backward and then forward again, which is probably the easiest way in the world to make someone nauseous for a very long time. We're also pretty disappointed with that Yeti that everyone talks about. Yeah, he's in there, but he doesn't move much and I've never seen him because he's right at the end in the dark and my eyes can't adjust that fast. I hear there's a Yeti in there and not just a strobe light, but you couldn't prove it by me.
We got off Everest and the rest of the group went back to ride it again, since we had extra passes, while Kyle and I grabbed some hot tea and sat people watching. We're so ready to be elderly, you don't even know. After a while, I dispatched Kyle to go back to the resort. He was really starting to look a little bad and since he's done Animal Kingdom so many times, he didn't feel like he was missing out. Plus, everyone and their dog was showing up on property throughout the day and he wanted to be back to welcome people when they got there.
Once everyone else had ridden Everest again, we met up with my family for the Festival of the Lion King, which is probably my favorite thing at Animal Kingdom. Again, all of the wheelchairs came in handy as we were the first group in and the first group seated. I was a little worried about the show, actually, because I didn't know how many people in the group had seen the Lion King and I wasn't sure if they would be into it. Well, I was silly to worry! My family LOVED it. In fact, I think it might have been their favorite thing from the whole trip!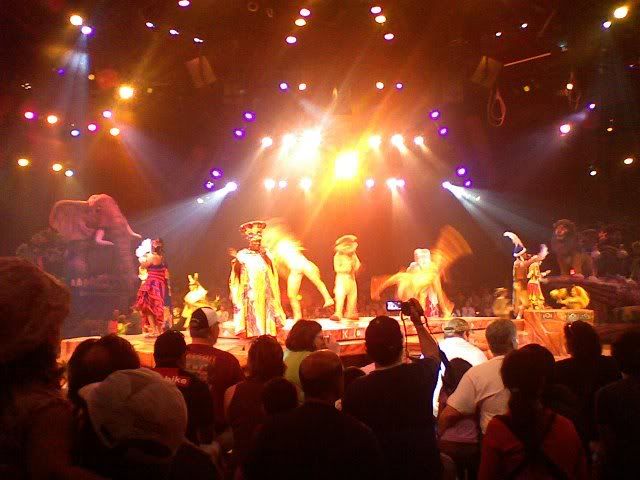 After the show (and a couple of pit stops for cast member pin trading), we made our way over to Pizzafari. I was a little concerned about Kyle so after a quick kid's pizza lunch, I left everyone with a couple tips on what to do for the rest of the day and then went back to the resort. The bus ride back was the first time I've ridden around WDW alone in a long time and it was sort of like when you're at a really loud concert and then go out into the parking lot only to discover that you're completely deaf. It wasn't until I was sitting on the bus, looking out the window, that I realized how tired I really was, how many people from my life were all going to be on property in a few hours, and how Kyle and I were going to be married in just two days time.