Day Four – Part Two
Kyle was at the resort when I got back and we had some more us time. I thought he'd be sleeping, but we took a walk around the resort and stopped in at the arcade for a little while. We also loaded the iPod into the mini-boombox and did a couple run-throughs of our first dance back behind one of the buildings. We had been working on our first dance for a couple of months, but it still wasn't quite right. I started to get really frustrated with the whole thing – more because I was tired than for any other reason – but Kyle was really sweet and was trying really hard. We ended up having a wonderful time waltzing around between the laundry carts while the maintenance people smiled at us and said things to each other in Haitian.
Honestly, it's this sort of stuff that I think I'll remember about our wedding trip. Obviously I have a lot of pictures and video from the ceremony and the reception and being out at the parks and all that, but what I really remember without any help from photos are things like my grandpa doing tiger growls, my little brother cracking up out of sheer joy during Mickey's Philharmagic, and Kyle sweeping me around in circles at the Pop Century resort.
By the time we were all danced out, Kyle had gotten calls from people who had just gotten to Orlando and who wanted to meet up at the parks. Since he hadn't seen any of his people, I felt sort of bad that I had worn him out by hanging out with my family so early, but he took some more zinc and cheerfully headed out on the MK bus. I stayed behind, partially to finish wrapping the attendants gifts, etc., and partially to collapse on the bed and watch resort TV for a while. About ten minutes after he left, I got a phone call from a local number. Thinking it was Marion calling to go over things, since I hadn't talked to her in months, I picked up. But it wasn't Marion. It was Rev. Kevin Knox, calling to cancel on our wedding rehearsal.
Canceling on someone's wedding rehearsal without giving them at least 24 hours notice is pretty bad form. It's even more bad form if they've had you booked for a full year. But it's SUPER bad form if you actually tell them that you're canceling because you got another wedding booked and you would rather go to their rehearsal since the one you're canceling sounds pretty "boring". Um, bite me. He did say that he was sending his wife to do the rehearsal, so he didn't leave me completely in the dust. I actually got the impression that he wanted me to be happy that he had thought all of this out, but throwing your wife in at the last minute isn't exactly saving the day. I said it was fine (what else could I do?) but internally I began to have second thoughts about our officiant…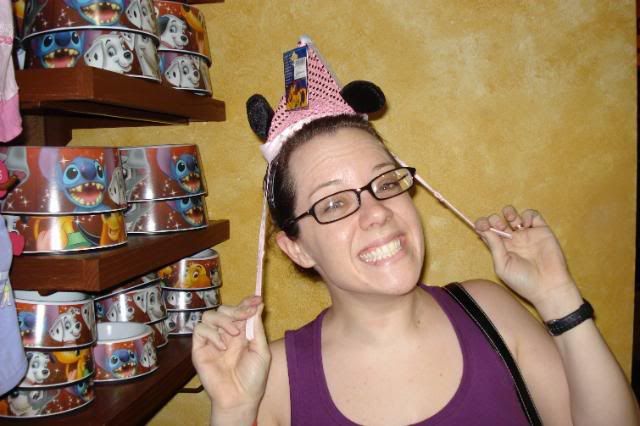 I cheered up when Kate, one of my bridesmaids, showed up. I never ever get to see Kate because we haven't lived in the same city for about ten years now and she's in the Army at the moment, which makes it a little bit harder to just pop in for a visit. Not including my brother, I've known Kate the longest out of all of my attendants. We bonded in the 8th grade over a general rejection of teacher authority and an affinity for Marissa Tomei movies.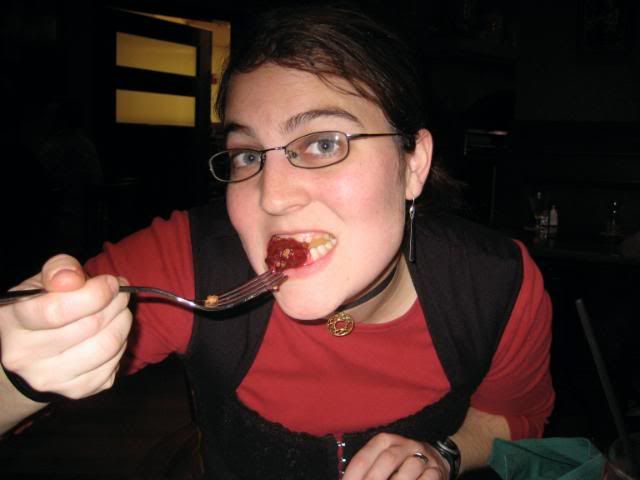 We were still in the process of catching up when Michelle knocked on the door. Michelle and I have been friends since high school and we went to Europe together for a couple of months after I graduated from college. She's pretty much my travel buddy…we've been all over the place together. This was the first time we'd been together in Orlando, though, since she was studying in Essox while I was on the college program. I wanted to hang out with my girls and visit, but Kyle and I had reservations to go to the luau with my family that night, so I had Kate and Michelle come with me to the Polynesian to help me take some stuff over.
Kyle was there when we got there, which was great since he and Kate had never met, and we were able to visit with them for a minute while they caught some food at the café. He seemed to be doing a little bit better, but when we were walking over to the luau I noticed that he was really warm and kind of quieter than usual. Kyle generally produces a low level of noise at all times, either through singing or humming or talking or just general random sounds, so the fact that he was just totally silent didn't bode well, especially since I knew he was excited about the luau.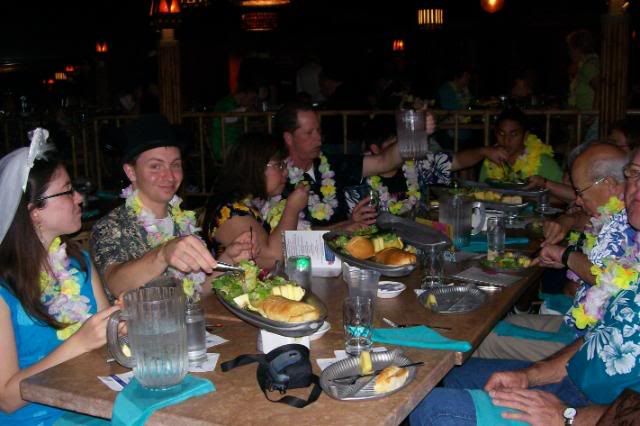 I had never been and didn't know what to expect, but it was all pretty lovely. The tiki torches were lit and we hung out and looked out over the lake before going in to our table near the stage. I was a little nervous about the food, since I'm allergic to tropical fruit in general, but there were a lot of delicious things that I could eat. I love themed food…especially when they come with themed drinks in coconut monkey heads!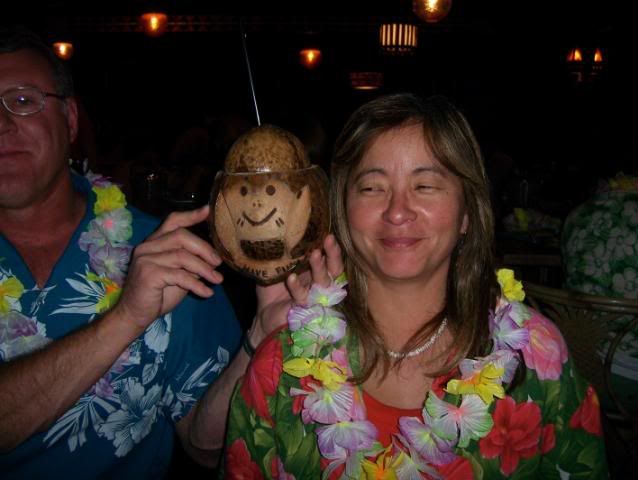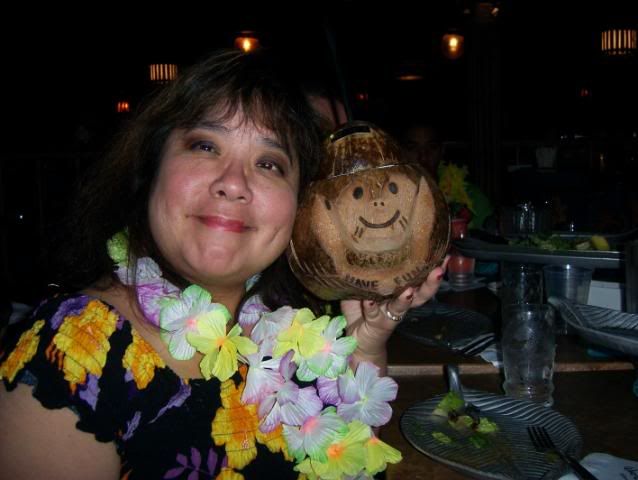 After dinner, the stage show started. The first part was heavy on audience interaction, which was a bummer because I ended up going up to hula with the January birthdays (I'm awkward and terrible at hula-ing) and then Kyle and I ended up going on stage to slow dance alone in front of everyone since we had our ears on (we're awkward and terrible at slow-dancing on stage during luaus).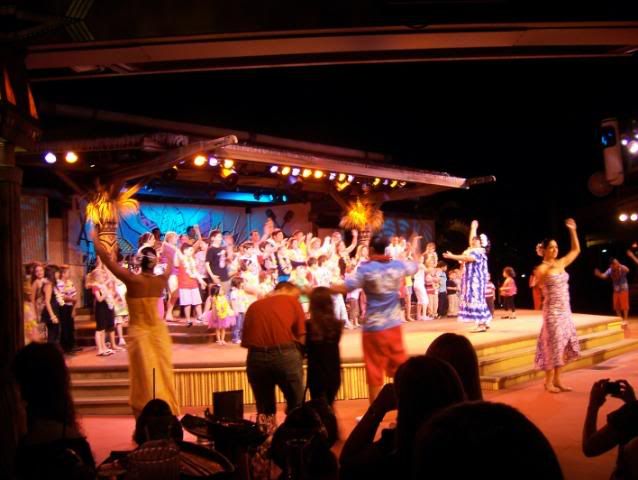 I survived the spotlight, though, and thoroughly enjoyed the rest of the show. The things that those people can do are completely incredible and it was a lot of fun to see the show with my brother since he's Samoan and was really, really into it.
Kyle held up really well during the luau. I could tell that he was still feeling a little off because he didn't drink much and he used up all of our Kleenex, but he had a really good time and didn't seem too bad. He sort of deteriorated on the way home, though, since it took us an hour and a half to get back to Pop Century. Apparently there are busses that leave for the resorts right after the luau, but we were dawdling with my family and we missed them, so we had to take the bus from the Polynesian to Downtown Disney and then switch over to the DD bus back to Pop Century. Bleh.
When we got back to the hotel, we told ourselves that we were going to go straight upstairs and go to bed. It was after midnight at this point and we had to check out the next morning to make the move over to the Grand Floridian for our free night's stay. However, when we walked through the food court to get some hot coca, we ran into two of Kyle's groomsmen and another friend who had just gotten into Orlando that night. We visited with them for a while and then ran into Neaner and Nate hanging out at the pool. Kyle ended up chatting with his friends out on the landing in front of our room and I took Neaner, Nate, and Michelle on a walk around the Pop Century grounds.
One of the things that I noticed during our trip is that I have awesome friends. Most of my bridal attendants didn't really know each other, since they were from different parts of my life or hadn't seen each other in a long time, but when they got together they all had a lot of fun. Neaner and Nate just picked right up with all of my friends from high school and they all ended up hanging out together without me. I can't even tell you how much easier it made it not to have to divide my attention up into hanging out with each individual person.
Kyle and I went to bed around 1:00 or 1:30. We hadn't packed or anything at all, so we told ourselves that we didn't have to get up to open any of the parks. In our heads this meant that we would have lots of time to do everything that we needed to do and get all the rest that we could ever want. Because that's how bright we are…