Day Three – Part Two
We left the Sci-Fi Dine-In with super full stomachs and an empty day ahead of us. Justin and Tracy took off to do their thing, since Tracy had never been to WDW before and they were taking the do-as-much-as-you-can approach. Kyle and I were more on the we-own-this-town approach, so we were content to wander around slowly and chill. We ended up wandering back to my family, who were at the pin trading kiosks.
Yes, I had unleashed a monster. Not only were my four female relatives taking full advantage of the lanyards I had gotten them, my grandfather also got in on the action and started his own set. Even Kyle couldn't resist. He bought himself an Ireland flag Mickey and got a Germany flag for my stepfather. I figured this was a sign that we should hit Epcot, so we decided to park hop and catch the boat over.
Unfortunately, we picked the WORST time in the history of the world to try to leave Epcot. We were down to only three wheelchairs because part of our party split off to stay at DHS, but we ended up having to take those three wheelchairs down the sidewalks of main street during the Block Party Bash, which in retrospect was a really stupid idea. Once we saw that it was going on, we should have just stayed put. Kyle and I wanted to beat the rush, though, so the boat wouldn't be too crowded, so we ended up struggling past people all the way down and, holy crap, it gave me a new appreciation for how rude people are to people who are in wheelchairs. Nobody would move or step to the side or wait for us to go by. People actually climbed over the chairs in order to get around us as we were moving and other people would step right into the path between the wheelchairs once we had made room for them to go through, just so they could stand a little closer to the show.
After a thoroughly frustrating trip from one end of main street to the other, we got organized and got on the boat. I noticed that Kyle and I had sort of taken to just shouting and pointing at everyone. "Left! We're going left! To the ramp…over there over there over there…LEFT!!! What are you doing? No, no ice cream…no time for that…let's go let's go let's go…" We weren't so much "good tour guides" as we were "bossy relatives on a mission". Oh well, at least we got where we were going.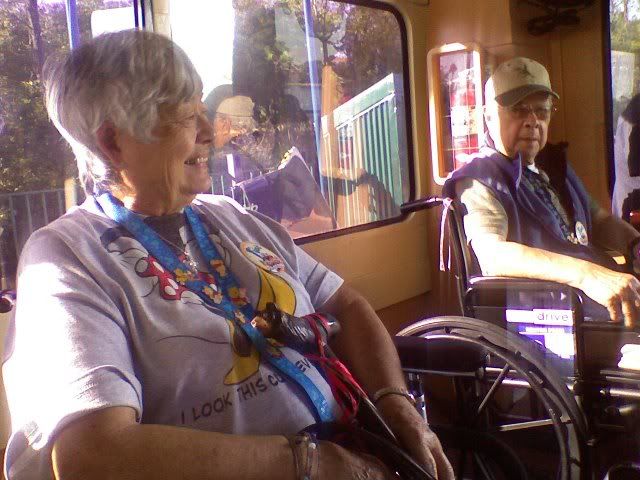 The boat ride to Epcot was nice, like it always is. I really like how quiet that cruise is in comparison to the busses and the ins and outs of the park gates. The only bad thing about it is that I had forgotten that this was everyone's first trip to Epcot, so they missed out on seeing the ball looming over the park gates. I always thought that that part was pretty cool and I would have taken them around the front if I'd thought about it. Instead, we eased into the park via the International Gateway, which is lovely but pretty understated.
As soon as we got in, Kyle was dispatched to get fastpasses for Soarin' and the rest of us started to wander around the pavilions, starting with France. Let me just say here, I heart Epcot. I heart Epcot so hard. If Kyle and I were banned from all Disney parks but one for the rest of our lives, it would be Epcot without hesitation for both of us. There's something about the pace and all the little details that just really gets me. Plus, I'm sort of in it for the food. Mmmm, internationalness.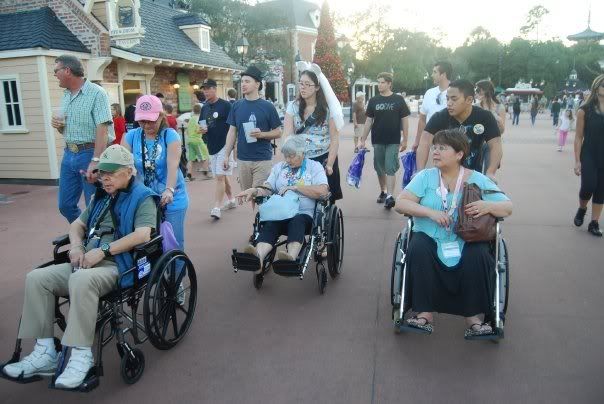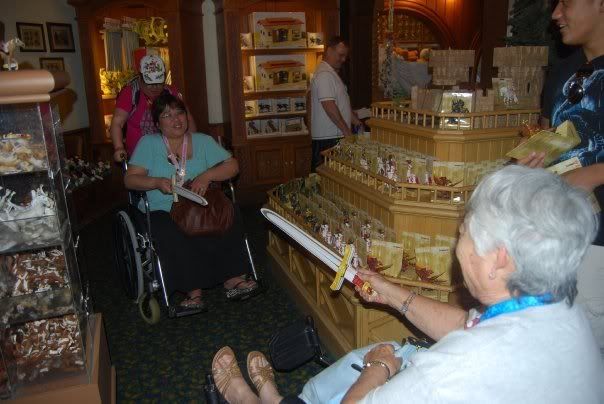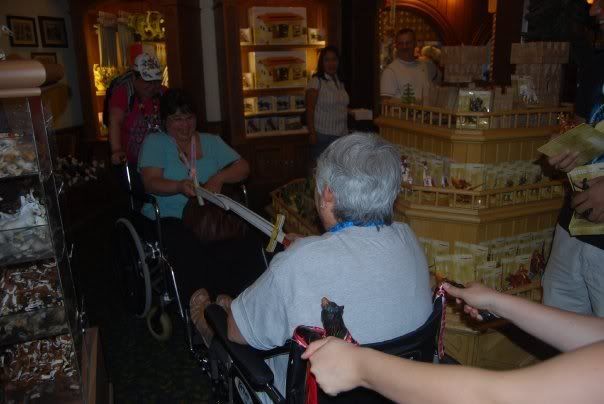 My family really took to Epcot. Everyone loved all the little shops and the street performers and that whole different-alcoholic-beverage-in-every-country thing. We just wandered and stopped and wandered and stopped as the sun started to set and all of those pretty lights came on over the water.
Kyle made it back to us once we hit Germany. It turned out that the Soarin' fastpasses had been long sold out, so he got a bunch of passes for Test Track. Unfortunately, the vast majority of my family, including me, doesn't do Test Track so the boys ended up with about three passes each.
We had brats in Germany for dinner and I was having a grand old time, but I started to notice that Kyle was looking a little worn down. The thing about Kyle (good or bad?) is that he is such a trooper. When things are going on, Kyle never complains about anything. He just keeps going, keeps running around, keeps up with the group…on the one hand I'm really lucky because it is so nice to not have to have one more person to worry about, but at the same time it's hard when Kyle gets worn out because usually you can't tell until he's really, really worn out.
So, when we stopped for dinner and he sort of collapsed on the curb and said he couldn't eat anything, I really should have heard a little alarm bell going off…but, being the terrible person I am, I just believed him when he said he just a little headache and was totally fine otherwise. See, that's the other thing about Kyle. He'll lie until he turns blue if it means he can avoid inconveniencing people. He claims that at the time he really did think he was fine, but looking back I definitely think we should have split off from the group and gone back to rest at the resort.
But, we didn't. We followed the countries around and down and then went over to The Land so everyone else could eat. I had forgotten that most of my family is either diabetic or on really strict sodium limitations, so most of the international food didn't work for them. Luckily, we were able to get some great things at Seasons and we had another yummy meal, while the boys popped over to Test Track to use up their fastpasses. Grandpa had had his face painted so he looked like a tiger (he loves them) and he was so cute because he proceeded to growl and snarl at everyone for the rest of the night. My grandpa tiger-snarling is the best…
Now, I know that these last couple of paragraphs only consist of us entering the park, eating bratwurst, and then going to The Land pavilion…which makes it sound like we just zipped from one place to another. Oh no. This entrance to bratwurst to Land journey took us about FIVE HOURS. Like I said before, my family is slow. So, once we were finished with dinner #2, it was pretty late and the boys had already ridden Test Track three times.
Justin and Tracy had caught up with us by then and my family was engrossed in yet another pin trading kiosk, so Kyle and I split off from them and went off with his brother to ride a couple of rides because it was Extra Magic Hours that night. Kyle was feeling a lot better at this point and I was excited because we hadn't really ridden anything, so even though we were exhausted we stayed out late against our better judgment. We did Nemo and Spaceship Earth and wandered around a bit…nothing too exciting but still enough to leave us totally worn out by the time we got back to Pop Century. The no sleeping was starting to get to us a little, but on the whole we were still feeling pretty good. Little did we know…