Disney Wedding Day – Part Five
When the portraits were done, Kyle, Jensey, Nathan, and I all sort of wandered away from each other. I started to head back over to the bride's room so that I could catch up with my attendants (and see it for the first time!) when I noticed my dad out on the dock. I told you before about my dad's general uneasiness with these sorts of things, so I figured his nerves were skyrocketing. He actually seemed to be holding up pretty well, so we took a spin around the dock in preparation for the father/daughter dance. It's sort of funny, actually, how miserable he was about having to do the dance. He wanted to do it, but at the same time he was so incredibly nervous about it that I think he was ready to jump off the dock and swim away, alligators be damned!
Following the short waltz, I made my way over to the chapel where Kyle was chatting with people and then realized that we still hadn't met our officiant, Rev. Knox. I found him in the chapel talking to one of Marion's assistants and he was very warm and happy. He ushered us into a little room near the chapel so that we could go over the vows. I was so happy that he was there, and not Theresa, that I actually wasn't harboring any negative feelings about the fact that he had missed our rehearsal. However, as we got started, we realized that he didn't have our vows. You know, the vows that we had written out, divided into clear sections, and emailed to him in both DOC and PDF file format. All he had was a little piece of note paper with general directions on what he was supposed to say.
It was just…bleh.
At this point it was 11:50. The ceremony was supposed to start at noon and I hadn't really spent much time with my attendants and still hadn't been inside the bride's room. I wanted to be tucked away, getting excited, giggling with my girls, instead of slowly going over vows and a ceremony that should have been taken care of weeks before. He didn't know when he was supposed to say certain things, didn't know the order people were coming in, didn't know where everyone was sitting/standing, and at one point referred to us as "The Lanes". The worst was that we got to some parts that we had taken out and he started to argue with us about taking them out, pointing out that they were very popular and moving. That's great, dude. Use them in the next wedding.
The cherry on top was the fact that he asked us to pay him (we were supposed to pay at the rehearsal and forgot) and then when I had to send Kyle out to find whoever had my purse with my checkbook, he had the nerve to point out that if he didn't get paid he wasn't going to do the ceremony. From where I stand, if you didn't show up at the rehearsal to collect payment, you don't have a leg to stand on when making snide remarks about a couple trying to get out of paying you.
Once he was paid and dealt with, I finally made it over to the Bride's Room. It was pretty, but smaller than I thought it was going to be. The girls and boys on my side had split up, so I didn't actually see Nate or Jed that much right before the wedding. My ladies were in high spirits, though, and we had a good time giggling and laughing and playing around.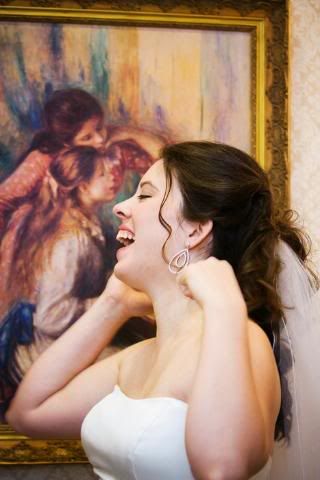 Then, before I knew it, it was noon. I can't even tell you how weird that realization was. Marion had appeared and was there to let my mom know it was time to go and then she took my attendants, lined them up, and swept them away. It was 12:03 according to the clock in the Bride's Room and I was all by myself. That thing happened where you aren't really nervous about something and then all of a sudden you break out into a cold sweat and your fingers feel like they have ice water running down into them.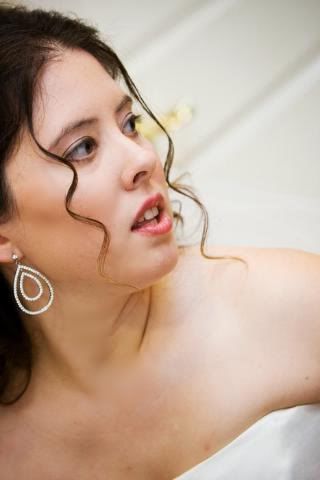 Marion came back to check on me and I had her get my dad, who was sitting outside on a bench, looking a little miserable. Between dad's discomfort at being in the spotlight and my sudden and immediate feeling of oh-my-god-I'm-not-ready, I think we were both ready to hail a cab. In fact, my dad actually offered as we made our way from the bride's room to the chapel doors…
"Are you ready for this? Or should I go get a cab?"
"Shut up. I think I'm going to pass out."
"I told you to just elope. Now look at us."
"Oh God, I think I'm losing feeling in my fingers and toes."
"If you pass out, I'm catching a cab."
"Shut up. Enh…I'm going to puke."
"Good luck puking in that dress. That will make this better…you walking into the room with puke all over the front of you. If we do that, I won't have to worry about anyone looking at me."
And that's the piece of wisdom that my father passed to me right before the doors opened and we walked into the chapel.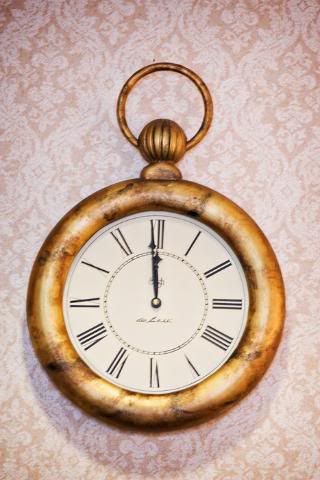 NEXT: Part Six (It begins)