Wedding Day – Part Seven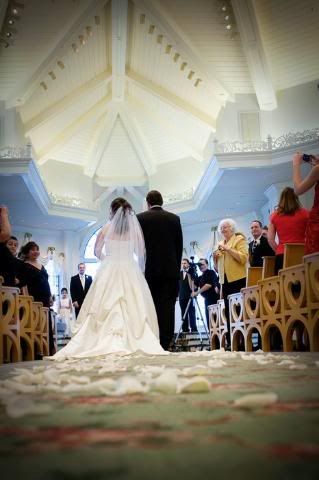 The one thing that everyone said to me before I got married was that I wasn't going to remember my wedding day. "It just whirls by! It will be over before you know it!" In one sense, this was true. Our wedding was a rush of happy faces and things to do and congratulations and lots and lots of pictures. When it was all done, I think I literally had to stop and catch my breath. But, in another sense, because I was trying so hard to take it all in, I remember more details about that day than I do any other day in my life…and, like a bad Lifetime movie, at least half of those memories are in slow-mo.
Walking down the aisle was one of them. Marion and her assistant opened the doors and it was completely and utterly bizarre to see everyone standing there waiting for me, including Kyle at the front of the chapel. I remember when Craig and Kristen got married and I saw her walk down the aisle for the first time. It was actually at their rehearsal, and not their wedding, so she was walking down the aisle with a big bouquet of ribbons gathered at her bridal shower and we were all standing around in jeans, watching her. As she practiced going down the aisle, I distinctly remember tearing up and being embarrassed about it because I barely even knew them. A couple summers after that, when Justin and Jenna got married, she and her dad had the whole audience going when they both cried as they walked down the aisle. So, I was actually prepared to get a little watery-eyed on the walk.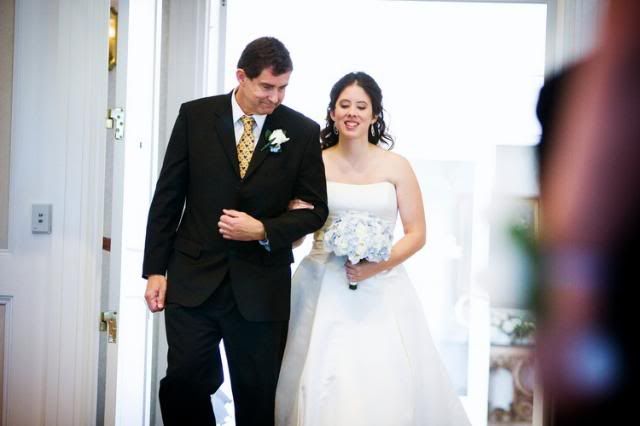 Oddly enough, I don't think I've ever been more dry-eyed and calm. It's funny, because I was in a complete panic right before the doors opened, but when they opened I suddenly felt very focused and clear. I can honestly say that it was the most relaxed I had been all day. I wish I could say the same for dad, who approached walking down the aisle with the idea that the faster we got there, the faster he could sit down. We booked it about a fourth of the way until I dug my heels in and made him walk more slowly. As we walked, I looked at all the little piles of flowers that Kaitlyn had dropped, at all the people watching me through the digital screens on their cameras, and at Kyle who looked exactly as calm as I felt…and then the calm went away again.
I've heard brides say that locking eyes with their groom while walking down the aisle was the single most important part of their wedding…that at that second they could see all the happiness and love that the couple has between them…that their entire life had been leading up to that moment. That didn't happen to me. I actually sort of wanted to lock eyes with Kyle (beautiful, tear-filled bride eyes) and realize that everything in life was absolutely perfect…but instead I looked into his eyes and started to feel ridiculously ecstatic to the point of being out of control. I just kept thinking to myself "Girl, you have got to calm down. You are a half step away from squealing with glee and that's going to be very very inappropriate right now."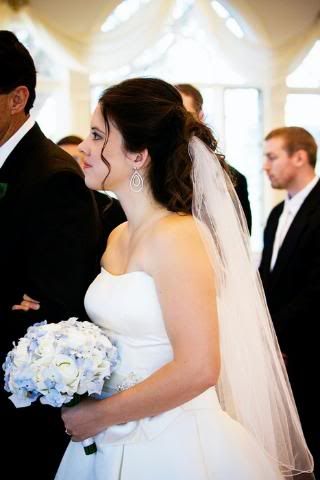 I am a little disappointed that I wasn't all tears-of-love coming down the aisle, but one of the nicer things I remember about the whole ceremony is having my father put my hand in Kyle's, because as soon as we were holding hands, I felt complete relief. If I could have, I would have turned to him and said, "Friend, it's a good thing you're here because I was about 30 seconds away from freaking out just now. Ok, let's do this…"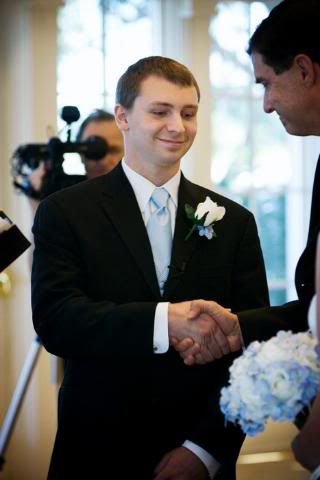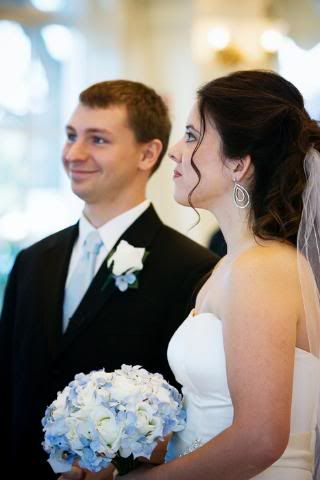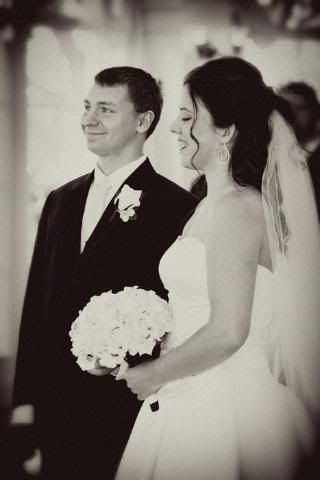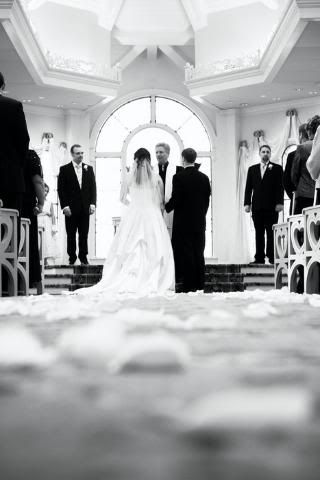 NEXT: Our Ceremony