Disney Wedding Day – Part Two
I went down to the lobby of the Grand Floridian with my veil and my Bride hoodie and my super-curly hair, fully realizing that I was one of those spectacles that people point out on their vacation. The man I rode down with in the elevator congratulated me, asked if it was my first marriage, and then told me that he had been married four times and each time he had a big wedding, only to regret it later. Thanks for sharing, dude. That information is just the kind of thing you want to hear on the morning of your wedding.
My girls were waiting by the main doors so I went in for a round of hugs and then swept them upstairs through all of our keycard-only, super-complicated elevators. They were all business, with makeup bags and hair tools in hand, ready to get to work. Unfortunately for them, I had to put them to work almost immediately. Marion had called up to the room to let us know that the reception area was open and ready to be decorated, which gave us just about an hour before we were supposed to be taking pictures down in the lobby. We have a funny video of me giving the bridesmaids a VERY detailed description of exactly what needed to happen on the tables. I would post it, but it makes me look like a super bridezilla. I actually wasn't too worried, to be fair. I'm mainly friends with people who are very good at that sort of thing.
The girls called a bellman and took the decorations down to the ballrooms while Anna started in on my makeup. I was a little nervous about the makeup application since the hair thing hadn't gone very well, but she did a really nice job.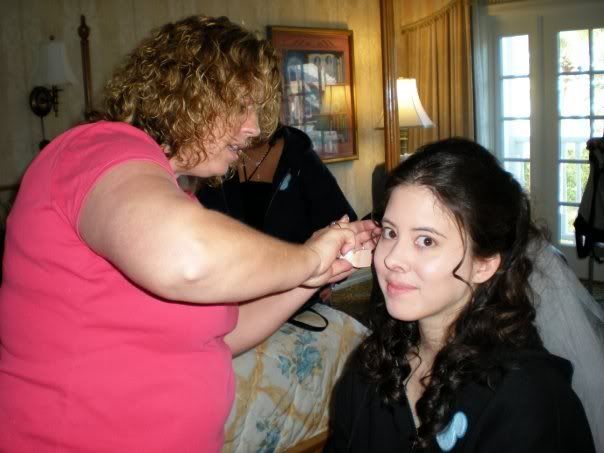 The only thing that I wasn't completely keen on was actually my own fault. When I did the trial in August, I told her that I wanted a sheer, pink, shimmery lipstick that was halfway between "girly" and "natural". To her credit, she brought me exactly that and gave me a little tube of it to take home. I liked it, but then when I was a Weddingbee for about a minute last summer, they posted the pics from the trial and people totally nixed the lipstick color. One memorable comment implored me not to try to pull off the "Lindsay Lohan lips". Needless to say, I've shied away from both pink and shiny ever since.
So, Neaner and I went shopping for wedding day lipstick a couple of months ago. We went to Sephora, which might have been a mistake because I was immediately overwhelmed, and I panicked until I found two colors. One was a color that was only slightly darker than my natural lip color and the other was a deep purple that was pretty striking when I put it on. I don't wear striking lipstick ever, but Neaner was a huge fan so I bought them both. I took them both to Florida and when I tried them on for people the unanimous vote went to the darker one. So, that's what I wore. I suppose it looked ok, but in all the photos that were taken before it wore off, I think I look a little garish. I probably just should have gone with the natural one.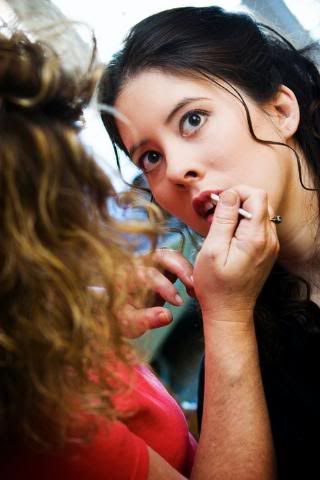 As Anna was finishing up my makeup, the Roots showed up. It was nice that we were able to spend some time with them in August because seeing them on the wedding day was like seeing old friends. After the meet and greet they slipped into the background and took a lot of amazing shots of the room without getting in the way or bothering us at all.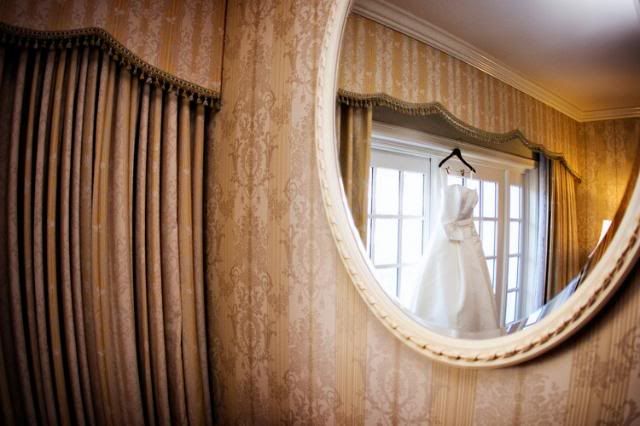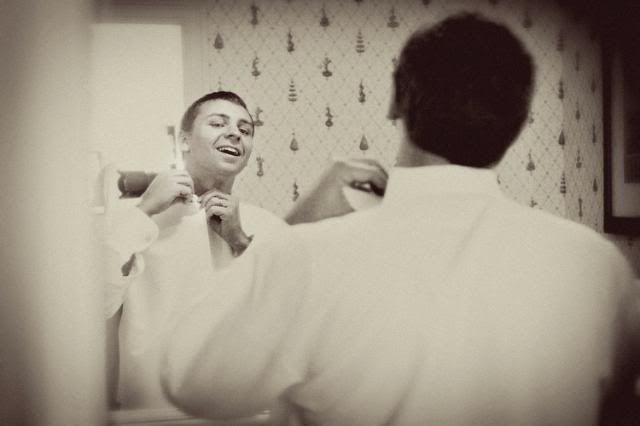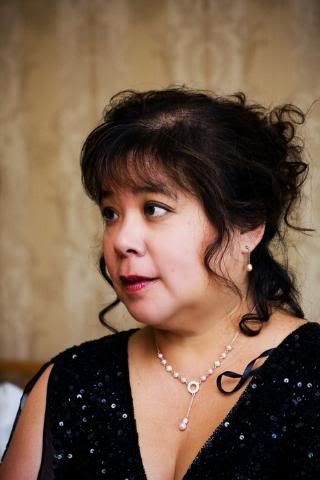 Anna left (with an awkward I-love-you-girl goodbye hug) and the boys arrived (the boys being two of Kyle's groomsmen and my three guys). I escaped with Jed to the balcony for a second so that he could siphon off some of the stress-energy and then I showed Nate how to send pictures to the blog via my cell phone. He took his role very seriously, which I thoroughly appreciated because there was no way I was going to be able to do it. I just wish he had been with me in Napa last weekend to photo blog that one!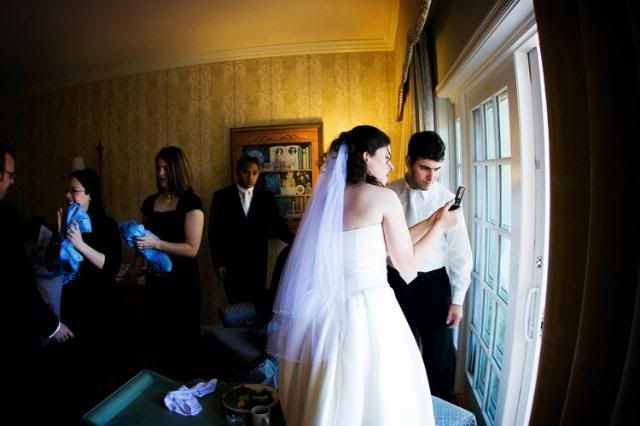 The girls came back and ran around finishing their makeup. We were supposed to be in the lobby to take pictures around ten or ten thirty, so as the clock ticked closer to our eleven o'clock check out time, I got more and more anxious and there was something of a mad scramble to get all of our bags together and get them out the door (which unfortunately resulted in the misplacement of EVERYTHING…more on that later…) and we didn't head out of the room until around 10:50.
Everyone really wanted me to be calm and happy and not have to do anything, but hands-off isn't really my style, so I was pretty much ordering people around and being incredibly bossy. I apologized to my attendants later for being such a wedding dictator, but everyone seemed to take it in stride. I guess that's the one day that you get a free pass to be really annoying and not have people hold it against you later. As we walked down to the lobby (with me leading the way, of course) it really started to sink in that my wedding prep time was over. Everything that hadn't been finished – manicure, favors, gifts, emergency playlist, embroidered commemorative handkerchiefs – was never, ever going to happen. Our wedding had reached the come-as-you-are stage and whether we liked it or not, this was as good as it was going to get.
I admit that as I walked up to the large group of friends and family waiting for us in the lobby, and all of their happy faces turned to see the bride and groom, I sent up a short prayer. I try not to pray about things unless I really feel like they are serious matters, just in case I'm stealing time from people in war-ravaged nations, etc., but on my wedding day I just couldn't help but think "Please, God, let us have a beautiful wedding where everyone is happy, everyone is healthy, and I don't pop the seams on this stupid, giant dress. Amen."