Disney Wedding Day – Part Fifteen (Continued)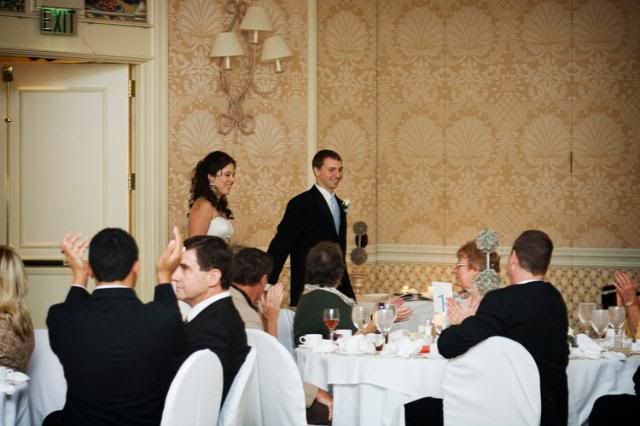 When we walked into the ballroom and everyone was clapping for us, I still hadn't quite gotten over how silly our entrance was. As I mentioned before, we had just seen all of these people at the pre-reception and we'd talked to many of them before the ceremony, so the fact that they were clapping and hollering as though they had never seen us before was enough to give me the giggles a bit. Kyle and I honestly strolled in like it was no big thing…and in retrospect I wish we had come in with a bit more energy. It is fun to see brides and grooms come in like "Oh, yeah!" whereas we came in like "Oh, you guys. You're so funny."
When we had rehearsed our entrance before, the music started to play right when we walked into the room and by the time we got to the dance floor, it was time to start dancing. When we walked in to the actual reception, there was some sort of celebratory track playing…which was a lot of fun, but which left us doing the whole "what is this?" thing on the way to the dance floor. Again, that sort of ran down the energy of our entrance because we weren't sure if our song was going to be there for us when we got to the dance floor. We shouldn't have worried. The song switched over right as we started to walk onto the floor and we were able to start dancing almost immediately. It's just funny to see our faces in the video because you can tell that we were totally thrown off.
The Story of Our First Dance
Our first dance is one of those things that I obsessed about in the beginning. Kyle and I like music and like to dance (we actually slow dance together all the time) but we aren't what I would call "dancers". You know that couple that always warms up the dance floor with their hip, graceful moves…the ones that are so good at dancing that you end up having a great time at the party just watching them? Sooooo not us. We're the couple equivalent of the "Elaine dance", with the weird faces and all.
So, when the fact that we were going to be having a first dance occurred to me, I went into a bit of a panic. Yes, we know how to slow dance. Yes, we could have done the middle-school shuffle to pretty much any slow song that we wanted to pick. However, I wanted the dance to be special because I wanted the whole wedding to be special. This is what happens when you have 6 months or longer until the wedding…you actually believe that you have the ability to make every element of the wedding unique, memorable, and perfect. Since we had about a year until the wedding when I first started thinking about our first dance, I had no problem deciding that we would learn a choreographed number and blow everyone away. Dance lessons? Sure! Instant YouTube celebrities for having the greatest first dance ever? Naturally!
Fast forward about seven months…I had lost my ample amounts of free time and definitely lost my desire to recreate the final scene in Dirty Dancing. We had also done some serious tightening of the budget as our guest list grew and our savings account dwindled. Suddenly, dance lessons were a luxury that probably weren't going to happen. They aren't that expensive, actually, but every little bit counts when you're working with a wedding budget like the one we had. So, I did the next best thing. I hit YouTube.
I watched so many first dances. I watched people tango and shuffle and swing and twirl. I would say that I watched a combined six hours of first dances on YouTube…and I learned some valuable lessons. First, first dances are naturally boring events. It's hard to watch people dance around and look lovingly at each other for a full four minutes. The idea that you can make your first dance something that people will want to watch again and again and again is really a pipe dream. It's probably not going to happen. Second, it does make a difference if you pick a bad song. You can have a great dance set to a terrible song and you'll remember it as a terrible first dance, or vice versa. Third, funny first dances are a bad idea. They aren't likely to be funny and, unless you're that one couple that managed to pull it off, they come across as embarrassing and a little desperate. So, basically a "no".
Finally, in my searching, I found a first dance that I just loved. It's obvious that the couple had either training or a background in dance, but the dance wasn't so ridiculous that it looked difficult to pull off. It was also set to a Disney song remix and it was a remix that was classy, fun, and perfect for the occasion. Other than the obnoxiousness of the woman who filmed it, it was the perfect first dance video clip…
So, Kyle and I decided that we would try to recreate it. We figured we could copy the people in the video and then make up whatever parts were missing. I tracked the song down on a Disneymania CD and got it from Half.com, so that we could practice. And then…we didn't. I don't really have an explanation. We just didn't ever set aside time to learn the steps or put anything together. We both liked the song, but we weren't that enthusiastic about our first dance when we really thought about it. It was an abstract "oh, I guess that will be nice" instead of something that really felt like "us". Of course, the problem was that there was no first dance that felt like "us"…so it was either this dance or the middle school shuffle.
About a month passed with us debating between the YouTube dance or just doing the middle-school shuffle to our song, which is "Over the Rainbow" by Israel Kamakawiwo'ole. Then, one day, we were dancing around our living room just for kicks and giggles and I was making Kyle sing songs for us to dance to. He's notorious for not knowing the words to anything, so we don't usually get very far. I love his singing voice, but his renditions are usually things like, "You…are…so beautiful…to me…something something something…everything I hoped for…something something need…" I was giving him a hard time and threatening to not dance until he could make it through a song, so he switched over to his Kermit voice (so good, btw) and sang me The Rainbow Connection, which is one of our favorite songs ever. It's also one of the only songs that he actually knows all the words to. I noted that it was really easy to dance to and joked that we should just dance to that on our wedding day…
Fast forward two more months. We were now in crunch time and we were sans first dance or even a first dance song. I was alternating between being completely pleasant and being completely irrational, so in one of my irrational moments I announced that we were just going to have to skip the first dance completely because we hadn't done anything about it. (For all you rational folks out there, this is bridal code for "I am upset that you didn't make our first dance a priority and push me to get off my butt, which would have resulted in us having a perfectly choreographed dance. For this reason, I am holding our ruined wedding against you as it is your fault entirely.")
Kyle looked up at me totally confused and said, "I thought we were doing the Rainbow Connection?" My husband was apparently completely satisfied with Kermit's voice coming out over the dance floor as we did the middle-school shuffle. For him, that dance would be the epitome of "us" and we had naturally realized this and therefore we needed to think on it no longer. For me, this was not an ideal solution. However, since we were floundering in the first dance category, I was open to ideas. I pulled up a different version of The Rainbow Connection, which we had gotten as part of a charity CD purchased solely for Cake's rendition of "Mahna Mahna". Sarah MacLaughin had done this really beautiful version of the song and it was set perfectly to a waltz tempo. As soon as I heard it, I knew we had found a winner. Of course, there was that little detail about not knowing how to waltz.
Enter YouTube. I already knew the basic box step and YouTube provided a couple of flourishes that we were able to teach ourselves in the last couple of months. We actually had to practice in the hallway of our apartment building because our living room does not have enough space for us to flourish, so I'm sure our apartment building enjoyed our nightly routine of listening to The Rainbow Connection twenty times in a row between the hours of eight and nine. Jed provided a couple of pointers when he came out to visit and that was pretty much it.
Well, almost…
I'll admit, I was really frustrated with Kyle when we were learning to waltz. I'm not a great dancer, but I had the advantage of knowing the box step and expecting to be lead around the dance floor. Kyle didn't have any experience either waltzing or leading, so there were a lot of headaches in the beginning. Right up until a couple of days before the wedding, I was close to just pitching it out and doing the middle-school shuffle.
It's only due to Kyle's unending patience and his determination to practice until perfect that we even waltzed at all…and he was so right. It was fun and we had such a good time on that dance floor, even when he forgot to turn me and I had to twirl myself around. Yes, we felt awkward and off-beat. Yes, I tripped all over my dress and he had to catch me from falling. Yes, we were nervous and giggly and counting out loud. But it was so, so wonderful and somehow, inexplicably, it ended up being exactly "us".