Disney Wedding Day – Part Fourteen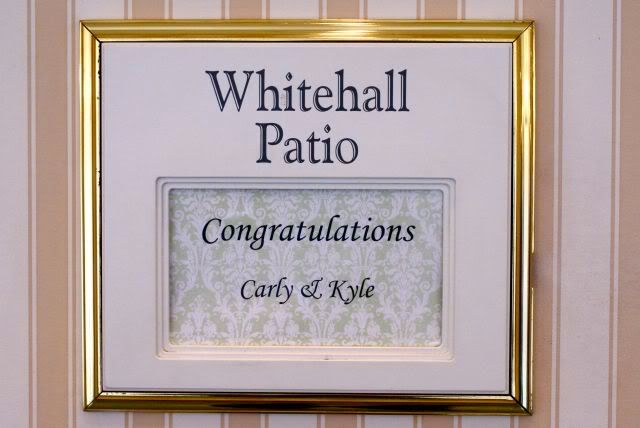 Walking in to the pre-reception was totally weird.
Everyone clapped and smiled, but then they were all quiet, staring at us. So, rather than say something profound or kiss my husband or do anything of that sort, I made a sharp right to the bar and ordered a white wine (white dress and all).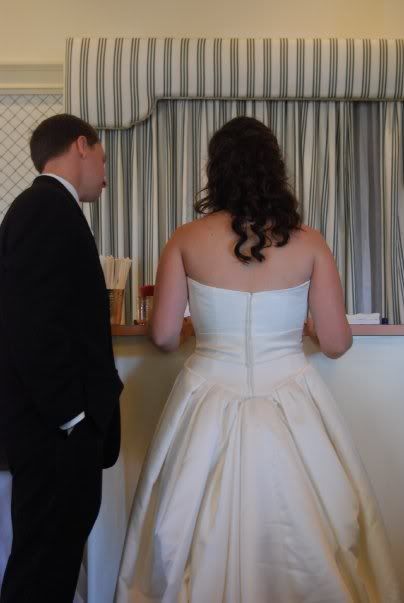 (By the way, we found out the secret formula for a great wedding.
3 minute ceremony + 5 hour open bar = happy wedding guests)

Kyle got a beer and then wandered off somewhere so I kind of walked around the tables and said hi to people. Everyone seemed to be waiting for me to do something…after I said hi, they would all say "hi" and "congratulations" and then just sit there and beam at me. I should have taken in some card tricks or something.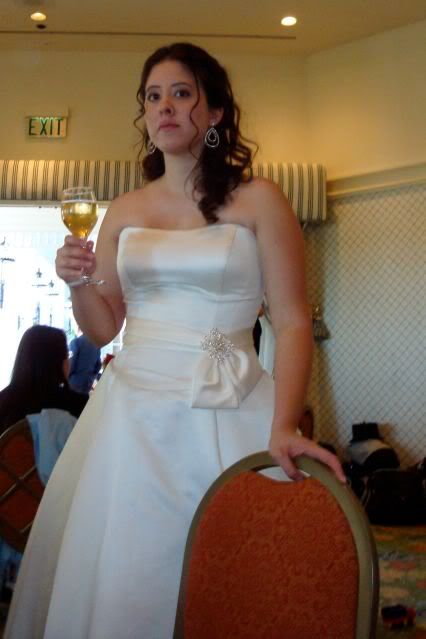 People were sitting around the tables inside the Whitehall room and standing around on the patio, enjoying the weather. I noticed that there were red roses in white vases on each of the tables. I guess that Disney provides those for the lame brides who don't order flowers or provide decorations…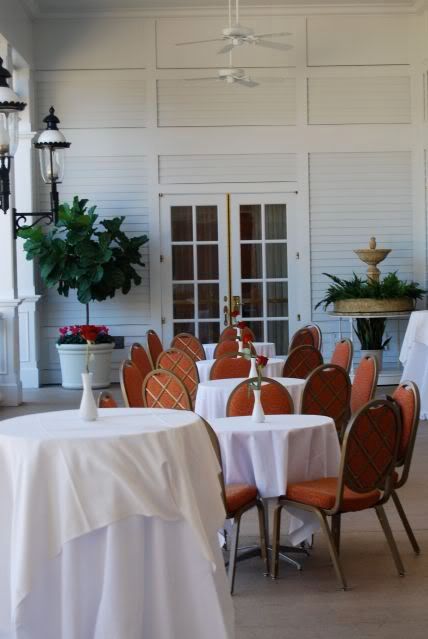 As I moved from group to group, people said that I looked beautiful and all that, but I just couldn't think of anything to say other than "thank you" and "having a good time?" I finally switched over to "Did you enjoy the ceremony?" which, when you think about it, is still kind of a dumb question. I mean, what are they going to say? "No, your ceremony was awful. Worst two minutes of my life."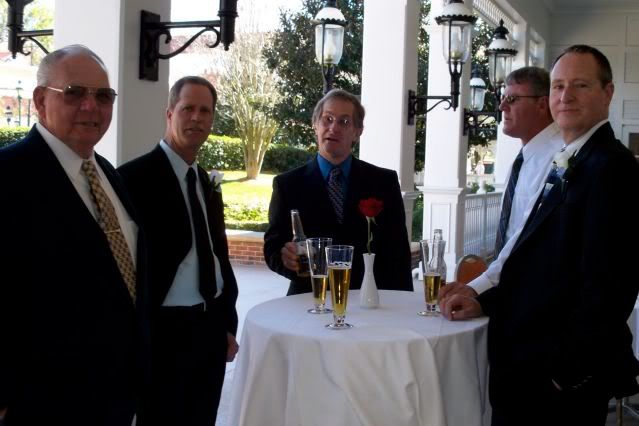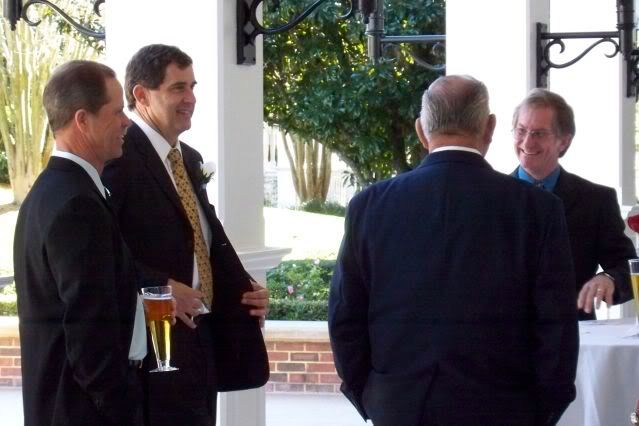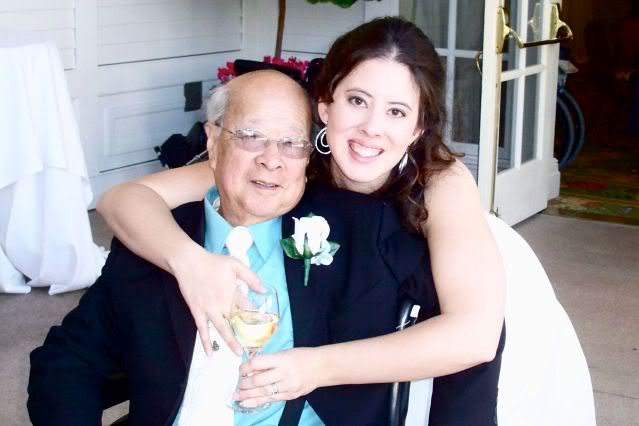 People did say that they really enjoyed how short it was. Then, almost everyone followed that up with, "Hey, I saw your preacher take off like he was on fire after the thing. Do you know where he was going in such a hurry?" Running out of the wedding pavilion as soon as our backs were turned…that's a nice move, Rev. Knox. Way to leave a cherry on top of what was already an impressive failure to earn that $300.
I'll admit, after I hit most of the tables, I took refuge in the bridal party. I had told myself to make sure that I was social with everyone for an equal amount of time, but the silent smiling and repetitive conversation was freaking me out and the bridal party was pretty much over me (open bar, etc.) so when I walked up, they had no problem pretending that I wasn't standing there in a white dress on my wedding day. In fact, I'm pretty sure they were knee-deep in an alcohol-fueled debate, but I can't remember what the topic was.
(little known fact: I look like I'm having a BFF moment with Nate, but really I'm
telling him that he has goose poop all over his shoe)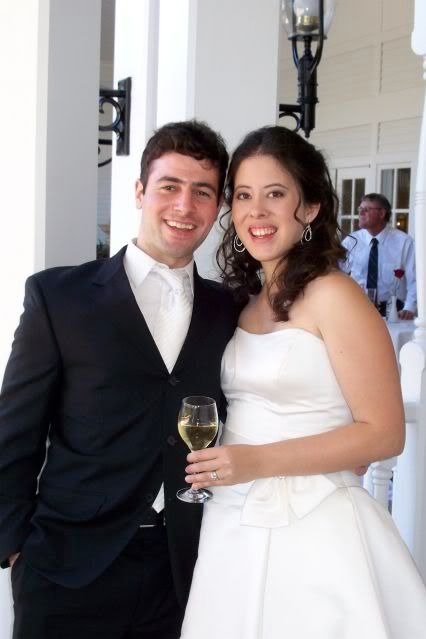 (right after successful de-pooping of the shoe)
(and this is where Nate pretends that he's taller than I am…I think he's on his tiptoes…)
As I walked around and talked to people, our flower girl stayed pretty glued to my side. She had sprung up like a daisy almost as soon as we walked in and was following me from table to table, eventually swinging my arm around and trying to get some attention. As she yanked on me so hard that I almost fell over, I realized that I hadn't actually paid that much attention to her all day. Yes, she had been there for most of the picture taking and the preparation, but really she had just been following us around, holding things for us and bossing other people to help us out. We hadn't actually been interacting with her. I think it was at this moment that I realized just how well-behaved she had really been all morning, so I took her out on the patio for a little one-on-one time with my new niece.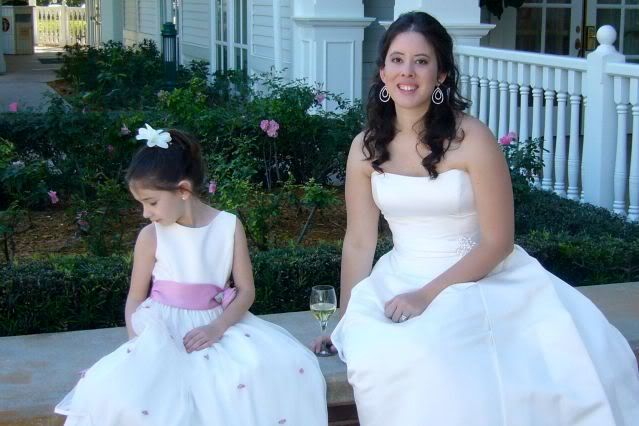 So there we were, sitting on the ledge, her with her white shoes and me with my white wine. I was asking her about her new kitty, when I realized that about thirty people were taking our picture. This will probably be my only taste of what being a celebrity must feel like. Kaitlyn and I were staring at each other, trying not to notice all the flashbulbs going off, and she was very carefully telling me a ton of random facts about her new kitten…all of which were stated in a loud, clear voice that was obviously intended to let everyone know that no camera on earth was going to interrupt our conversation.

My dad, however, proved more formidable than mere camera flashes and we weren't outside very long before he came over to chat with us. Being a lady, Kaitlyn graciously allowed him to step in on our conversation, although she compensated not having my full attention by climbing up into my lap.

Dad had unwound a little bit, now that the ceremony was over. He was still complaining about the father-daughter dance, but at least he didn't look like he was about to bolt from Disney property.
Kyle wandered over while we were chatting and we were snagged by people who wanted to make sure they got pictures with us. I was actually really grateful whenever people grabbed me, because I was having a terrible time keeping track of who I had and hadn't said hello to.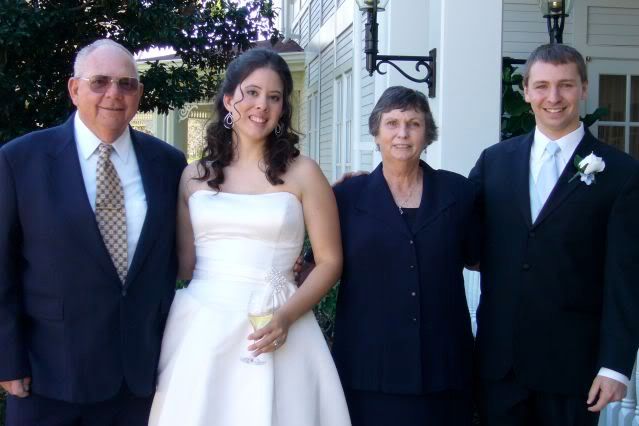 While we were getting photographed, Marion's assistant started moving people from the pre-reception to the reception. It's funny, but I actually saw both Kyle and my father's stress levels go up about ten notches. I'm starting to think that those required wedding reception dances were designed solely to make all men involved feel truly miserable.
It took a little bit of maneuvering to get everyone from point A to point B, but eventually they all made it. We walked behind everyone, slowing down so that we could make our "grand entrance". Marion's assistant actually pointed out that we weren't supposed to go to the pre-reception. We were supposed to stay hidden somewhere and then reappear magically at the reception. Kyle and I, drinks in hand, walking ten feet behind our guests, were apparently not following the DFTW protocol for magical entrances. Oops…and now we know…
As the last of the guests filed into the ballroom, they closed the doors and motioned for us to come up for our big entrance. It was actually pretty silly, since we'd just seen everyone and been chatting with them, but the fact that Marion and her people were making such a thing about our entrance to the reception kind of those butterflies of excitement going for me. I will say this…Disney does a really good job of making you constantly feel like something wonderful is about to happen. Out in the hallway, we heard the DJ asking everyone if they were ready to celebrate with us and we heard our guests clap and whistle and make general joyful noise as Marion and her assistants swept open the doors for our grand entrance…