I wasn't sure what to expect for the father-daughter dance. As I've told you many times before, my father does not enjoy being in the spotlight. Additionally, to the best of my recollection, we've never danced together (at least not since I became too big to stand on his shoes). My father seems to avoid events at which dancing would be expected, in fact. So, the father daughter dance was a big open-ended question.
In fact, we almost didn't have one. When we initially started planning the wedding, I asked him if he wanted to walk me down the aisle. To be fair, it wouldn't have surprised me if he had said no, given his reluctance to do things like that. To my surprise, he agreed, but immediately conditioned his agreement on the fact that he was not agreeing to dance in public. This was the last we said on it for months, so I was surprised when he brought it up. As it turned out, he had been planning on dancing and had even been practicing!
We don't have a standout song or anything, so I mailed my father a cd with potential songs to pick from. He's a Deadhead who is into rock music and we're both really into folk music, so I included a lot of those sorts of songs (an acoustic version of "In My Life", Simon and Garfunkel, Carole King) and I threw in four or five really sappy songs just to round it out. This included Butterfly Kisses (I hate that song), I Loved Her First (which I have always thought was really inappropriate), and Cinderella by Steven Curtis Chapman.
I posted about Cinderella earlier in the year, right after I heard it for the first time, and noted that it was perfect for a Disney wedding, but probably not something that my father would want to dance to. Well, to my complete surprise, that ended up being the winner. He acknowledged the cheesiness, but thought it would be the easiest to dance to. Plus, he thought most of the other songs were either too romantic or too bizarre. (I suppose he had a point with "Angel From Montgomery"…). Honestly, there is a real lack of good father/daughter wedding songs out there if you aren't going for the whole Butterfly Kisses effect.
As I walked to the dance floor to meet my dad, the music started to play and I realized that I was really happy with his choice. The songs is just so perfect for a Disney wedding and I think it really sums up the father/daughter relationship without turning it into something that belongs on WE Television for Women. Dad was waiting for me on the dance floor…smiling, but looking a little miserable…and as we started to dance he said, "ok, let's get this over with."
My dad is the 2nd funniest person on the planet. He loses out by a small margin to my little brother, who is the funniest person who has ever lived (If you're wondering about Kyle, he comes in 4th). As we started to dance, Dad started to just toss out little quips about how miserable the situation was and, as a result, we had a hard time staying on beat because I was laughing so much. You can hear me making very unbridelike snorting sounds in the wedding video and saying really sentimental things like, "for real, shut up, I'm concentrating here."
Poor Dad, who hadn't even eaten because he was so nervous about the dance, totally lost focus about halfway through and tried to give me a hug and exit the dance floor. Not wanting to finish the dance up by myself, I ended up holding him in a death grip to prevent his exit. He almost physically dragged me off the dance floor, but ultimately he must have decided it would just be easier to finish up the dance. Luckily, the death-grip-exit-attempt-threat-exchange wasn't accurately captured in the wedding video and it just looks like we stopped for a second in the middle to give each other a hug and then kept on dancing.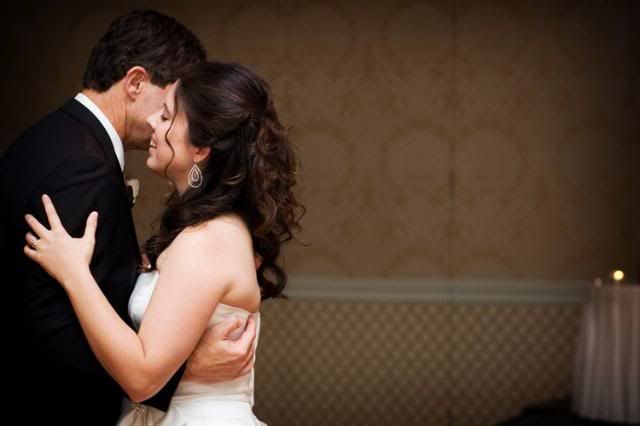 It was a long, long song, but we made it through and Dad was finally able to give me the first genuine, non-pained smile that I had gotten all day. I suppose that some of our guests might have thought that Dad's periodic scowls were the pangs of losing a daughter, but in reality I think he was just really sweating that dance. I shouldn't have gotten so much glee from making him go through it, but it's just such a good memory now.
As I exited the dance floor, passing Kyle, who was making his way up for the mother/son dance, I really began to feel a deep sense of satisfaction that so many lovely things had already happened that day. All of those little things that were supposed to go wrong hadn't and the little things that had gone wrong didn't matter. It started to sink in that we just might have pulled it all off…
Cinderella, by Steven Curtis Chapman
She spins and she sways
To whatever song plays
Without a care in the world
And I'm sitting here wearing
The weight of the world on my shoulders
It's been a long day
And there's still work to do
She's pulling at me
Saying "Dad, I need you
There's a ball at the castle
And I've been invited
And I need to practice my dancing
Oh, please, Daddy, please?"
So I will dance with Cinderella
While she is here in my arms
'Cause I know something the prince never knew
Oh, I will dance with Cinderella
I don't want to miss even one song
'Cause all too soon the clock will strike midnight
And she'll be gone…
She says he's a nice guy and I'd be impressed
She wants to know if I approve of the dress
She says, "Dad, the prom is just one week away
And I need to practice my dancing
Oh, please, Daddy, please?"
So I will dance with Cinderella
While she is here in my arms
'Cause I know something the prince never knew
Oh, I will dance with Cinderella
I don't want to miss even one song
'Cause all too soon the clock will strike midnight
And she'll be gone
She will be gone
Well, she came home today with a ring on her hand
Just glowing and telling us all they had planned
She says, "Dad, the wedding's still six months away
But I need to practice my dancing
Oh, please, Daddy, please?"
So I will dance with Cinderella
While she is here in my arms
'Cause I know something the prince never knew
Oh, I will dance with Cinderella
I don't want to miss even one song
'Cause all too soon the clock will strike midnight
And she'll be gone
NEXT: Part Eighteen (Reflections and Mother/Son dance)