Disney Wedding Day – Part Sixteen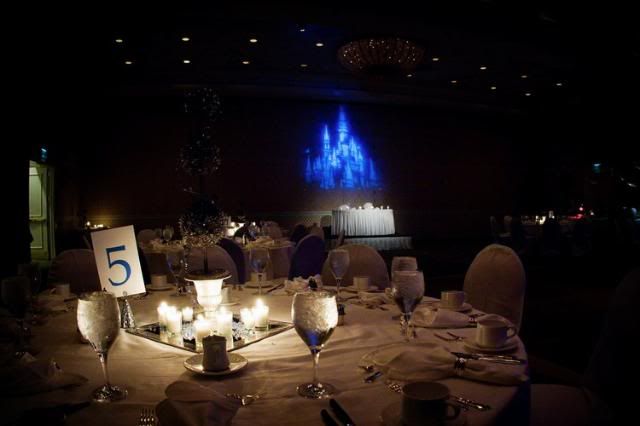 Our reception was arranged in the following manner: the dance floor was in the center with three tables on either side, the DJ at one end, and the sweetheart table on a riser at the other end. We were a little iffy about the sweetheart table when the idea was first presented. The idea of sitting at a lonely little table, away from everyone else, was very reminiscent of that scene from The Parent Trap where Hayley Mills and Hayley Mills are being punished at camp and have to eat in isolation. However, we were at a loss as to which table we would sit at if we sat with other people, since our three sets of parents had three different tables and our sides of the bridal party were at different tables. The sweetheart table ended up being the easiest thing.
Honestly, the whole sweetheart table thing is a little weird.
I don't mean to say that it was bad, but it definitely isn't one of those things that I would want to do all the time. We moved off the dance floor and went over to the sweetheart table, which was propped up on a riser and backed against a wall. I thought it would be more of a lone-table-yet-with-other-tables, but it was very much like being on stage. We even had special lights on us and the big castle gobo in the background behind us, so the whole thing was completely high school drama club production. There's nothing to really drive home the fact that everyone is looking at you like a teeny tiny stage lit up at the end of a dark ballroom.
We had called Kyle's Aunt Evelyn about an hour before and asked her to do the blessing (surprise!) so she made her way up onto our teeny tiny stage.
Following the blessing, it was time to eat. Yay! We were having the most delicious buffet of green salad, red skin potato salad with dill, seafood pasta salad, steamed vegetables, bread rolls with butter, pecan rice pilaf, grilled chicken breast with mandarin oranges, slow-roasted striploin of beef with a plum tomato demi. Mmmm…I hadn't had eaten since 6AM (it was around 2PM by this point) and I'd burnt up a lot of calories on that dance floor, so I was actually pretty hungry. Again, I've heard that there are brides who couldn't eat on their wedding day, but that wasn't me!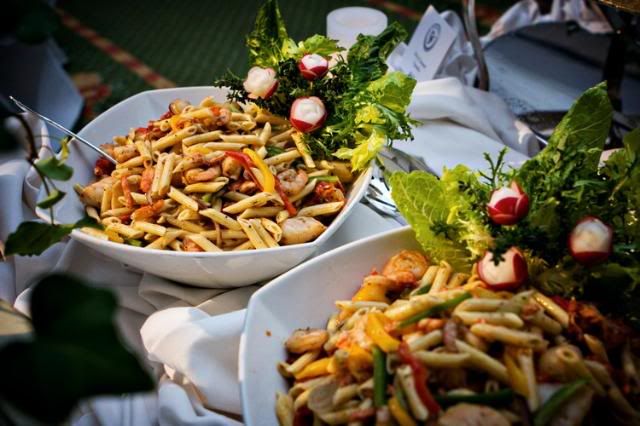 Unfortunately, there was a catch to the whole having-a-buffet thing and I have a feeling it was supposed to be a touch of Disney magic, but instead it was total crap. When it was time to eat, two Grand Floridian staff members came up and escorted us to the buffet. They held our plates and we were supposed to walk along with them and indicate which foods we wanted. In theory, I understand that this is supposed to be white glove service. In practice, it keeps you from being able to do what you're supposed to do at a buffet, which is to fill up your plate as though it is the last time you will ever eat on this green earth. I shouldn't be putting this out here, since it's embarrassing when chubby chicks say things like this, but I freakin' load up at buffets. I've even been known to double plate it if everything doesn't fit.
You just can't do that when someone else is helping you…especially if you're in a wedding gown. True, nobody else could see my plate, but I didn't want the waiter to be thinking, "Holy crap. This heifer wants a lot of food. She is going to burst out of that dress." So, I followed the waiter and didn't say anything when I got a half spoonful of rice, a half spoonful of seafood salad, part of a chicken breast, one roll, and the thinnest slice of striploin that you've ever seen in your life. I shouldn't hold it against the guy, who kept bowing to me every time I was gracious enough to indicate that I wanted a side dish…but come on now. I paid $130 for that lunch and I'm pretty sure it qualified as a Lean Cuisine meal.
Kyle wasn't phased by the whole waiter-gets-your-food thing because he doesn't have a chubby chick mentality and he thought it was all a reasonable amount of everything. In the meantime, I was pretty sulky about it and, I admit, I ended up stealing my new husband's striploin. I could have gotten up and gone back through, but I would have had to take that waiter with me because he was off to the side with his eye on me. Besides, I didn't really want to be that bride who went back for seconds. In retrospect, though, I totally should have because I don't think anyone went back for seconds and that food was gooooood. We paid for it all, so it would have been nice to have a ballroom of people stuffed to the gills.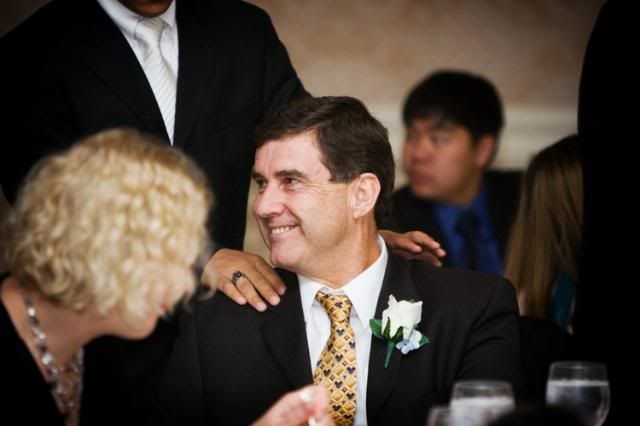 After everyone started getting their food, people began to come up to the sweetheart table. Most people just wanted pictures of us eating (nice) but there were a handful of others who were sneaking in their first "hellos" of the day. I also had to grab a quick hug from Kate, who had to catch a plane back to Kansas. It was really bittersweet to see her go because I was happy that she had been able to come at all but she had been such a huge help that as soon as she left I really missed her.
I cheered myself up by getting dessert, which is the greatest way to cheer yourself up ever, especially if you're at GF. I managed to elude the waiter (woohoo!) so I was able to serve myself. I probably shouldn't have, but I totally took one of each and told everyone at the dessert table that I was getting one for Kyle. Then, when I got back to the sweetheart table, Kyle attempted to take a bite out of one and I almost stabbed him with my fork. Never try to take food from a hungry bride!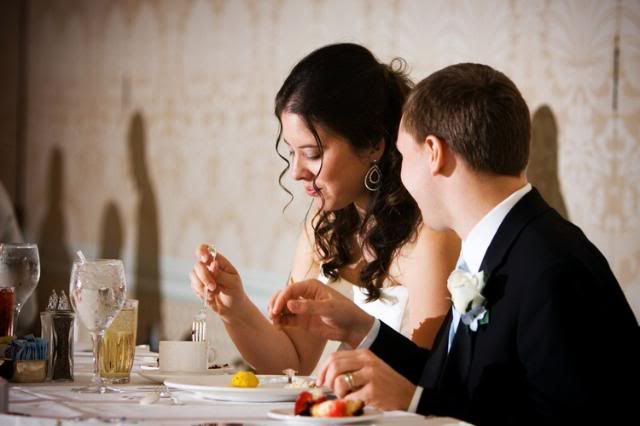 One of the nice things that I've heard about the wedding is that people were really happy that we did two of our favorite desserts instead of doing wedding cake. To be honest, the wedding cake was nixed mainly because we couldn't afford it, rather than because we wanted to make a statement about cake, but the truth is that we aren't huge fans of wedding cake. I'm starting to think now that almost nobody is a huge fan of wedding cake. It really doesn't taste good that often (although I've heard Disney cakes are amazing) and you don't get a very big piece (very important in chubby girl world). We went with angel food cake with berries (for Kyle) and a double chocolate torte with rum balls (for me) and they were amazing.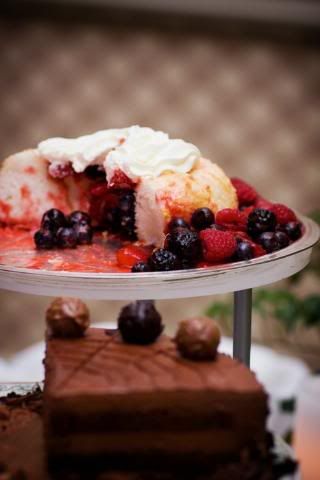 People were just crazy about them and everyone said that they were a vast improvement over the traditional wedding cake routine. It's true that we have pictures of demolished desserts rather than pictures of us cutting the cake, but it was totally worth it…and economical! Disney cakes set you back thousands and thousands of dollars on top of the food fees, but we were able to build our two desserts into the $125/person minimum for lunch.
Soon, the eating portion was over and I was happily satisfied with a belly full of desserts. The DJ (who had been playing all of our requested songs, god bless him) came up and checked in so I gave him the go ahead for the father daughter dance. As he announced it and I made my way down to the dance floor to meet my dad, I have to admit that I was already a little tickled. There's something kind of funny about taking a deep breath and facing the longest 4 minutes of your dad's life…