Disney Wedding Day – Part Ten
Our staged exit from the wedding pavilion was well-planned out. I had given Marion and all of her assistants detailed instructions on what was to happen. I even sent Nathan and Jensey a little blurb about how the exit was to go down. That's how into this exit I was.
The game plan:
1. Everyone lines up outside.
2. We come down the walkway amidst a shower of well wishes.
3. We lead the whole wedding party to the beach in a happy procession.
4. We get a big group picture on the beach with the castle in the background.
How awesome does that sound? Yes, well, like many things that I planned out, the exit probably needed to be a bit more thought through…
Problem Number One:
Bubbles. I really didn't think the bubbles through. See, a few weeks before we went down to Florida, it occurred to me that "come down the walkway amidst a shower of well wishes" needed to be a little more concrete. Were people going to clap? Were they going to throw rice? Wave ribbon? Release butterflies? I was at a total loss…everything seemed both cheesy and overpriced. Then, in a stroke of luck, I found a box of 50 bottles of wedding bubbles on clearance at Michael's Arts and Crafts for only $2.50. It's true that they had little plastic butterflies on the top, which I wasn't overly thrilled with, but I figured most people weren't going to notice what was on top anyway and if I bought them I wouldn't have to think about them again. Done and done.
Well, I should have thought about them harder.
As Kyle and I walked out of the bridal suite, we could see all of our guests lined up on the pathway leaving the pavilion. For those of you who haven't been there, the path is pretty long. It's actually a long bridge and then a long sidewalk, so Kyle and I had a bit of ground to cover before we got to anyone. It was sort of odd, because I feel like we should have been running or something, but we just walked hand in hand toward everyone, stopping underneath the wedding archway to steal a kiss. (awwww)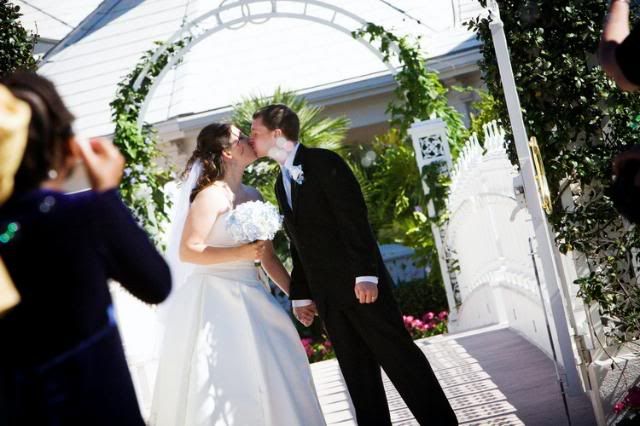 As we moved into the crowd, I felt a ton of love and happiness surrounding us. And then I felt something else. Bubbles. Millions of really, really cheap bubbles.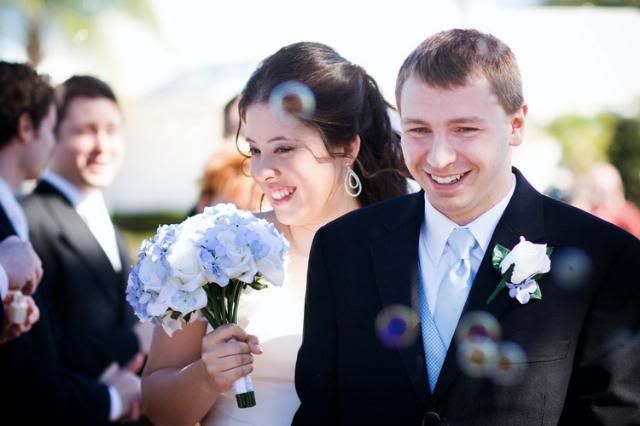 The bubbles might have been on clearance for a reason, because they were the stickiest, slimiest bubbles I've ever come in contact with. The bubble-blowing increased in intensity as we were enveloped by a throng of well-wishers. The only thing slightly worse than having a bucket of gooey bubbles dumped on you is when the bubbles are interspersed with the spray of someone who is overenthusiastic about the bubble-blowing and therefore is simply blowing the syrup at full force right through the butterfly-shaped hole in their bubble-blowing wand.
As we reached the halfway point, we started to really come unglued. Kyle grabbed my hand and I tried to duck behind him for cover. In the wedding video, you can actually hear Kyle say, "Enh, this is unpleasant!" while I simply utter a high pitched whine. We made our way quickly to the end of the pathway as our guests blissfully continued to shower us with soap, where I paused to silently reevaluate my love of clearance items.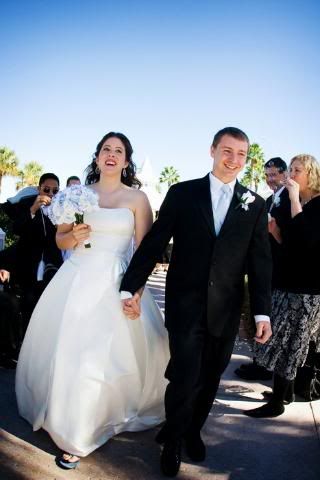 Problem Number Two:
Despite being slightly sticky, we were still surfing the we-just-got-married-high as we moved away from the wedding pavilion. The weather was gorgeous, our guests were in high spirits, and it was almost time to party. My high quickly dissipated, however, when I realized that everyone was following us and we had only the vaguest of ideas as to where we were going.
Either Nathan or Jensey had said something to me about how you couldn't really see the castle from the beach and we'd have to do the group picture somewhere else, but I admit that I wasn't really listening…I know, I'm a bad bride. I was very much in the que syrah syrah mindset while we were taking pictures. You know, getting zen and all. I wasn't really thinking about silly things like "details" and "gameplan".
So as Kyle and I started to lead our procession of 60, we both realized that we didn't know exactly where we were going. In my head, the pavilion was surrounded by a beach that was easily accessible from the walkway. In reality, the beach is removed from the walkway by large, rolling, grassy hills. Kyle was not worried about this, because his job for the day was done. Marriage? Done. Wedding celebration details? Wife. I, on the other hand, started to panic. I knew that everyone would follow us for as long as we walked, but at some point we were going to have to stop and take a group picture. I racked my brain for whatever it was that the Roots had suggested and came up totally empty. So I stopped and went right.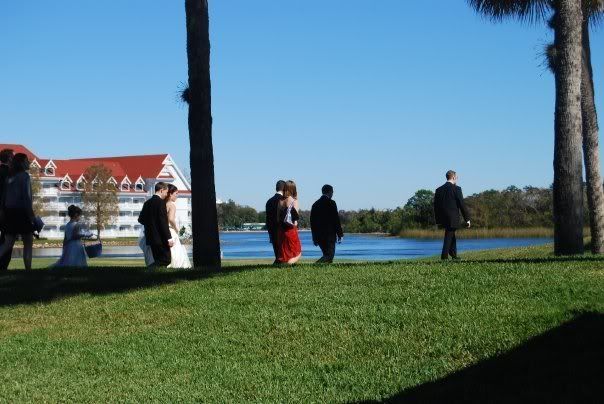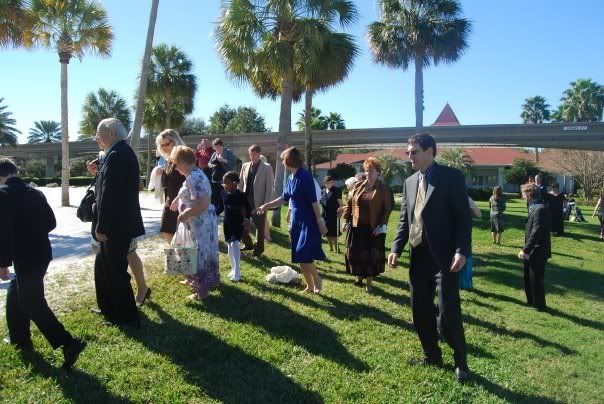 Yes, I made all of my wedding guests climb those grassy hills to get to the beach, including the four guests who were in wheelchairs. Off we went like the Von Trapp family, holding each other up, struggling to make it to the other side…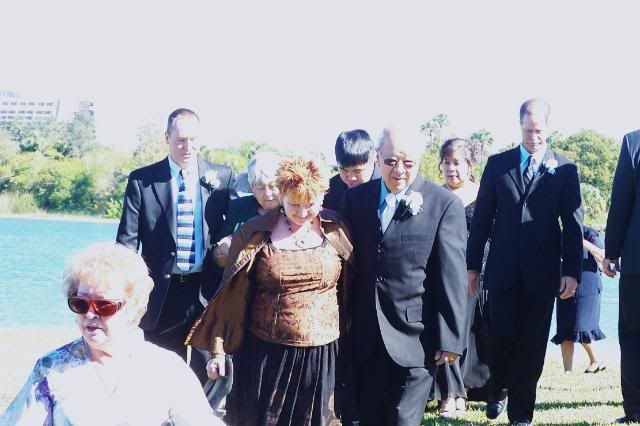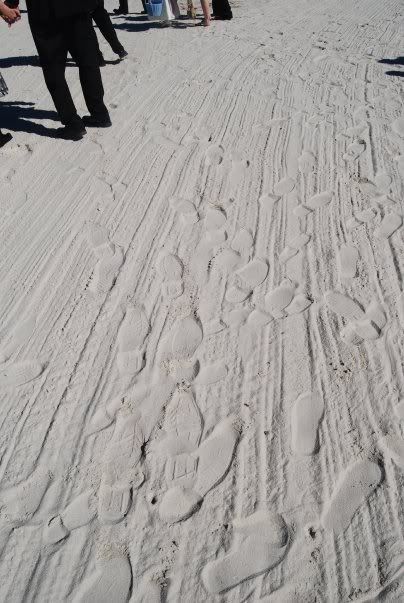 We were successful! However, success only meant that we were on the beach, not that we had made it to any recognizable, designated Kodak Picture Spot. The Roots were right about not being able to see the castle from the beach. In fact, there isn't a lot you can see at that beach, except for trees and more beach. With the sun directly overhead us and the fact that everyone was walking around in sand wearing their dress shoes, it was sort of a bust. But, we had made the climb, so we got the pictures.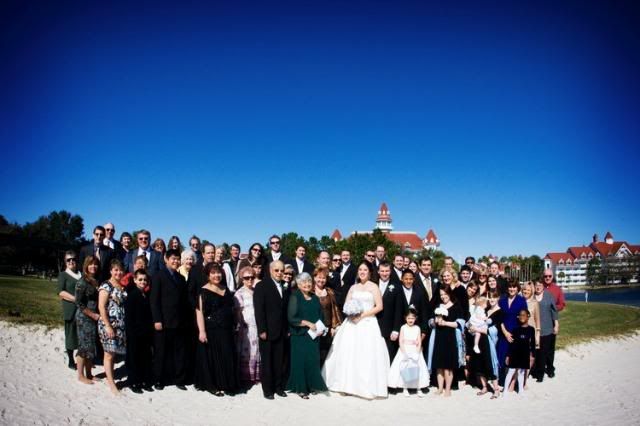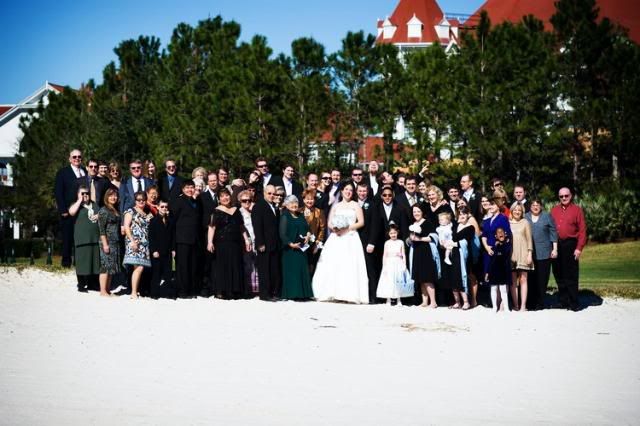 I actually love the pictures, even if we're shadowed and tiny in them. The best thing about them is that there are two different backgrounds, even though the group didn't move. I don't know how they did it. Photographer magic. So, I suppose the photos were worth all the trouble of getting everyone on (and off) of that beach, but if I was to do it again, I'd probably pick a better spot…