Is there life after a Disney wedding?…

Day Seven – Part One
I woke up early on the morning after the wedding. Did I want to wake up early? No. I swear, I woke up about as tired as I had felt when I had gone to sleep the night before. As it turns out, six hours is not long enough to recover from an 18 hour event. However, we had made plans to take a group of our friends on a whirlwind tour around the parks, since this was their only day in the parks and (honestly) if you're going to do it all in one day, you have to make sure you're doing it right.
I woke Kyle up, but the boy was in really bad shape. He had spent the whole night laying on top of our stuff, not moving, and his fever still hadn't broken. At this point (Friday morning), Kyle had had a low to mid-grade fever since Tuesday night. He had taken a ton of fever reducers, but that thing just wouldn't leave. He was on board for hitting the parks, but he was moving a lot slower than I was. My friends were up and dressed and in the food court getting breakfast, so I ended up leaving without Kyle. I know, morning after the wedding and all that…I probably should have stayed to make sure he was ok. I didn't want him to feel rushed, though, and he wasn't sure when his friends would be ready to go to the parks, or who was going, so it made sense to split up.
I found Schovy, Jed, Steve, Kristen, and Chris down in the food court. Pretty much everyone else was gone by this point…a lot of people caught flights out the morning after the reception, to avoid needing any more nights at the hotel. Margi and the baby were still at the hotel, but they weren't up to doing the park thing. I would have loved to have gotten Nate and Neaner and Kate all in the park at the same time with us so we could have run around in a big group, but alas…$85/day park tickets were not conducive to my strong desire for fabulous group pictures…
The group was totally open and up for anything, parkwise, so we started off at Hollywood Studios. As I've mentioned before, I like to start my days with a little Rollercoaster/Tower combo action, so we headed in the direction of Old Hollywood.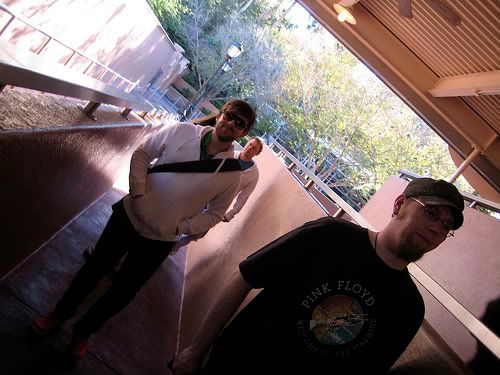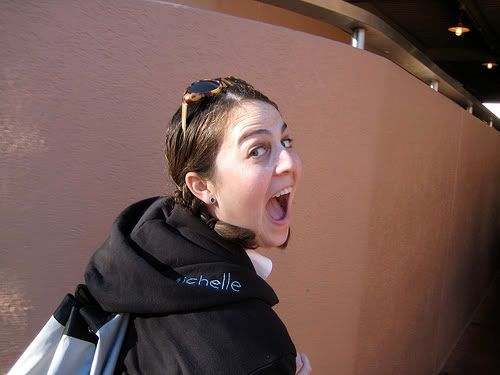 As luck would have it, Kyle and Jeff showed up not too long after we got into the park and Kyle was able to take all of our tickets and get us fastpasses for Toy Story Mania, which we hadn't been able to ride yet. Toy Story Mania is amazing, but the line is long and the fastpasses sell out early. If I could, though, I would just spend a day riding that one over and over again…those virtual pies are my ultimate nemesis!
After we rode Tower and Rollercoaster, we met up with Kyle and Jeff (and our fastpasses) and started to do the Hollywood Studios wander. The wander is what happens when you're in fastpass limbo…you're basically waiting to get on something great and you don't really care what you do in the meantime, but you care enough to not want to waste it hanging out in gift shops and snack shacks.
We finally made the decision to ride Space Tours, which I always forget is at DHS. Space Tours is just so classic that I could honestly never ride it again and be completely content. I love it, but the number of times that I've ridden that thing over the course of my life is well into the three digits area and after a while it's more of a good memory than a good ride. The peoples had fun on it, though, and the boys did the usual 20 minute close examination of every Star Wars product in the gift shop.
We still had a little over an hour before the fastpasses were good and we were lightly bumping up against the lunchtime hour, so we made the decision to go into the Sci-Fi Dine-In. If you remember that far back, Kyle and I had already eaten at this restaurant with Justin and Tracy a few days before the wedding, but nobody else had ever been there and we figured we might as well take advantage of the fact that there were walk-in spaces available. To be fair, that restaurant almost constitutes a ride in itself because it's so much fun…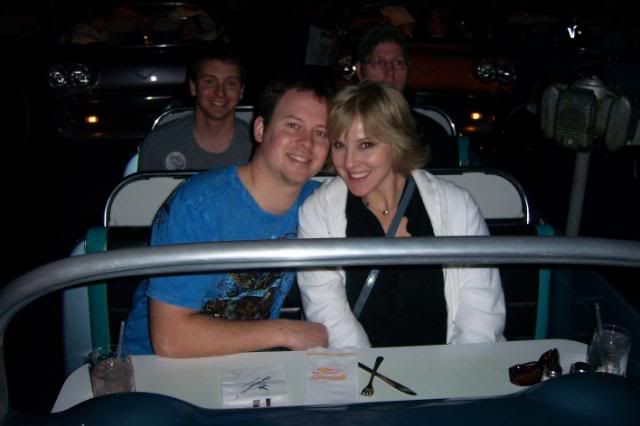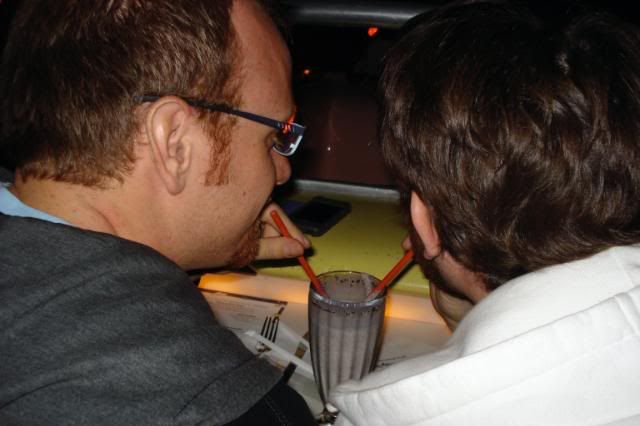 Following lunch, our fastpasses were only about fifteen minutes away from becoming active, so we headed over to the Pixar Studios area. It's so much fun over there, but it's so congested! It's really hard to enjoy something when the elbows of strangers are attacking you from all sides. We found a spot to group together, though, and killed the next five minutes by taking completely unnecessary pictures.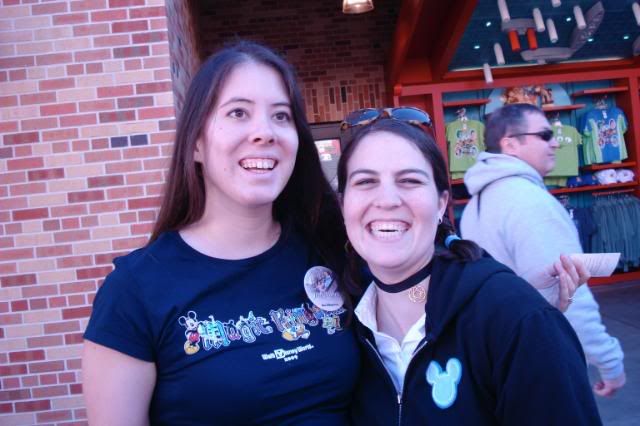 I don't remember who did the best on the ride, but I do remember that we kicked Michelle's butt soundly by quite a large margin. Again, such a genius ride! We were still talking about that ride for the rest of the day because the competition element had been thrown in. You really just have to bow down to the genius of Disney sometimes.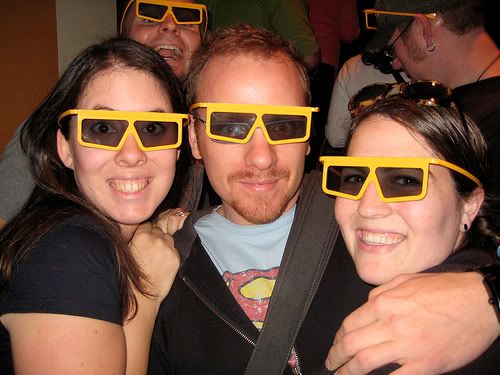 After Toy Story Mania, we rode The Great Movie Ride…which is easily in my top five favorite rides at DHS. It's not that thrilling, but it's such an interesting ride and it's done well for what it is. I had been dying to get Michelle on this ride for years, because she's a huge movie buff and she has a deep and unquestioning love for everything Gene Kelley. To be fair, it's probably the worst animatronic figure in the whole ride, but hey…he's still singing in the rain!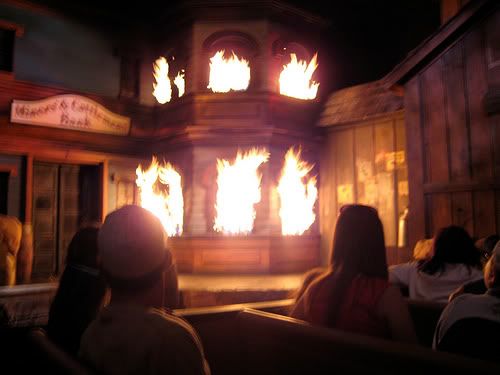 Kristen and Chris had left us to hit up The Magic Kingdom, so after the Great Movie Ride we decided to follow in their example. Kyle and Jeff stayed behind to hang out at Studios for a while longer, since Kyle still wasn't feeling well and they had both spent a lot of time at MK in the days before the wedding.
As we left the park, we decided to make a pit stop and hit the bathrooms. When Schovy and I came out, Jed and Steve were deep in conversation with some of the Streetmosphere characters, who had fallen in love with Steve's bright orange shoes…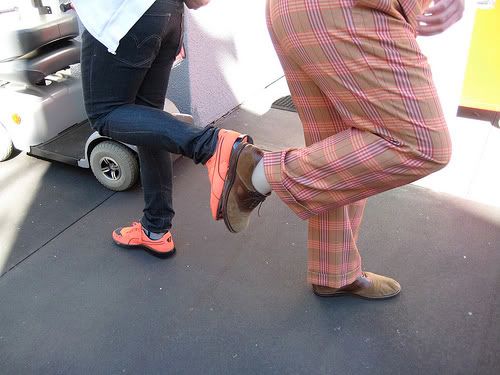 I can't even cram in what happened in the next 20 minutes. You'll just have to watch the (shortened) video. I can spoil the surprise, however, by telling you that it ends with Schovy, Jed, and Steve driving away in one of the classic Hollywood cars…
NEXT: Day Seven, Part Two (Friends, family, and a painted niece at Epcot)