Disney Wedding Day – Part Twenty-Four
Usually when a wedding ends, the bride and groom are long gone. I don't know if you guys have seen as many 80's wedding movies as I have, but in the end the bride and groom are supposed to get into a car with "just married" scribbled across the back window. They take off, waving, with a trail of string and tin cans behind them, while all of the guests watch them drive off into the sunset. That's how weddings end in the movies.
We didn't do that, which is pretty unusual from what I could tell. After the last dance, Marion mentioned to me that it was time for the reception to end and I told her "ok". We just looked at each other for a second and I could tell she was waiting for me to do something, so I turned to the guests within arms reach and said, "ok, party's over. Let's all get our stuff together. Where are the boxes for the decorations?" Apparently, the correct response is that Kyle and I were supposed to make a grand exit and take off for the honeymoon hotel, because Marion just shook her head at me and motioned for the staff to turn on the lights.
The cute thing was none of the guests followed the correct leaving procedure either. We all ended up milling about on the dance floor, giving each other hugs, talking about how great it had all been, and making plans to meet up later…all 60 of us! Now that the music had stopped, I was able to listen in on conversations between people who hadn't seen each other in a long time, etc., and it was so nice to hear how happy everyone was.
Marion let us linger for a good 20 minutes before she really started to impress the fact that another wedding was coming in behind us. My incredible moms and bridespeople had made boxes appear out of nowhere and were busily scooping up the decorations and repacking them. I swear, every single piece of diamond confetti was picked up. That room was spotless when we left it!
By the time Kyle and I actually shuffled out, most of the people had left and we were joined by my parents and a handful of the wedding party members staying at the Pop Century. Most of us were carrying a bag or box stuffed with wedding things. As we left the ballroom, I asked the general mass for the bag that had our clothes in it, so Kyle and I could change.
No such luck.
As it turned out, we only had the stuff that we needed for the ceremony/reception. Everything else had already been taken from the Grand Floridian to Pop Century by the bell service, which would have been incredibly handy if I hadn't been in a giant white dress. As it was, we were stuck in our finest for the ride home.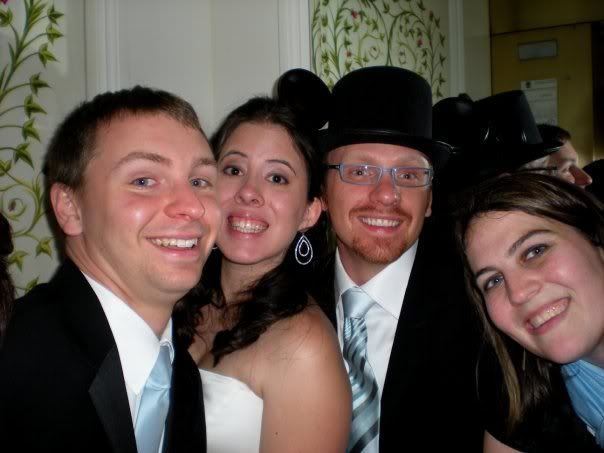 We hadn't made any kind of transportation arrangement because…well, we just didn't want to spend the money. It probably would have been worth the limo ride home since we had a bunch of people with us, but we just hadn't really thought that part out. So, we all walked up to the monorail station, wedding clothes and all.
As we walked, I had a really great talk with my stepdad. I love him. He's pretty quiet and doesn't talk unless he actually has something to say, but he was completely full of conversation on the walk to the monorail. He said all of the things that I really wanted to hear after the wedding…things about how everyone had such a good time and he'd never seen anything like it. We did a replay of our favorite moments from the wedding and all the little funny things that had happened. It was such a perfect continuation of that happy wedding buzz and I was just eating it up with a spoon.
Up at the monorail station, people were staring and taking pictures, but we were in a pretty big group so I didn't feel too awkward in the big dress. We did get pulled up to ride in the front of the monorail, however, which was disappointing. I've actually ridden up there at least five times and I never thought it was that cool. I know, I lose points as a Disney fan, but honestly that car is really little and those windows are pretty hard to see through and who really needs to see where they are going when they're on a monorail? Plus, riding up in front meant that we were separated from everyone else, who were all back in the normal cars with our bags and boxes, which was a bummer because mom, Lonnie, and Randy were all getting off at a different spot than we were.
At the Magic Kingdom, Kyle and I got off the monorail and took the wedding party with us. Well, we almost took the wedding party with us…we ended up losing Janean, who had left her purse at the Grand Floridian and went back by herself to get it. It was around 6:30 at this point, so not really a crowded time outside of the park, but there were still plenty of people to gawk at us.

Our people were still happy and tipsy, so picture taking and general merriment continued down to the busses. I wish we had a shot of us standing in line for the Pop Century bus in all of our wedding gear, but alas…
We took up the back of the bus, as people who have enjoyed an open bar should, and survived the ride back to the resort without anything terrible happening. At the resort, the looks on the faces of the people waiting to go to the park were pretty priceless. I think they get a lot of brides traipsing about in their wedding gear at the Grand Floridian, but at Pop Century it still seems to be a pretty rare event.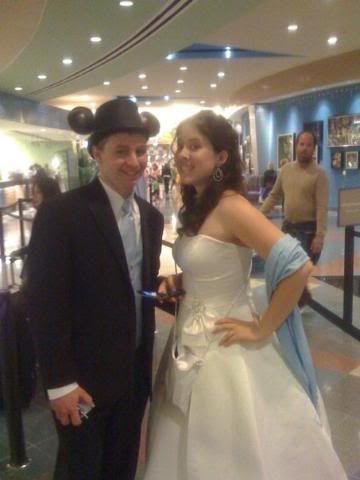 Everyone went back to their rooms and Jed and Steve waited with us while we got checked in to the Pop Century. I was pretty disappointed with the guy that checked us in, since we were all decked out and he didn't mention the wedding or even say congratulations. I'm pretty sure that Disney training covers going bezerk when people check in wearing a tux and a wedding gown, so this guy wasn't doing the greatest job earning his ears.
We ended up in the same room that we had had before, which wasn't a huge surprise since all the rooms around us were wedding guests and it wasn't like they were going to rent out that room for only one night. It did feel kind of like coming home, since we'd already spend four nights in that room and we were able to throw our stuff on the floor and get out of our wedding clothes.
It's terrible, but in the last three hours I had forgotten that Kyle was sick, so when we made it back to the room and he practically toppled over, I had to do a little reality check. We had made plans to meet up with everyone at Raglan Road, so we did need to get going, but first we pumped Kyle full of every cold medicine we had in our artillery. Poor guy was really trying to hold it together, but his fever was totally spiking. You could actually feel heat radiating off of him, but you'd never know it because he was such a good sport. So, packing Kleenex and Cold-eeze, we tossed on jeans and sweatshirts and split up to collect our people so we could head to Downtown Disney…