Day Eight
When we woke up on Saturday morning, a week after getting to WDW, Kyle was done. He was so done. I've never seen him so done in my life.
His fever was raging and he was so congested that none of the medicine was working. He'd gone through an entire box of Advil Cold and Sinus since Wed morning and he was still totally miserable. Our plans for the day included going to breakfast at Kona with my mom's family before they all flew out and then going to Epcot to spend time with my dad and his family, because we hadn't really had the chance to see them at all during the trip. I told Kyle to skip breakfast and meet up with us later, but he was bound and determined to come along. I think part of it was that he didn't want to let me down by staying behind, but I think the other part of it was that he just didn't want to miss anything while we were still on vacation.
Unfortunately, we got caught in the mess that was the half-marathon day traffic. If you'll recall, Kyle and I signed up to do the half-marathon. We paid about $250 and never even made it over to pick up our t-shirts and commemorative pins. I honestly don't know what I was thinking when I signed us up to run. Not only had we not trained at all, but we were so tired from the wedding and the week that we couldn't have done the race if we'd actually been running from wild animals. As the bus went by the runners, I did feel pretty jealous, though. I had such a good time when I did it in 2005. Oh well…2010?
We finally made it to Kona about 45 minutes after we left Pop Century. My fam was already all down there and everyone was in pretty good spirits, considering it was the end of the trip. To be fair, they had done a WHOLE LOT for a group of people who had never been to property before and, other than my brother, I think everyone felt like they had really done enough.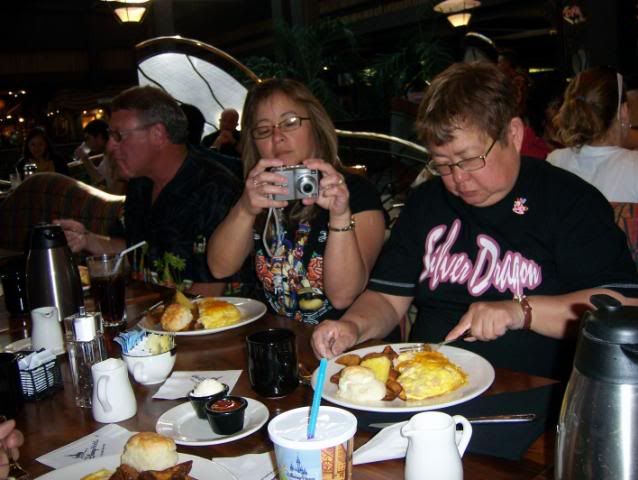 Our meal was amazing. I don't remember what everyone else got, but I got some kind of eggs benedict thing that was spectacular. No, I don't remember what it was called or what it had in it, but it rocked my world like you wouldn't believe.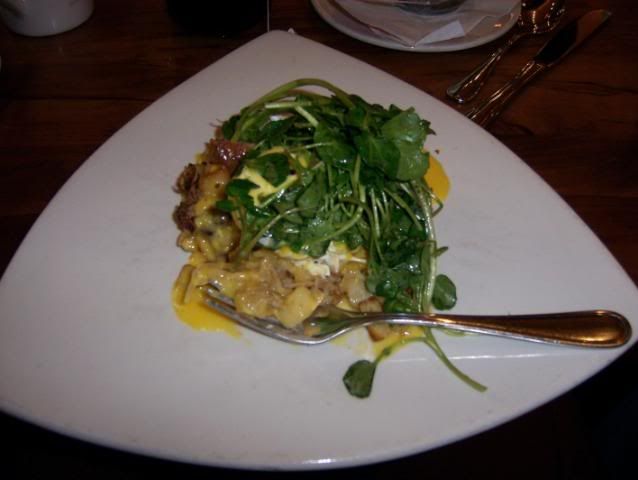 After breakfast, it was time for us all to say goodbye. They all had to catch the next Magical Express to the airport and we needed to get over to Epcot to meet up with my family. As we got up from the table, though, my grandfather fell down. Actually, he sort of fell into my Uncle Denis, who helped him lay down. I don't know if you'll recall, but right before Christmas, my grandpa had all sorts of trouble with his heart and we weren't actually sure if he was going to be able to come. So, when he went down, we were panicking but at least we had a good idea of what was going on.
The staff at the restaurant were really good about calling paramedics immediately and keeping everyone around us from freaking out. There was a doctor (or something?) at the restaurant who was from some foreign country and he was right there from the beginning, but it only took about five more minutes for a whole team of people with a stretcher to show up. My grandfather was conscious, but he was disoriented and he didn't remember what had happened, so they ended up taking him to Celebration Hospital with my Aunt Carole, who help my grandparents with all of their medical stuff. The rest of us went back to their rooms to wait.
Things were sort of a mess for a while. We were trying to figure out what was going on and the hotel staff was working to extend the rooms, since check-out was in an hour. My mom managed to get everyone's flights changed, but because she didn't know when they'd all be able to leave, they were changed to really weird flights that were sort of theoretical. I called my dad to let him know that we were hung up for a while and then we were all just sitting around, looking at each other, not knowing if someone should go to the hospital or what.
While all of this was going on, Kyle had sat down in one of the chairs in my mom's room and fallen asleep. To be more honest, the boy had basically passed out. I tried to wake him up, because I was afraid that if he stopped too long he'd have a harder time getting up later, but since we weren't going anywhere, there wasn't any real reason to bug him. I don't know if I could have woken up if I had really tried…he was out like a light, all wrapped up in a blanket and twitching with fever.
We waited for about an hour and when nothing had changed, it became clear that nobody was going anywhere for a while. Kyle woke up because he'd gotten a call from one of his groomsmen, who was hanging out at AK by himself as it turned out. Kyle left to go meet up with him for a while (such a trooper) and I grabbed Randy and J.W. and headed to Epcot.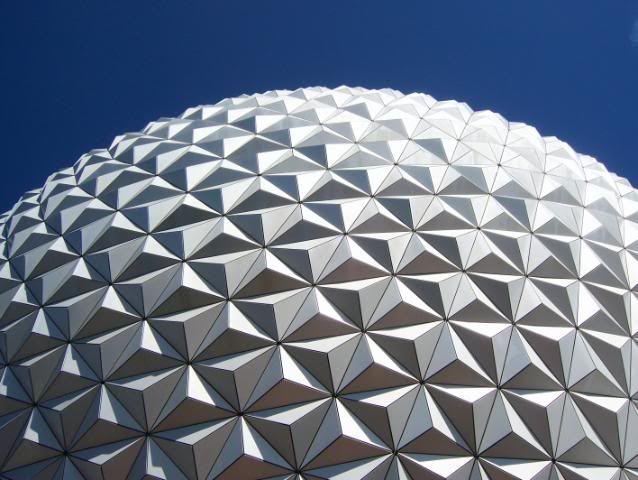 The boys still had a day left on their park passes because they had one of those length-of-stay passes, so I figured it would be better for them to come to the park with me than it would have been for them to mope around at the hotel while we waited for news. This was actually not the brightest idea, because they could have saved the passes for the next day and spent the whole day at the park, but at the time we still thought they were leaving on Sunday.
We found my dad and his family in Germany, eating at the restaurant. Randy and J.W. took off to ride Mission Space and I walked around with everyone else for a while.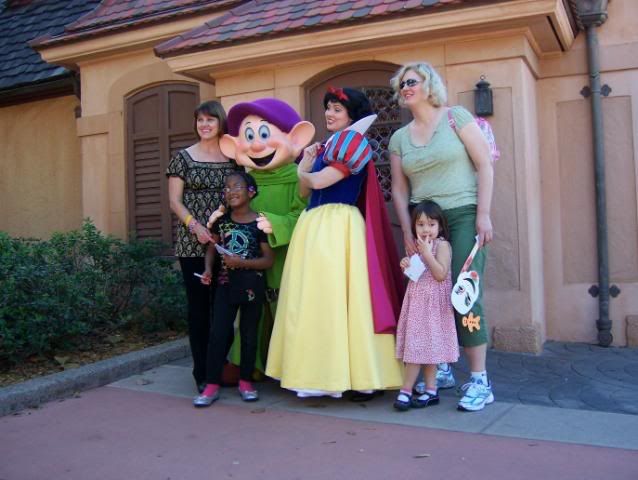 At some point around America, Chris took the little kids and let them lay down on benches so that they could take a little rest and everyone sort of split up. Dad and his sister went to ride Test Track, which I don't ride, and I think my Aunt, Uncle, and Cousin had lunch reservations. So, with almost my entire family on Disney property, I somehow ended up alone at Epcot for about a half hour, wandering through the shops. I won't lie…it was a little bit awesome. I haven't been alone at WDW since I worked there and it was nice to just look at stuff and grab an ice cream and do my thing for a bit.
I caught up with my brother and J.W. and we did the future world thing for a while. We also got in to the Disney Visa character thing and I got some great pictures…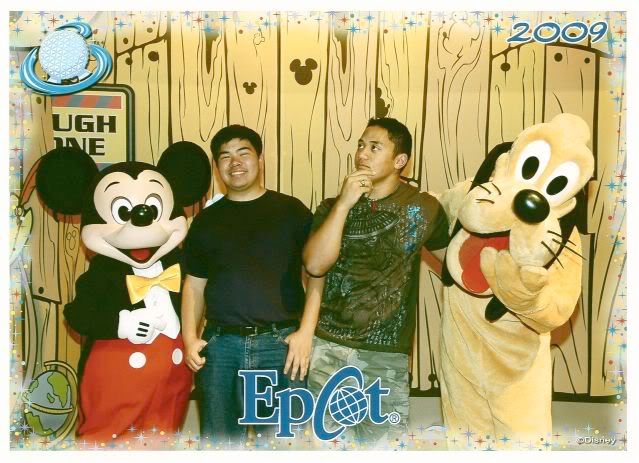 While the boys were riding segues, Kyle caught up with us. We had made plans to meet Craig and Kristen for lunch, so we left the boys at Journey Into Imagination and headed over to Canada for cheese soup and pretzel bread.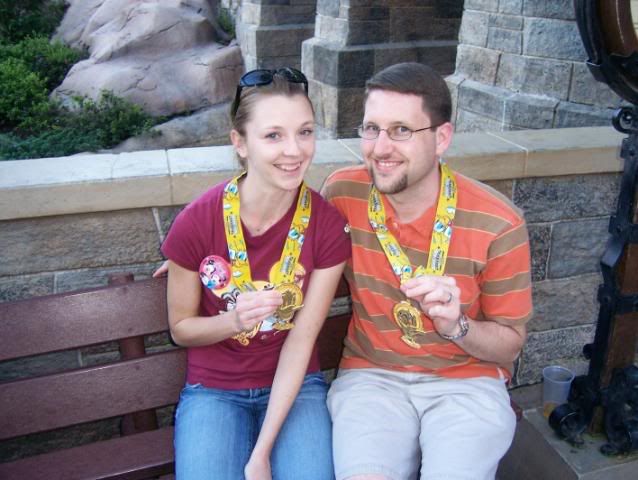 Craig and Kristen had done the half-marathon and they were celebrating their three year wedding anniversary, so it was pretty much a big party. We got special desserts and all that from our nice canadian waiter and whatever it was that we had for lunch was amazing…I wish I could remember, but the deliciousness of the pretzel bread just drowns everything out…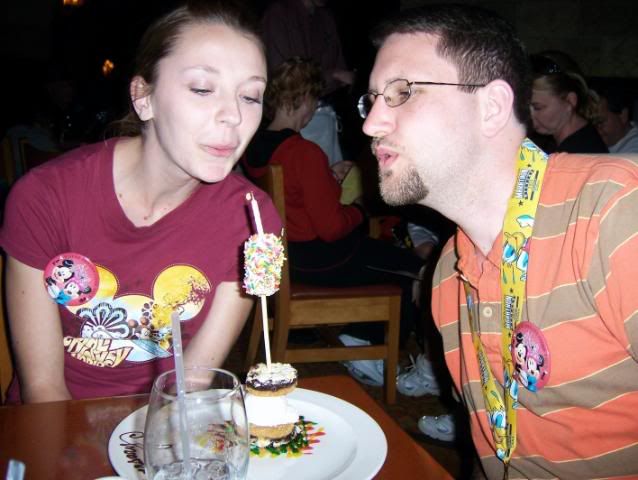 After lunch (late lunch), we went over to Morocco to meet up with my dad again. Through some sort of miscommunication, I thought that they were still wandering the pavilion, but as it turned out they were just eating dinner at the restaurant, so we couldn't really visit with them for very long. We said our goodbyes there, since they were leaving early in the morning, and then Kyle and I made our way out of Epcot. We had been checking in with my mom's family all day, but nothing had changed. They were heading to MK to use their park passes, but it was going to take them a while to get there, so we had some time before we needed to get over to meet them.
That night in Epcot was the last night that we were going to be in a Disney park for a while and we both knew it. Between the week spent there for the wedding and the "honeymoon" that we had taken in August, we'd actually racked up a lot of park time. Still, it's always so sad to know that we're going to be going home. We got a hot mint tea to go, sat in Japan for a while watching people, ended up buying a couple of plastic knickknacks, and talked about how nice the week had been.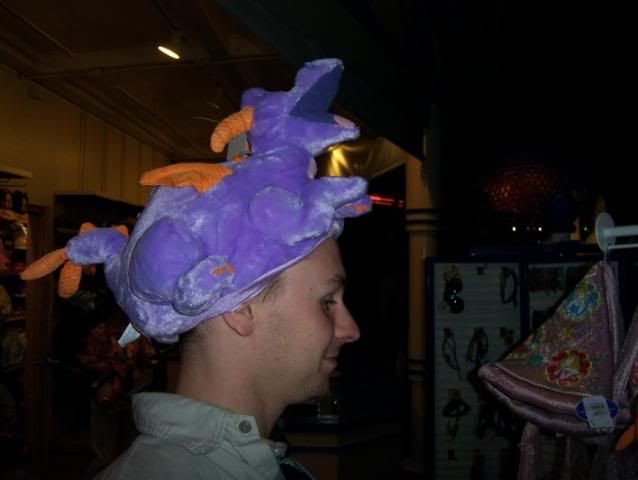 As we were leaving the park, walking under Spaceship Earth, I couldn't help but think about how many times Kyle and I had walked under that ball together. The first time I ever went to Epcot was with Kyle in 2002, while my boyfriend was at work, and he had taken me straight to the ball because it's his favorite ride at Epcot. When it was time for us to fly home from the college program, Epcot was the last park we went to and I took a picture of Kyle under the ball so that I'd always remember him there. Three years later, when we were there for the half-marathon, Epcot was the first park we hit and as we were walking under the ball, Kyle took my hand and held it for the first time in a Disney park. On our honeymoon, we ran to Spaceship Earth after overindulging on our attempt to Drink Around the World and I have lots of happy, blurry pictures of us playing and dancing around in the line for the ride. And now, with our wedding week behind us, we walked under the ball with our arms around each other (mainly me holding him up because he was still so sick) and I absolutely could not have been happier.
We took the monorail to MK and met up with Randy and J.W., who had been riding the adventureland rides. It turned out that everyone else had wised up and decided not to waste their park passes on what was left of the night, so it was just the four of us. The great thing about Randy and J.W. is that they're totally easy-going and fun, so they were up for anything. The first thing we hit was Mickey's Philharmagic, which I had really wanted my brother to see. It was TOTALLY worth it. My brother has the greatest sense of humor and gets a real kick out of things like that, so he laughed through the whole thing and completely loved it.
After Philharmagic we hit teacups, Toontown, Snow White, and snuck in a one-minute-before-closing It's a Small World. It's really the greatest ride to end the night with because it takes soooo long that you end up being in the park a half hour later than you normally would have. We shopped around a little bit, but there wasn't anything that we really needed, so we took the monorail to the Polynesian with the boys. Everyone was just hanging out, so we traded stories, snacked on the bits of food that had been collected over the course of the trip, and laughed at how many pins my aunt had managed to collect since I gave her that lanyard.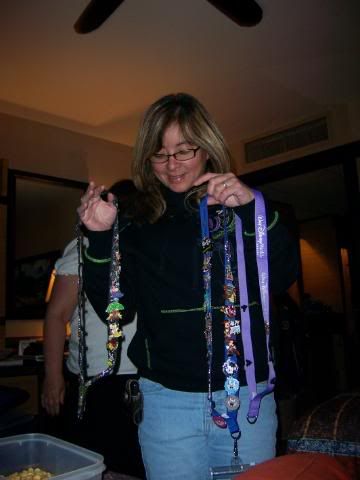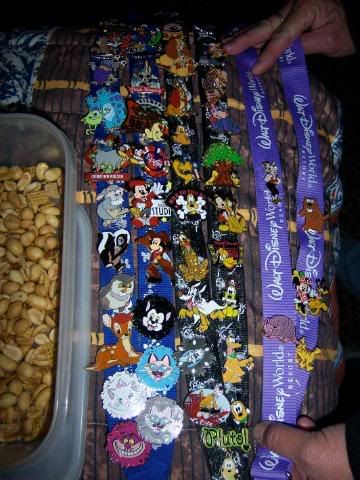 There was still no update on grandpa, but we knew that he was probably going to be there for a little while. As it got later and later (and Kyle got sicker and sicker), we debated on whether or not to go back to Pop Century. We had to check out and grab our flight the next morning and the room was a complete mess with all the wedding stuff thrown every which way. Ultimately, we ended up spending the night at the Polynesian in the extra bed because we were just so tired and it takes so long to get back to Pop Century from there.
I'll tell you, there's nothing like spending your second night as a married couple in a hotel room that you're sharing with your parents and little brother while your new husband positively burns up with fever. Good times.