Surprise! It's the Ohio reception post. After all the build up that happened before the WDW reception posts and the Napa reception post, I almost feel like I should drag you guys on for a while, but to be honest there isn't too much that happened between our California reception and our Ohio reception, which were only two weeks apart. Plus, it's sort of neat to be blogging about the Ohio reception exactly three months later…
Our Ohio Reception ~ February 28, 2009
*I apologize in advance for not having enough pictures. For reasons that I'll outline later, I took my camera to the reception and COMPLETELY FAILED to take even one picture at our reception. These pictures came from Neaner and Kyle's mom and they represent the only pictures we have of the event. I know, I'm a terrible blogger!
Planning the Ohio reception was both super stressful and not stressful at all. Originally, it was not stressful at all because the Ohio reception was Kyle's responsibility and he assured me that he had everything taken care of. Then, about a week before the reception, I realized that this had been a rather misleading statement and suddenly the Ohio reception became super stressful.
By "everything has been taken care of", Kyle meant "I'm sure my mom has it all under control", which was not our deal. I found out that Kyle's mom and his aunts were completely taking care of the food and his dad was taking care of the alcohol, which should have left Kyle plenty of time to take care of things like the DJ, the decorations, favors, final guest count, or any after-reception activities. But he didn't. Men.
To be fair, this reception wasn't the three ring circus that our WDW reception had been, so those kinds of details shouldn't have been overwhelming, but I was so stressed out that week that I had a hard time pulling things together. Lots of stuff in our life had been put on hold during December, January, and February because of all the wedding stuff, but it was all starting to fall down on top of us so it wasn't the best time to start planning a third reception. But, c'est la vie!
We did almost all of our reception shopping in the two days before the reception. Having completely failed at getting a DJ, despite the fact that we know a handful of professional DJs in the area who would have done it for free/cheap, Kyle decided that we could just iPod it and bought us a stereo from Target. Instead of going with a high priced stereo, he bought one of those vintage-looking ones with a turntable so that we could play our vintage Disney records. Seeing that it was iPod compatible, he figured that job was done. (Bad idea, but more on that later…)
The tables at the center are long, folding tables that aren't distinct in any way. Kyle's mom bought tablecloths to go on them, but centerpieces were still up in the air. I wandered around discount stores for a long time, trying to get inspiration for decorations, but I couldn't get anything to come to me. If you'll remember from our original walk-through, our Ohio reception location was a community center in Uniontown, Ohio, and it didn't offer a lot of inspiration.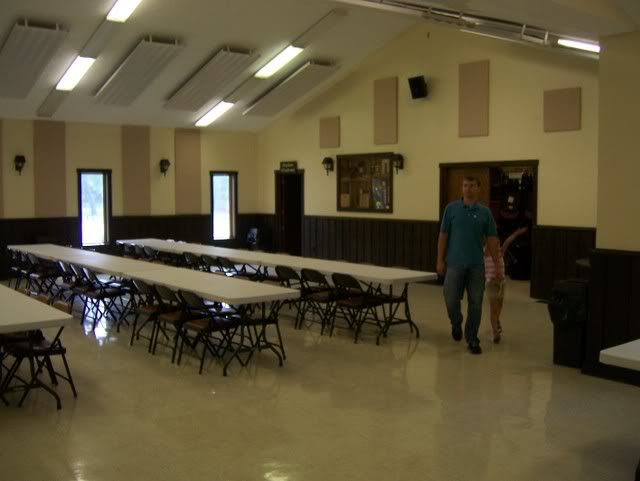 Finally, having come up with nothing creative and faced with Kyle's "luau wedding" decor ideas, I decided to stick with what I knew. The centerpieces at our WDW reception were a hit because they were shiny and interesting, but still unobtrusive, so I decided to go with another candlelight-silver-sparkle centerpiece.
I priced out silver candle holders all over the place, but they were too expensive everywhere, so I ended up going to Goodwill and positively cleaning them out of silver-looking dishes. I bought everything from candle plates to aluminum dishes to baking pans to actual antique silver. The pieces were all between $.50 and $2, so I ended up with 26 pieces for around $20. Some of the pieces were pretty tarnished/banged-up/scratched, but after a quick rinse in a homemade silver dip (salt, baking soda, aluminum foil, and hot water), they were all reflective enough for me.
White candles came from IKEA, the land of cheap candles, and I bought five different shapes and sizes. I bought tall pillar candles, short pillar candles, round floating candles, round ball candles, and tealights. I also got those little glass tealight holders that are super cheap at IKEA, so by the time I was finished purchasing my candles I had right around 300 candles in assorted shapes and sizes for less than $40!
Also for the tables, we had the diamond confetti that we used at all of the receptions, so that added a bit of sparkle to the table. At the last moment, on a whim, I cut a bunch of small paper hearts out of wax paper and added those to the mix for a bit of variety in texture. Tissue paper hearts would have been easier, probably, but our friends are totally the type of people who would have lit the hearts on fire (and they did!) so it's good I went with wax paper.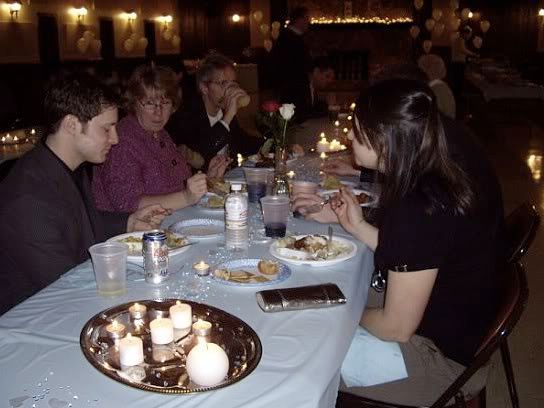 Besides the tables, there were a couple of other elements in the room that needed decorating. We had a table for our guest book, reception books, and a small laptop playing clips from our wedding video, so we decorated that with a swath of blue sparkly fabric in our wedding color and added a couple of little touches, like wedding flowers and a stuffed Mickey and Minnie in their wedding clothes. I also swapped out the generic soap in the bathrooms for vanilla soap from Bath and Body Works and added vanilla candles, vanilla lotion, mints, and a vase of flowers in each.
The big accomplishment was the mantle, however. The mantle really dominates the space of this community center and I have to admit that I wasn't a huge fan of it, just because it was a little oppressive and not very flexible.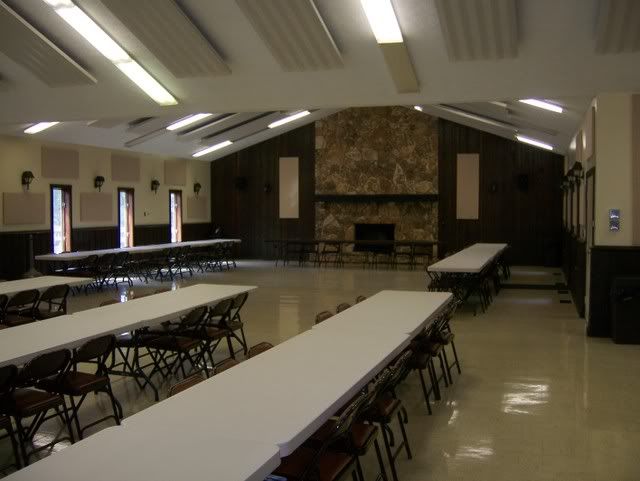 To decorate this area, I ended up using the trees we'd had at our WDW reception and putting them along the mantle, nesting them in a cloud of white Christmas lights that we had purchased at a post-holiday sale. In the middle of the mantle, I put a large silver frame that held two black and white pictures from our wedding. On the hearth of the fireplace, I put some square baking pans that were filled with water and added floating candles, so there was essentially a rectangular lake of candlelight in front of the fireplace, rather than a fire actually burning. Finally, I filled in the space around the fireplace by adding white baloons in different heights to make a sort of balloon curtain. It all turned out much better than I thought it would have and I'm SO MAD at myself for not taking pictures. Oh well…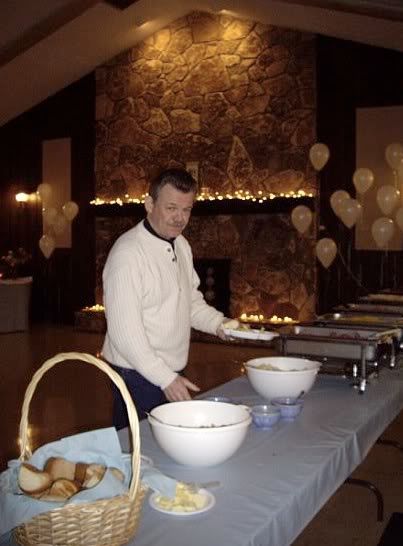 Kyle's mom, aunts, and cousins created a whole buffet for us and we set everything out on two long tables that lined the area in front of the fireplace. We had fried chicken, corned beef, mashed potatoes, corn…basically all of Kyle's favorite foods…and a ton of side dishes. Kyle's aunt made us two cakes for the reception. One was a strawberry cheesecake and the other was a wedding cake topped by a bride and groom wearing custom made Mickey ears that she had created out of modeling clay!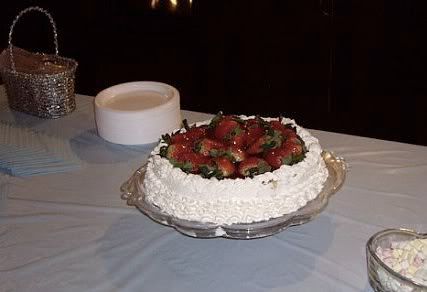 We basically spent the day getting ready for the reception and everything would have been lovely, except for one little thing: I was so sick. SO sick. I don't know if I had the flu or what, but for the whole week before the reception and for about five more days after, I couldn't keep anything down. I didn't really have other symptoms, but everytime I ate anything, I threw up. This led to me feeling pretty cruddy and exhausted, since I didn't have any fuel, so I ended up dragging myself around on the day of our reception. This is the only defense I have against the fact that I didn't take any pictures. I was honestly so icky-feeling that it just never occurred to me.
As the reception got closer, we turned down the lights and lit all the candles. I have to admit, with the candles and Christmas lights going and the smells of all the food cooking, it really was a nice space. People started to arrive and soon the room was full of people helping themselves to our well-stocked bar, browsing through our wedding photos, sneaking handfuls of candy mints from the dessert table, and catching up with everyone else. It was such a nice, warm, comfortable atmosphere and it was really great to mingle and chat with everyone.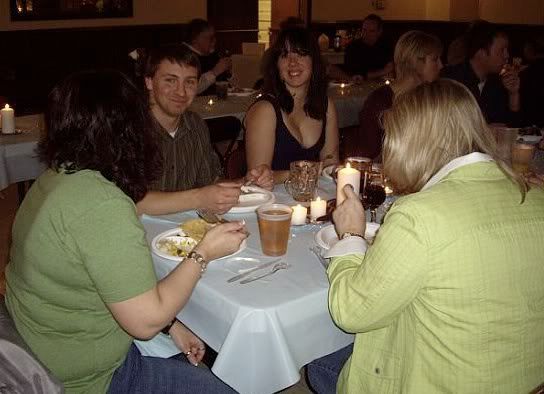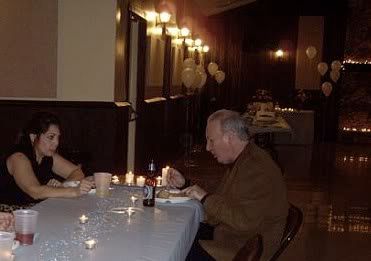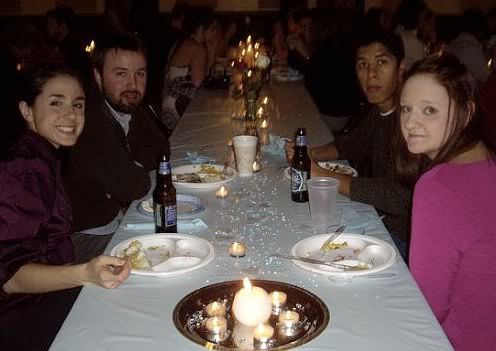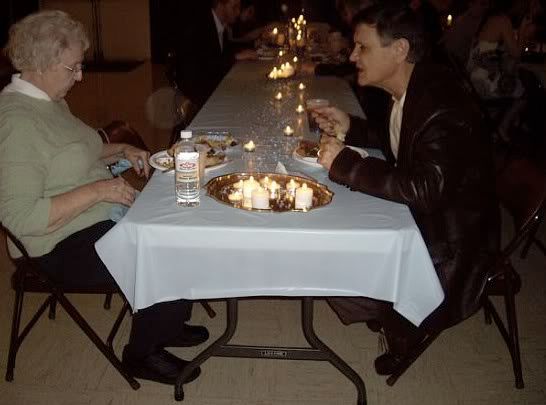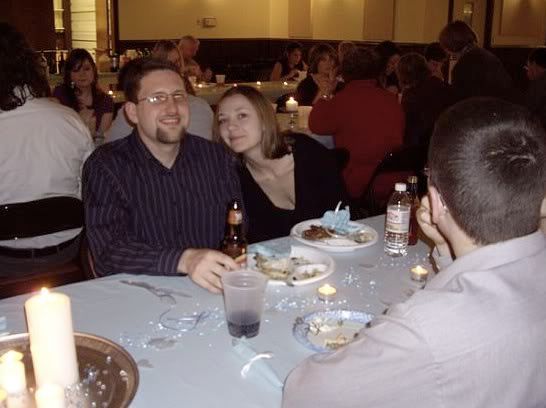 We had the prayer and dinner and then just hung out for a while as people started to cut into the cakes. We did have music going, but as it turned out the stereo was so quiet that you couldn't hear it unless you were standing pretty close to it. Kyle and I danced, but nobody wanted to join us on the dance floor, so that part of the reception didn't quite take off. After enough to drink, my friends decided that they were going to have a dance off, but six intoxicated dancing fools does not a dance floor make…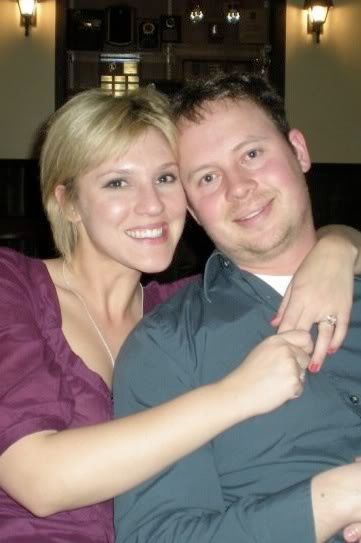 Engaged!
After a while people started to drift out and soon we were down to my intoxicated friends and a bunch of people who stayed behind to help us clean up. And that was that. We wrapped it up, cleaned it up, packed it up, and put it in the car. And just like that, our wedding had officially ended. 15 months of planning and celebrating later, we were done…and if I hadn't been feeling so crummy I'm sure that I would have done a little happy dance. As it was, we just followed my friends back to their hotel and hung out chatting late into the night…
Anti-climactic? Maybe, but I wish that more stories ended up a warm, comfortable evening with friends and family, sans drama and stress. It was such a good way to finish up everything and I really felt like everyone pulled things together for our reception out of tons of love, which was so nice. I just wish I had taken more pictures!