Thanks for all the feedback yesterday! I heard from a lot of people…many of them saying "I told you so!" and almost everyone agreeing that I should go for it if I want to do it. I'm at 98% right now and I have to admit that I already feel a lot better about life in general. Now it might just be a question of timing…Kyle works for the University of Utah and next October I'll be able to receive a half-tuition benefit because of it. Half of in-state tuition is going to be very welcome after what I was paying in Ohio! I might pay the full amount for a semester, though, just so I can get started in the fall without having to wait another six months. We'll see…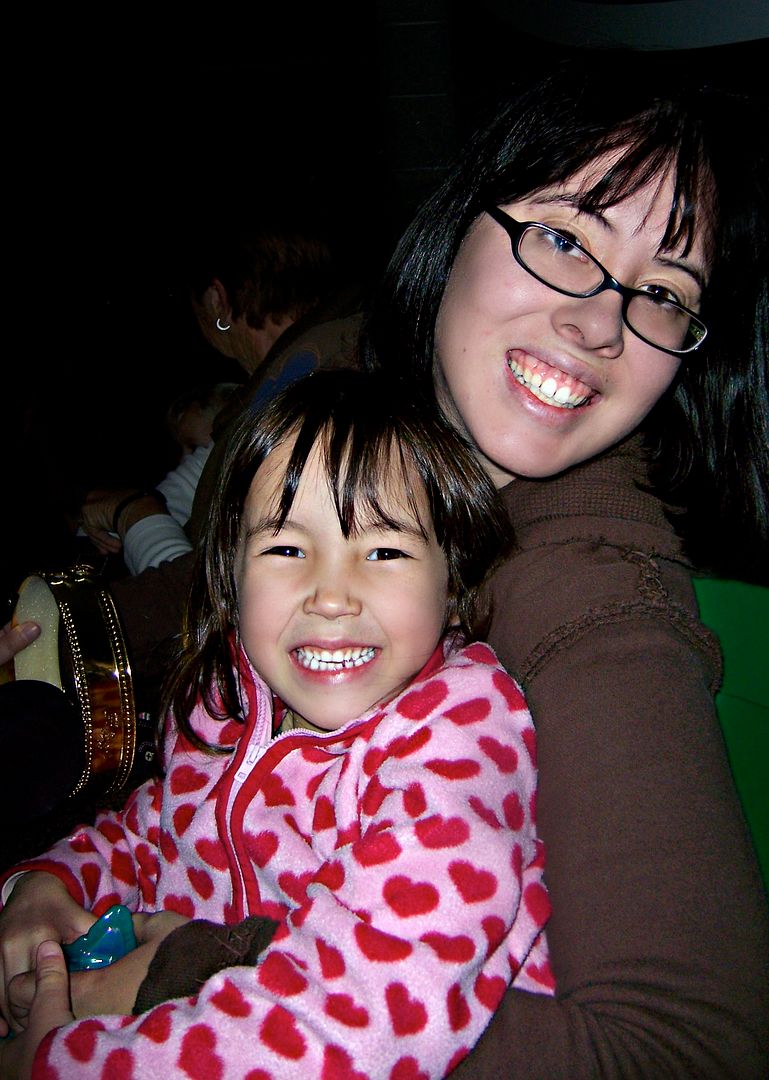 In other news, Kyle and I took Ella, my little sister, to Disney on Ice yesterday. We usually go to Disney on Ice every year, since the show is always changing. Sometimes it's really good and sometimes it's kind of…enh…
This show was the princess classics, which sounds pretty awesome, but really just means that all of the princess stories will be condensed into 45 second bits of dialogue with a lot of skating and jumping and twirling. In the first half of the show (which lasted about an hour), we were told the story of Aladdin, Beauty and the Beast, Sleeping Beauty, Snow White, Mulan, and the Little Mermaid, with appearances by Mickey and Minnie and Tinkerbelle. That's a lot of stuff to fit into an hour, which meant that the plot progression went something like this:
(Lights come up with a spotlight on a single rose lying out on the ice. Belle skates out, does a lap, and then picks up the rose.)
Belle: What an unusual flower!
(Beast skates out, charging at Belle.)
Beast: Don't touch that! Do you know what you could have done!
Belle: I'm not staying here another minute!
Beast: Well, you shouldn't have been in the west wing!
Belle: Well, you should learn to control your temper!
Beast: I'm sorry.
Belle: Thank you for saving my life.
(Skate, skate, skate. Gaston suddenly skates out and runs into them.)
Gaston: Belle is mine! (Stabs Beast, climbs up the castle laughing maniacally, and then falls to his death)
Beast: Maybe it's better this way.
Belle: No! I love you!
(Beast skates off stage and reappears as a handsome prince. He and Belle do a lap, waving at the crowd, and then skate off stage. Stagehands bring on props for the next scene.)
I think the whole show is designed to keep the attention of four year olds, because there was constantly something different going on. It wasn't until the second act, when the whole story of Cinderella was told from start to finish, that all the kids seemed to get really squirmy and lose interest. So, while the adults were sort of confused by the manic pace of the show, the kids were loving it.
We only ran into two little hiccups. One occurred right after we got to the arena. Ella ran inside and was confronted with a merchandise booth on her left, a program vendor on her right, and a food stand directly ahead. Since Ella is barely four, this immediately induced a series of small circles as she ran around trying to see everything at once and started screaming, "look! popcorn Belle horsie doll cotton candy hot dog rose sword crown hat shirt Cinderella book shoes drink popcorn Snow White doll sword book drink!!!!!"
Luckily, she wiped herself out almost immediately and was content to just go and find our seats while Kyle was sent out to the world of merchandising. He returned with a bag of cotton candy, a princess crown with a set of ears attached, and a pair of Flotsam and Jetsom binoculars that were so cool I snuck them into my purse at the end of the night and basically stole them from my little sister.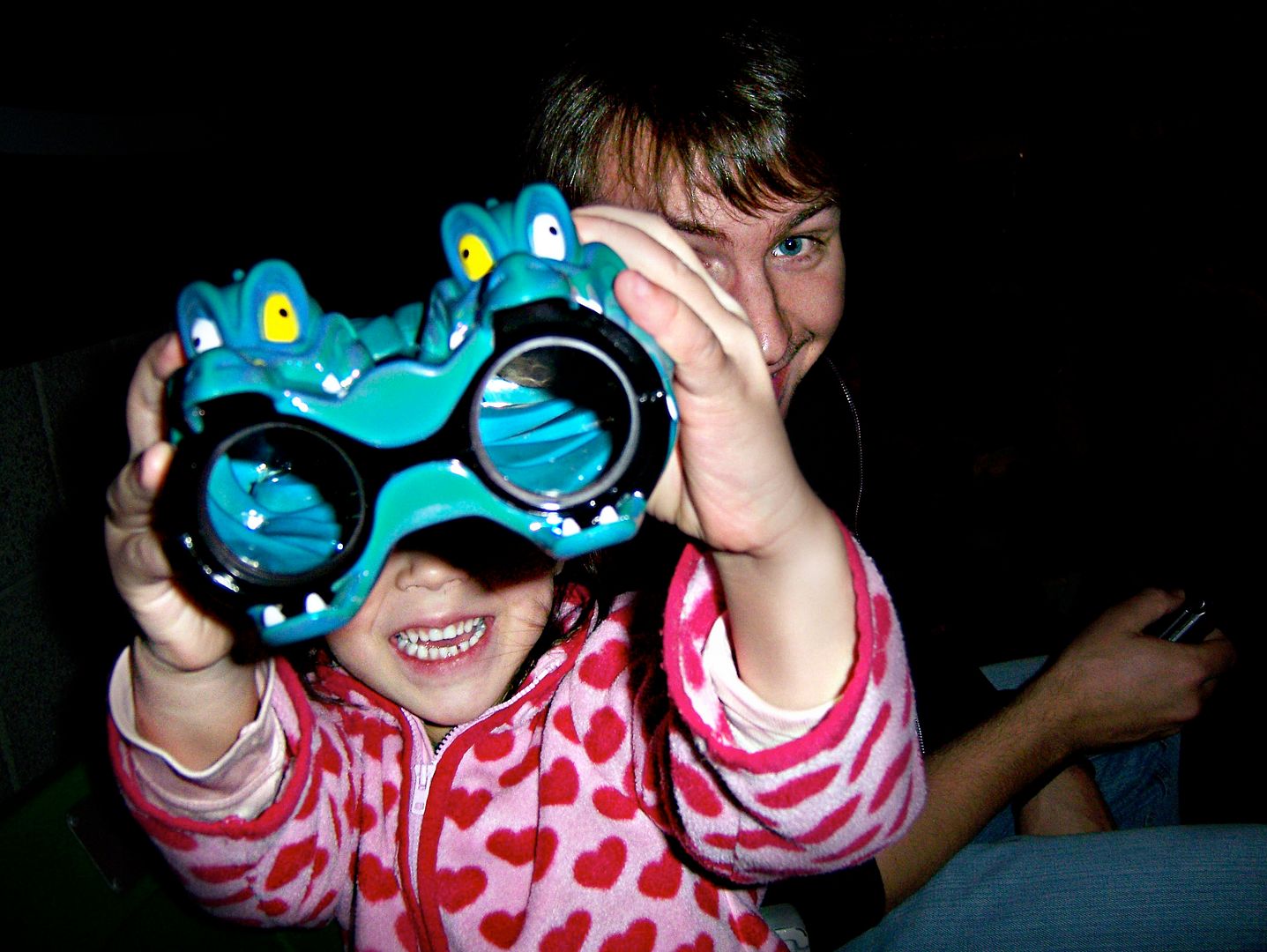 The other hiccup occurred at intermission. Kyle had gone off to look around and Ella and I were finishing off the cotton candy when she suddenly looked at me in a panic and went, "I have to go POTTY!" I asked her if she could hold it and she shook her head and said, "NOOO!!!! This is BIG TROUBLE!!!" Well, I didn't know what that meant, but it didn't sound good, so we hauled ass to the ladies restroom, only to find a line that stretched out the door.
This is something I had never considered. Here, I had this little girl who was in all likelihood going to wet her pants, but we had no way to jump the line because the line was made up of little girls who were all going to wet their pants. I suddenly felt very sympathetic towards every mother in the world, as I seriously considered letting Ella pee in the sink. Instead, I picked her up because she was hopping from foot to foot and there was no way that was helping and I ran her over to the mens bathroom and pushed her inside. I know, at four she's probably too old to do that. What can you do? She emerged happy and unscathed from the experience and for the first time I started to hope that Kyle and I have a whole lot of boys.
The end of the ice show culminates in the wedding of Cinderella and Prince Charming. All of the other princes and princesses (and Mulan for some reason) skate out as honored guests and everyone is wearing a wedding gown and then Mickey and Minnie skate out and they're in wedding clothes and there's this whole huge princess wedding number. Ella was totally entranced and I realized that between this show and the fact that Ella saw us get married at Walt Disney World, there's like a 2% chance that she won't have a Disney wedding.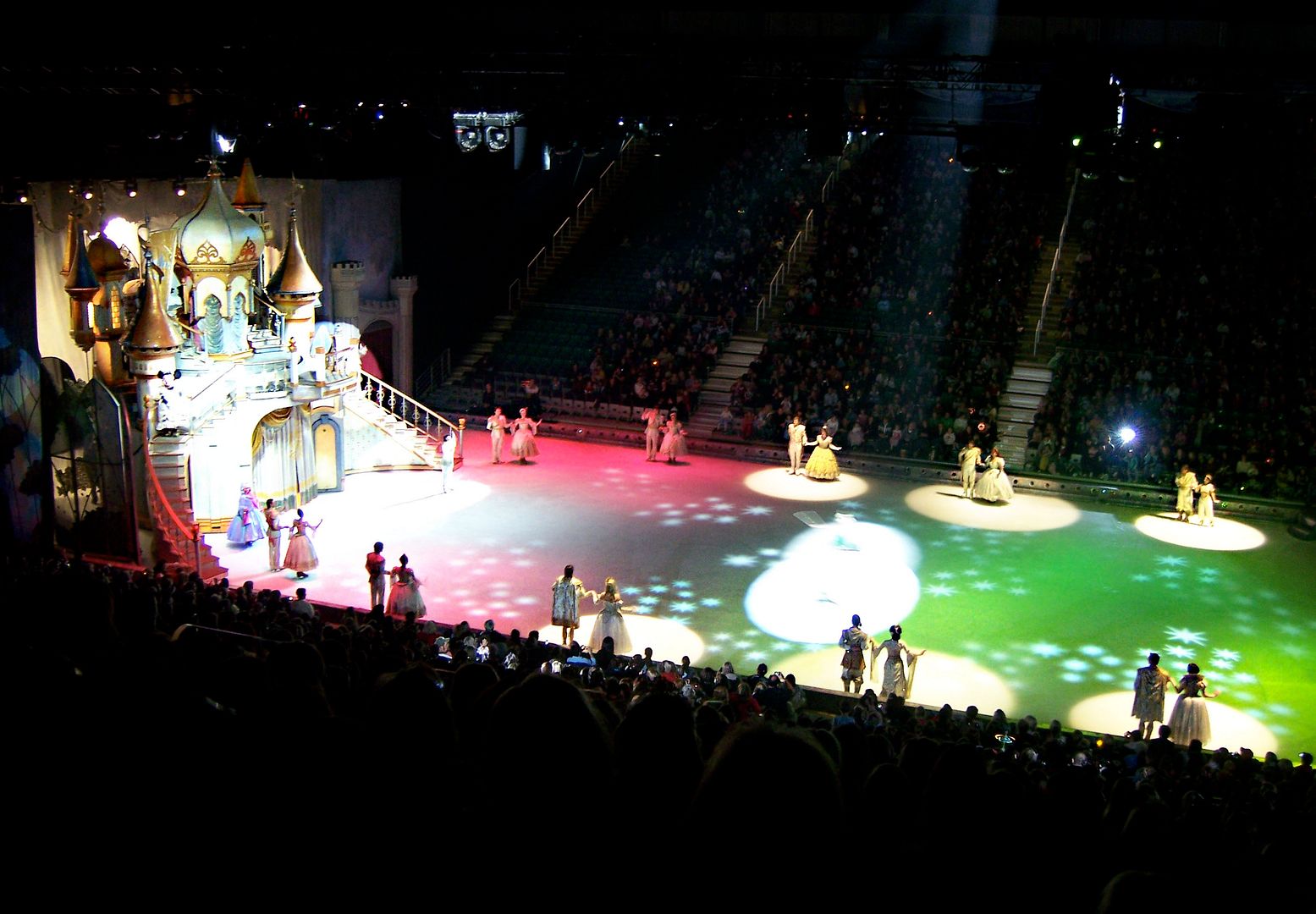 My dad is in for big trouble in about twenty years, but I find the idea to be very awesome. I wonder what other children and I can convert to the dark side…