We. Had. The Most Fun. On Our Anniversary.
I like to surprise Kyle with things…especially really silly, unexpected things. I always figure that he'll think I've got something up my sleeve for special occasions, so I try to make my surprises really, really weird so he won't know what's coming. For example, a couple of years back, I surprised him on his birthday by repainting his bedroom to look like the Pirates of the Carribean attraction while he was at work. He left at nine in the morning and when he got back at six, I had painted the whole room dark blue, stapled glittery felt up to cover the ceiling, and replaced the bedding, window treatments, and all accessories in his bedroom. His total and complete shock was awesome.
I can't always do big stuff like that, but for our anniversary I wanted to do something nice. We had agreed that we didn't want to buy each other big presents, though, since we're still keeping our eye open for a house, so I couldn't surprise him with a new gaming system, etc. Instead, we were supposed to go out on our anniversary after he got off work and buy each other something for less than $30 and then go out to dinner somewhere. It was a nice enough plan, but at the last minute I decided I wanted to really surprise him.
So, when Kyle got off from work, I picked him up from the office and we went to Barnes and Noble where I bought him a game and he bought me some new journals. Then, when Kyle thought I was driving him home, I headed back uptown and took us to the Anniversary Inn, which is probably the cheesiest and most over-the-top way to celebrate your anniverary in Utah. The Anniverary Inn is a bed and breakfast that has ridiculously themed rooms, like jungle rooms and pirate rooms and space age rooms. They even have a Twilight room now for the vampire mania that has taken over. I'd never been there, but I'd heard ads for it on the radio my whole life and when I called them on the morning of our anniversary, I was able to score a pretty good price on the room.
When we got there, Kyle was totally confused. He just kept saying, "Wait…what's going on?…Are we eating dinner here?…Are we taking a tour?" I got us checked in and ordered breakfast (he started to catch on by then) and then I gave him the key to our room. We found it and went inside and this is what we saw: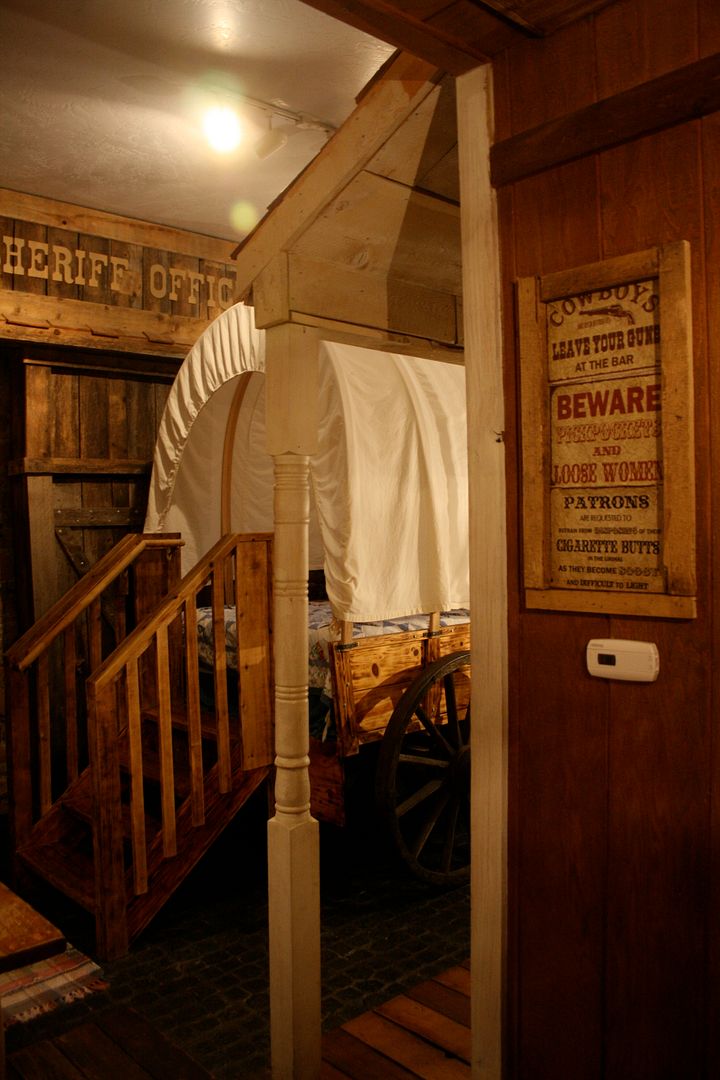 Isn't that the funniest thing you've ever seen?! Our room was the Wild West room and it was simply ridiculous. The bed was in a covered wagon and the huge bathtub was in a saloon set up on a wooden sidewalk. I can't even explain it to do it justice, so here are some pictures: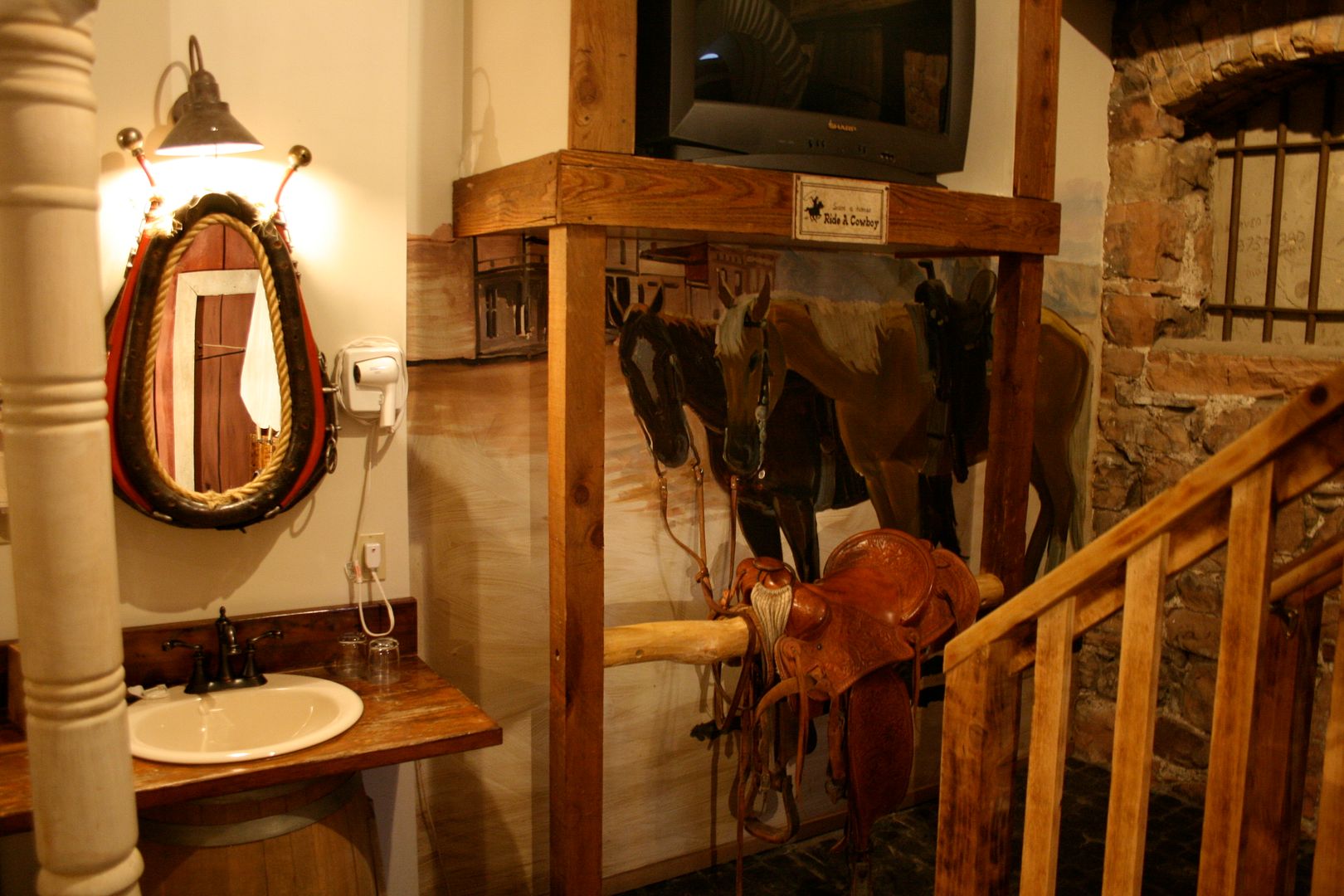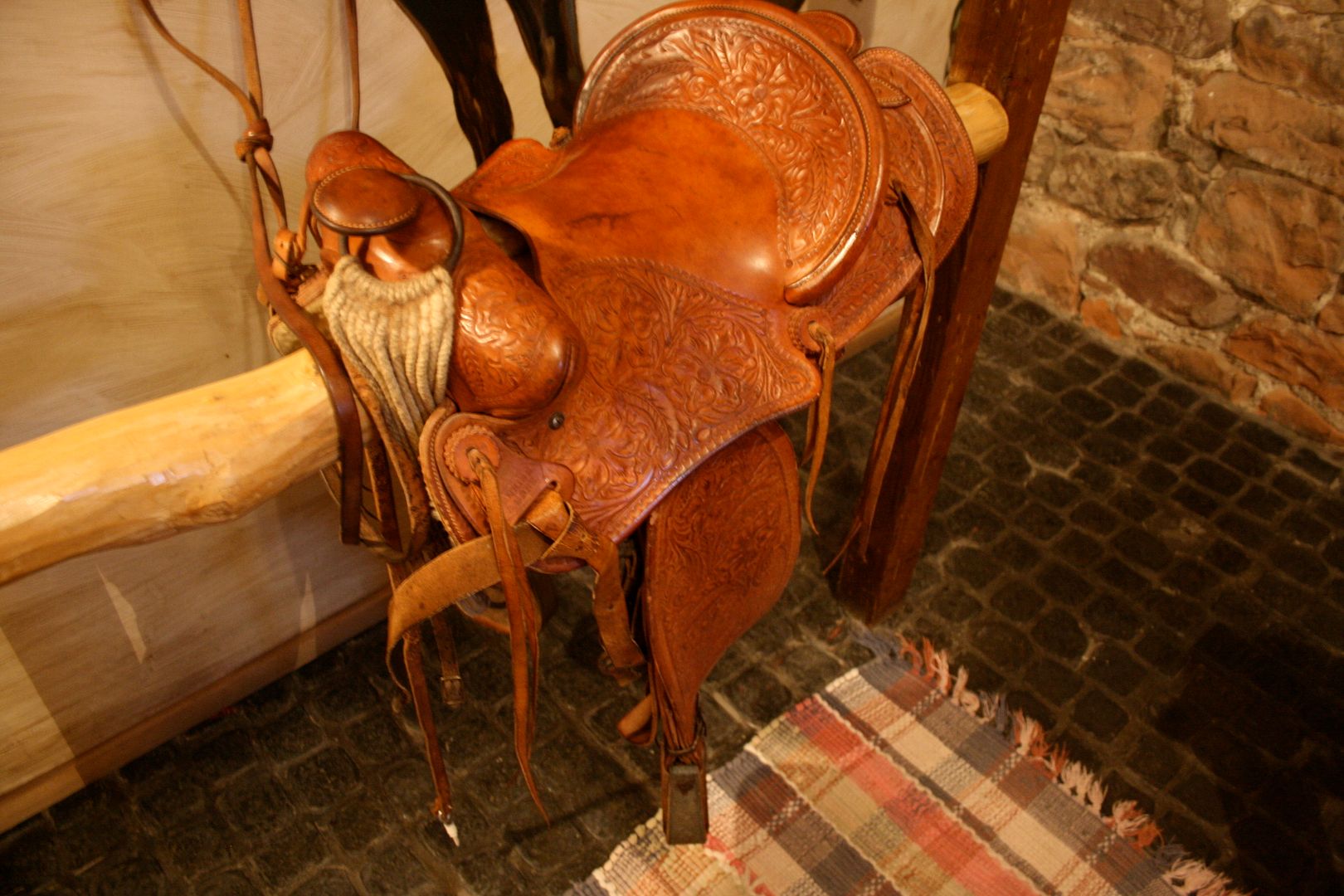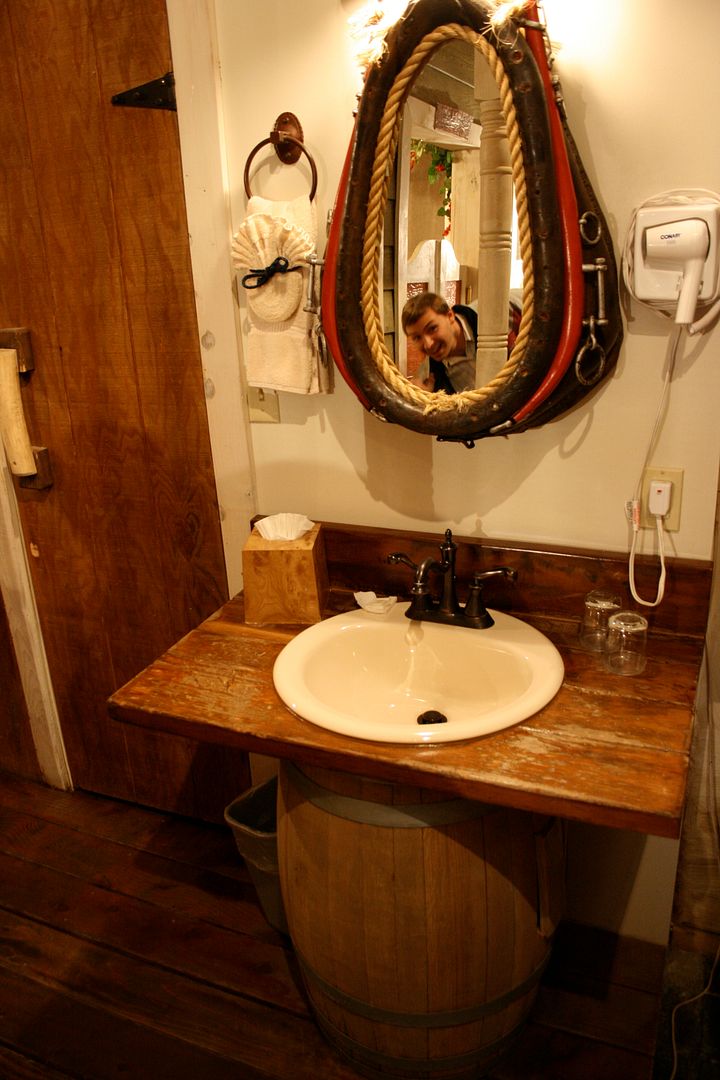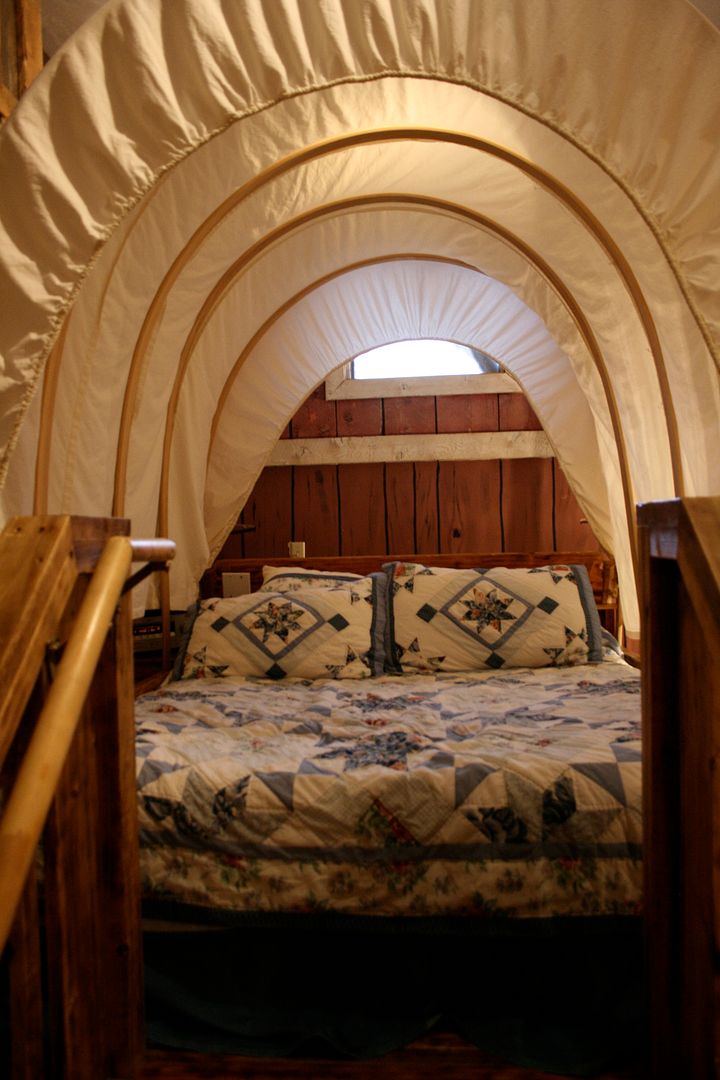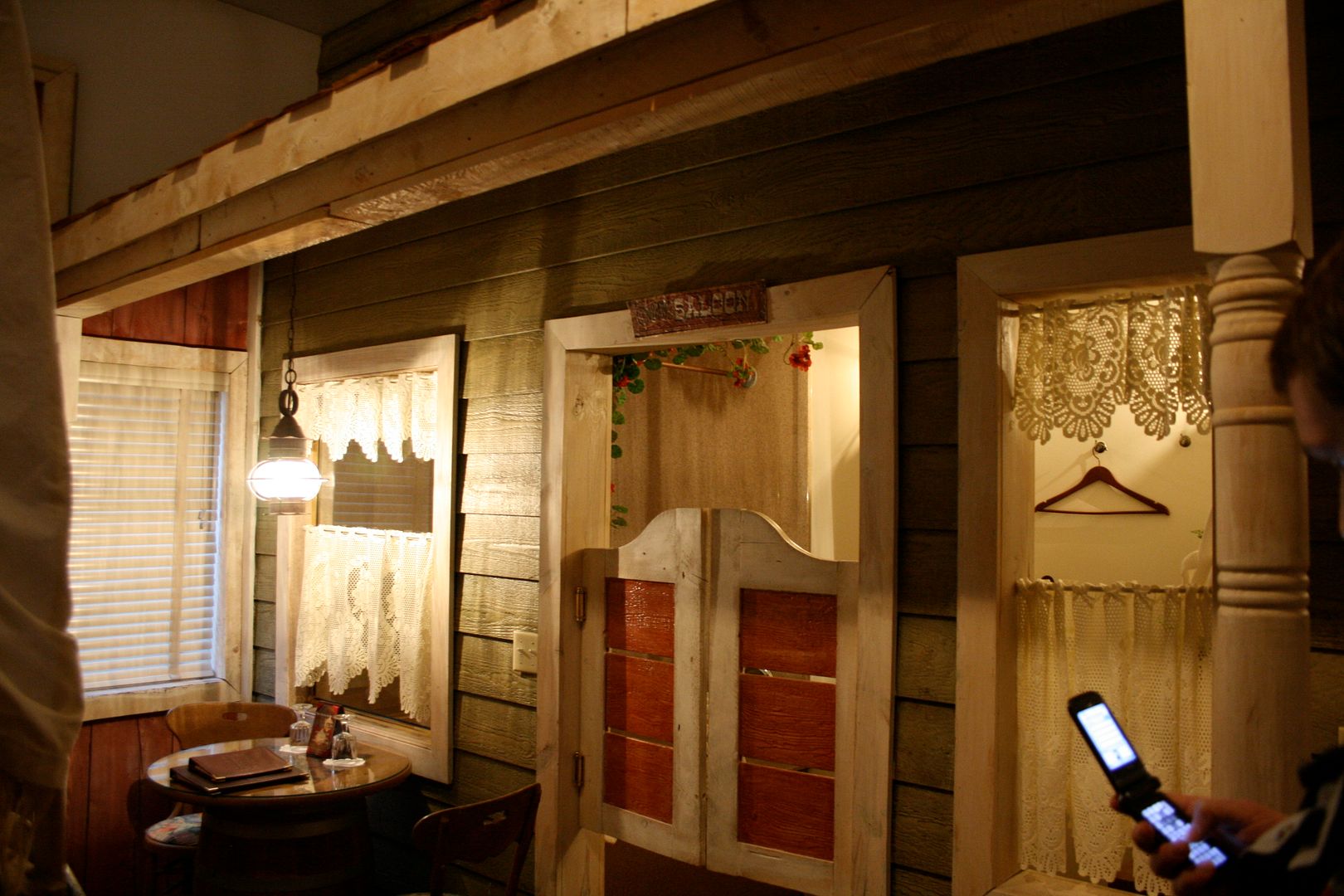 (The sidewalk/street was such a cute touch, but we seriously
stubbed our toes about five times each.)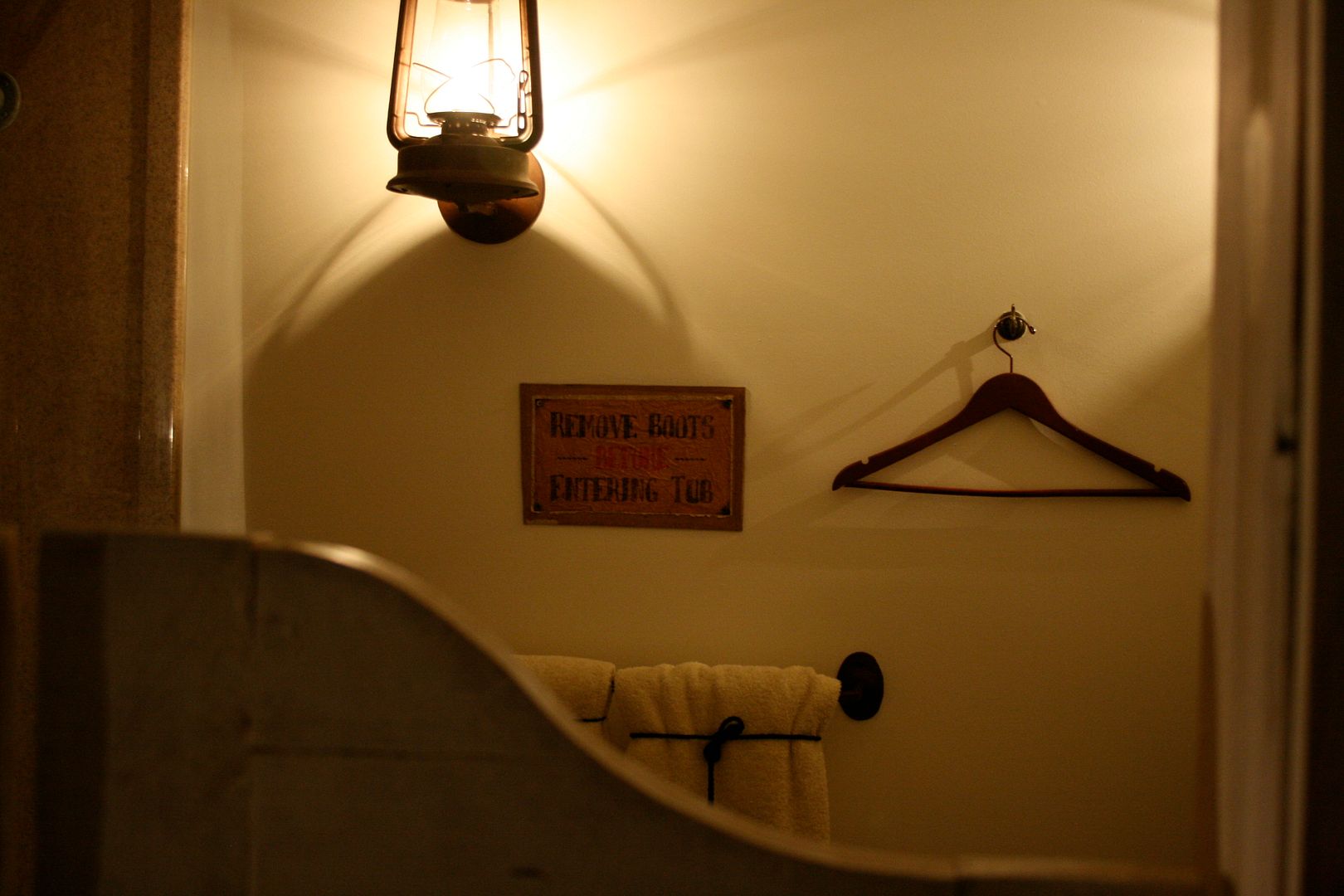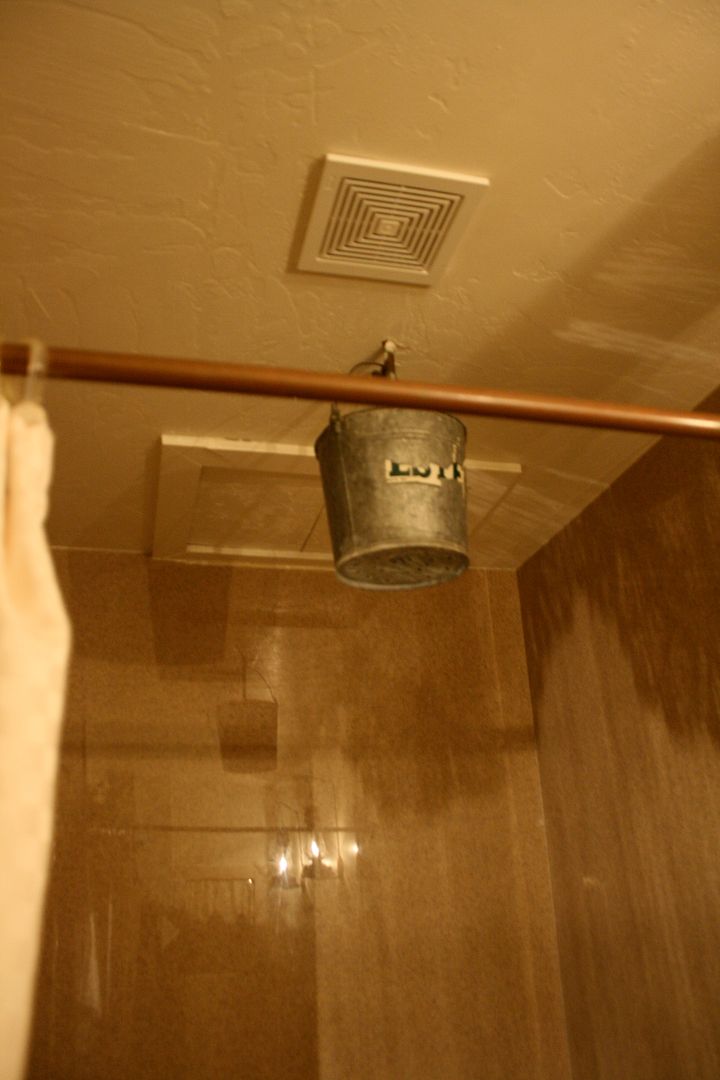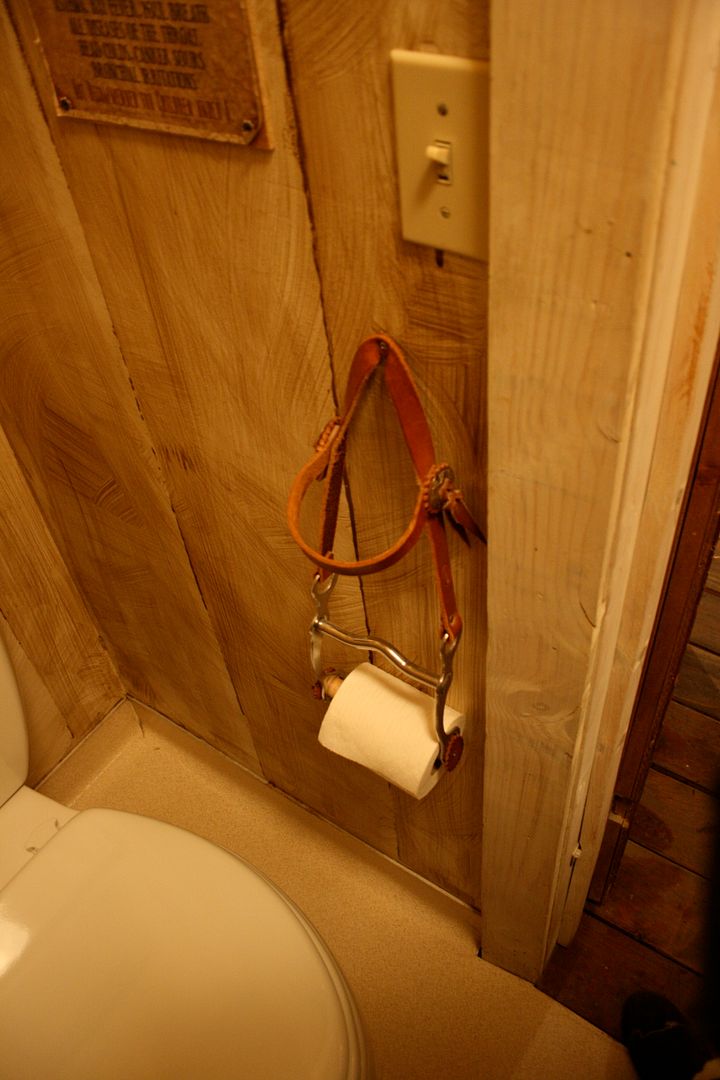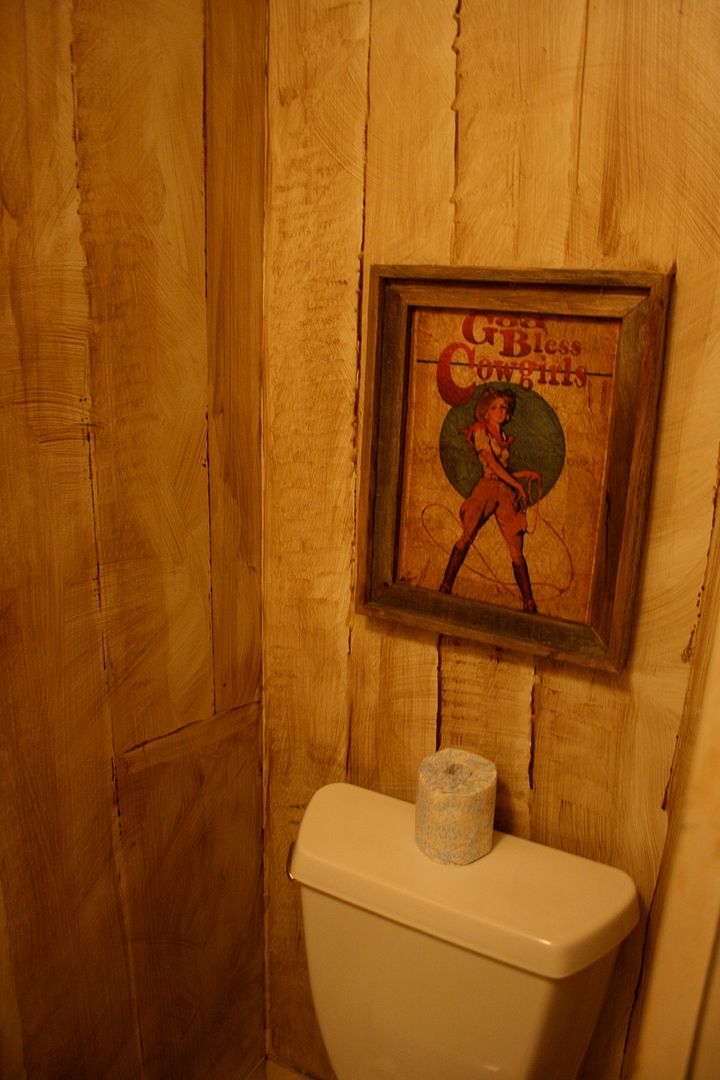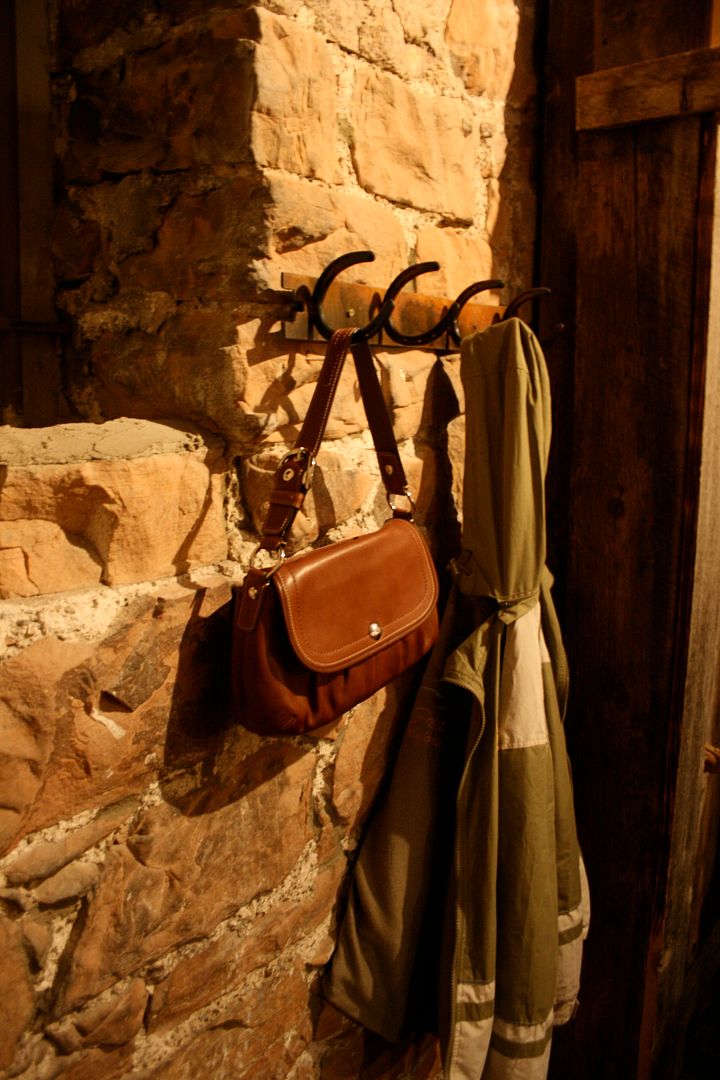 It was just so much fun. I don't know who besides my husband and I would stay there, since we're well-established as sillier and more juvenile than many of our counterparts, but it must be pretty popular because they were almost full on Friday night.
After Kyle got over the shock of the room and called a few people to tell them about the surprise, we ate franks and beans and cornbread (brought from home) for dinner with a couple of bottles of sasparilla. It wasn't the most extravagant meal we've ever shared, but we turned out all the lights except for the lantern above us and it really was like we were having a summer meal on the porch of the old saloon.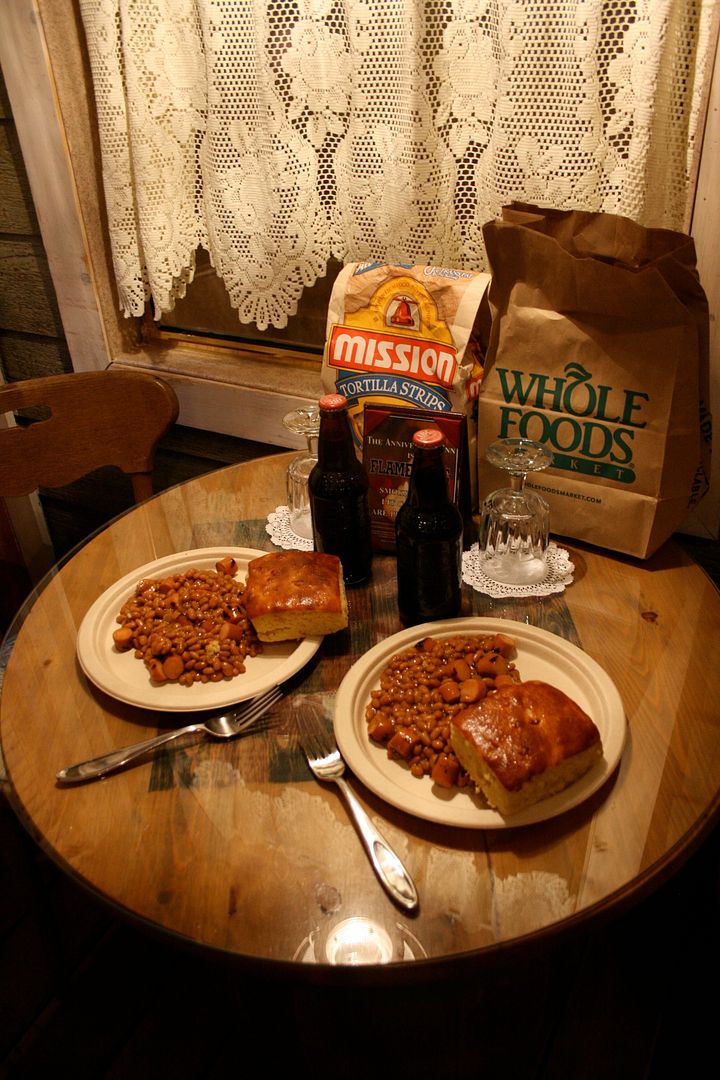 We then opened the gift that I had gotten Kyle at Barnes and Noble, which was the old west version of Munchkin, a card game we both like. (Yes, I really like consistent theming.) We played cards in the wagon and said things to each other like "whoa there, pardner" and "hey, little lady." It was a freakin' ball.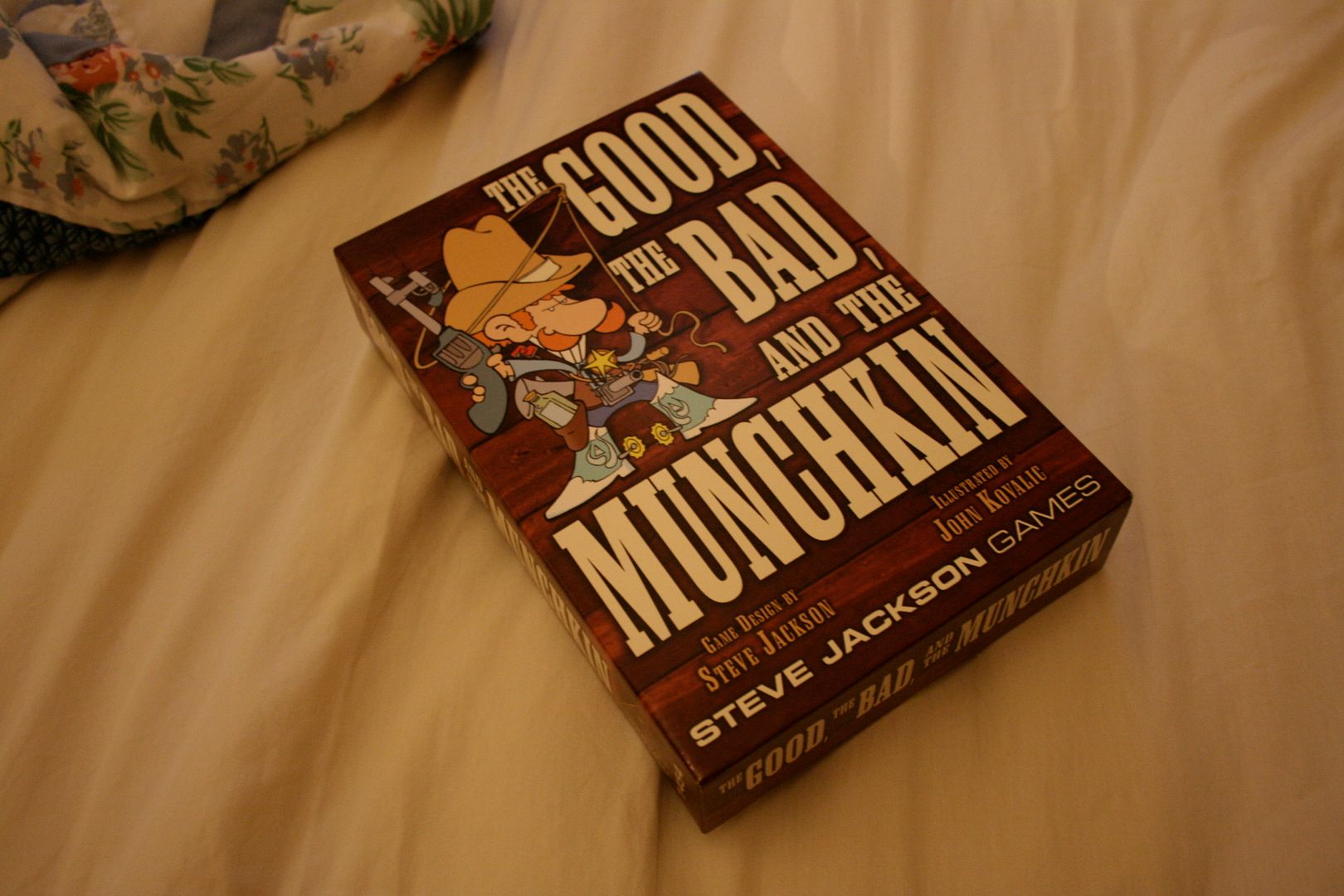 Later, we popped City Slickers (also brought from home) into the DVD player and watched it from inside the covered wagon while munching on chips and salsa and drinking Dead Horse Ale. This will sound totally silly, but I think you really can't appreciate a movie like City Slickers unless you watch it from inside a covered wagon. I just wish we would have had more time, since I've really been wanting to watch Tombstone, lately.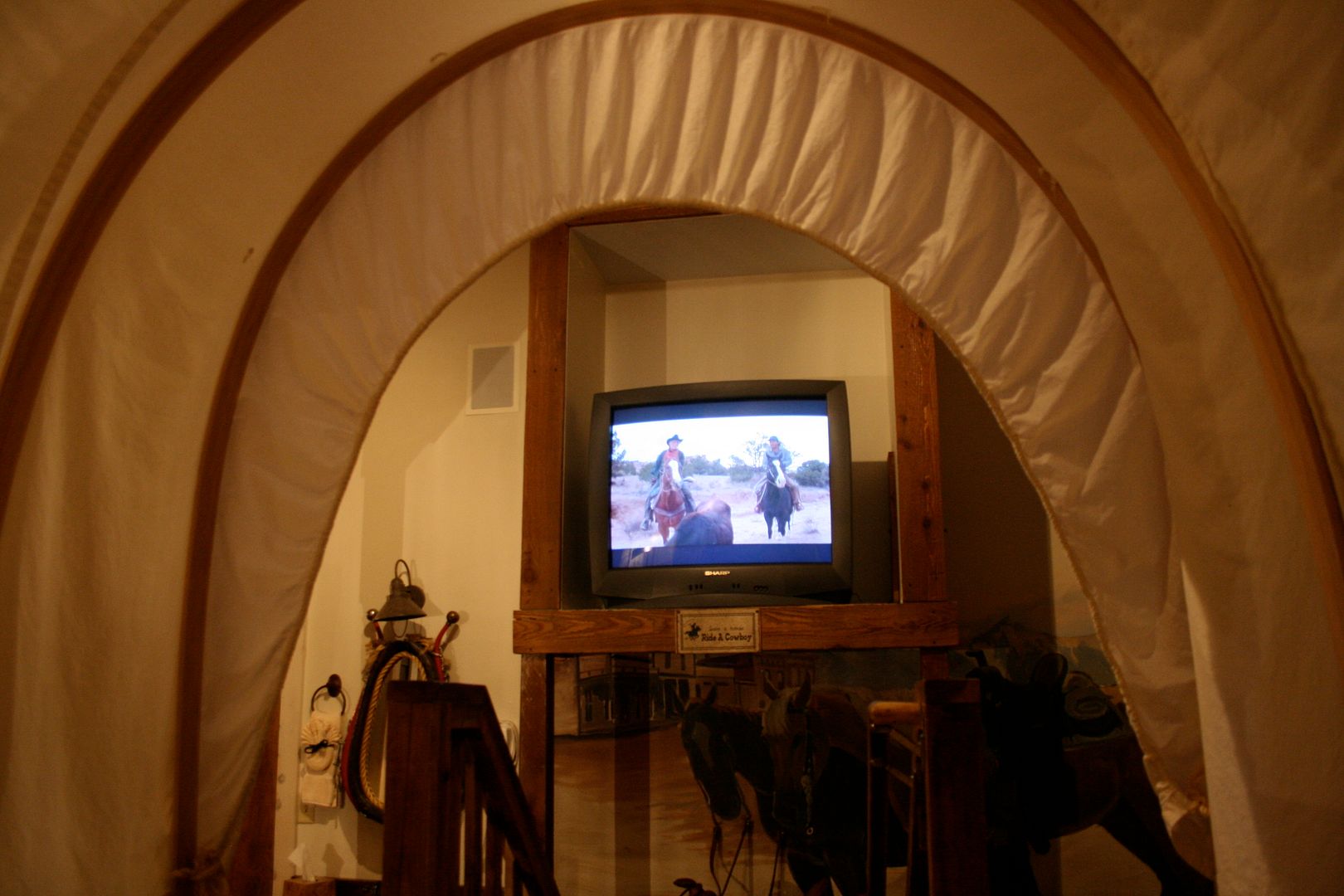 All in all, it was a fabulous night. Breakfast was delivered to our room the next morning and we left relaxed, happy, and ready for another year of fun. We also made two new goals: 1) We will do something fun for our anniversaries because fun is our favorite type of romance and 2) We will try to play a game together every single day this year. More on that later…
P.S. – This counts as my Utah historical attraction (for my 101 in 1001) because A) it was the first brewery in Salt Lake City, B) it's been a famous Utah place for as long as I can remember, and C) I'm having a hard time finding a different attraction. So this is one more thing off my list!