We're having some unexpected company this week. Jed's grandmother died and he's coming to Salt Lake for the funeral, which is a crummy reason for a visit but I'll be glad to see him anyway. We only found out today that he was on his way into town, so there was a bit of rushing around to get the apartment into a presentable state. It's definitely a work in progress, but I thought you guys might be curious to see how it's shaping up…
Front room.
We have the TV and the piano in this room, so everything
is pretty dark and heavy. I hung a curtain to separate the
rooms a little bit more and keep the extra light out, since
I spend most of time at my desk or reading and Kyle
spends most of his time watching movies or playing Xbox.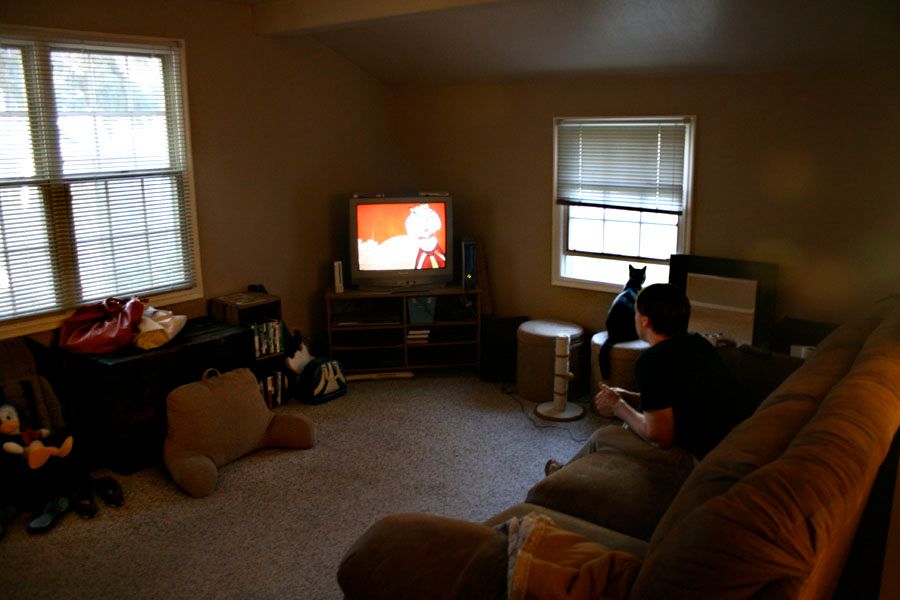 Front room.
As you can see, this room is woefully under-decorated.
We bought a rug for it, but haven't put it down yet. We still
need another chair (perhaps a recliner?) and a coffee table.
I'll probably hang a mirror in here, but I'm not sure where.
That sloped ceiling makes it so hard to know how to decorate!
And don't even get me started on window treatments…

The kitchen.
This is the view of the kitchen from the dining room.
I love how much space there is, but I am a little annoyed that
the washer and dryer are so prominent.
Any ideas on how to hide them?
We also definitely need some sort of art to hang on that big
blank wall…

Dining room.
Here's a better look at that metal storage cabinet I painted
a few days ago. It's holding our wedding china, which is nice because
we like to use it often, but I also wanted it to be safe so it doesn't
get too chipped. There's a large bowl that goes on top of that long platter.

Dining room.
The other side of the dining room. I put two bookcases on their
sides to create a place for our bar and cookbooks. I'm hoping
to find a couple more vintage clocks to hang near that yellow one.
I also need to figure out what kind of treatment to do on this window.

Dining room.
You can see that we brought in four cabinets. I needed the space for
the kitchen gadgets I didn't want to leave out all the time (waffle maker,
magic bullet, kitchen-aid, steamer, grill, etc.). I'm going to paint the doors
of the cabinets, I think, but I'm debating the color at the moment. I think
I might put a magnetic primer on them and then use chalkboard
paint, but I don't know if that would make them too busy with the games up
top like that…

Second living room.
I created a reading nook on the other side of that curtain. The chair
is a garage sale find ($40) and it's very comfortable. I was thinking
about recovering it, since the vintage velvet is getting a bit worn, but
it's such a nice sunny color. I really want to get this Parent Trap print
to go above those two white chairs, but I can't find it for less than $70.
Anyone know a good source for that kind of thing?

Guest bedroom.
This is one of the more frustrating parts of the apartment. I repainted this
bedroom set (it used to be black with gold handles), but when we moved
everything in, it was a really tight fit. The bed nearly goes from one end of the room
to the other. We don't want to get rid of it, though, because the set belonged
to Kyle's grandma and the bed is really comfortable.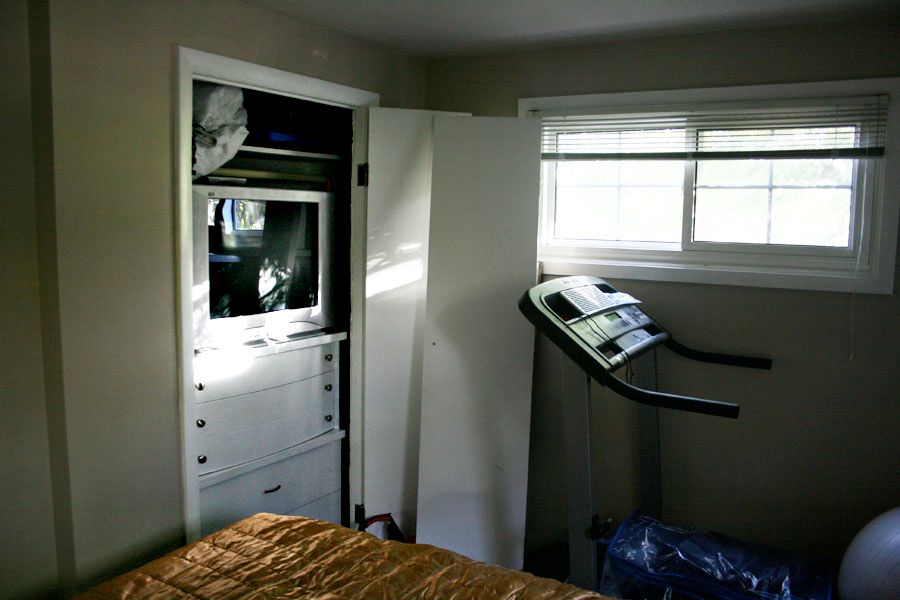 Guest bedroom.
In the end, we just made do and stuck the dresser into the closet to make
room for the treadmill. It's not the most aesthetically pleasing thing
ever, but we use the treadmill every day and there wasn't anywhere
else that we could really put it. I'm hoping it will look/feel better when we take
those closet doors all the way off and put them into storage.
So, that's the update. We'll see how the guest bedroom arrangement works out with Jed here this week. I'm actually pretty happy with the state of things, since we only have a couple more pieces of furniture and some art to buy before I feel like the apartment is in a good place. Of course, I have tons of unpacking left and our bedroom is a disaster (notice that it's not on the tour), but we're doing good for having only lived here for three weeks.