I hate getting my hair cut. HATE IT. I feel like 50% of the time I leave feeling unsatisfied and ripped off. Part of this is because I just don't get that excited about my hair, but another part is that I just haven't found the perfect stylist for under $300. (If you're in Utah and you want to know who the perfect over $300 stylist is, call me and I'll give you his number. Love him.)
Anyway, last year I started cutting my own hair. First I just trimmed my bangs, but before long I had added layers, fringed the sides, and eventually cut off about 9 inches in a blunt, bob maneuver. It was passable cute and didn't cost me a thing, outside of a pair of hair shears from Sephora, but when it grew out it just looked really awful. Add to that the fact that my hair always streaks red in the summer, instead of getting those cute surfer-girl caramel streaks, and you've got yourself a complete mess of a haircut.
I knew that something needed to be done, so I made a salon appointment here in Salt Lake at a place I've never tried before. Then, I hopped onto Real Simple's virtual makeover site and whipped up a few looks. I posted them on Facebook (using my blogger account and not my personal one) and before long, three favorites emerged: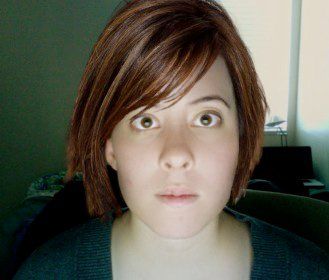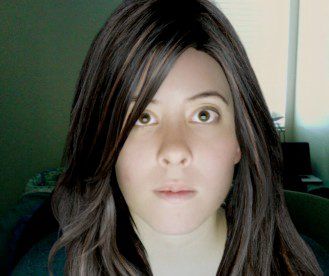 Funny enough, but the two hairstyles that I've worn for most of my life (long and flat, long with blunt bangs) were both the least popular styles I'd put up. Apparently the community has spoken and I should stop (A) ignoring my hair and (B) taking a pair of shears to my forehead.
Anyway, I consulted with Kyle and he liked my hair short and red. So did a bunch of other people, but the style was still pretty scary. I've been growing my hair out, so the thought of cutting it short was daunting. I also wasn't completely sold on the red color, even though my hair has natural red highlights, because it's a pretty big change for me. Ultimately, though, I decided that red and short might be just the hair jolt I needed and I resolved to go for that cut (even though I was leaning towards long and dark with layers).
Then, we went to Vegas and when we got there I was really frustrated with my hair. It was freaking out in the heat and just generally really bleh, so I made a spur-of-the-moment appointment at the amazing salon at Treasure Island and ran down to get my haircut. I showed her the short, red cut that I wanted and she basically refused. She said that I wouldn't look good and I would completely hate it and then she suggested a longer, darker cut with layers. I compromised and told her to cut it, but not to color it. This is what she did:
I admit, I kind of love it. It's true that it's not crazy different and it's still straddling the line between red and dark brown, but it's really comfortable and very easy to style. I also feel like I can let it grow out for a long time, which is fantastic because I don't like getting my hair cut at all. I still have that salon appointment, so I might make a drastic color change, but I don't know which shade I'm leaning towards…