We had a big get-things-done weekend, which was a little amazing since I've been feeling pretty under the weather. The cottage has been a mess for a couple of weeks and I noticed that my work, chores, and other things (like bills) were all starting to slide into a big pile of things that I was late on. I just can't exist in a home that isn't in order. It makes me NUTS.
My wonderful husband gave up his weekend and let me order him around, making him move furniture and carry boxes and do all kinds of stuff you'd never want to do in August. The results have been quite happy indeed:
DINING ROOM BEFORE: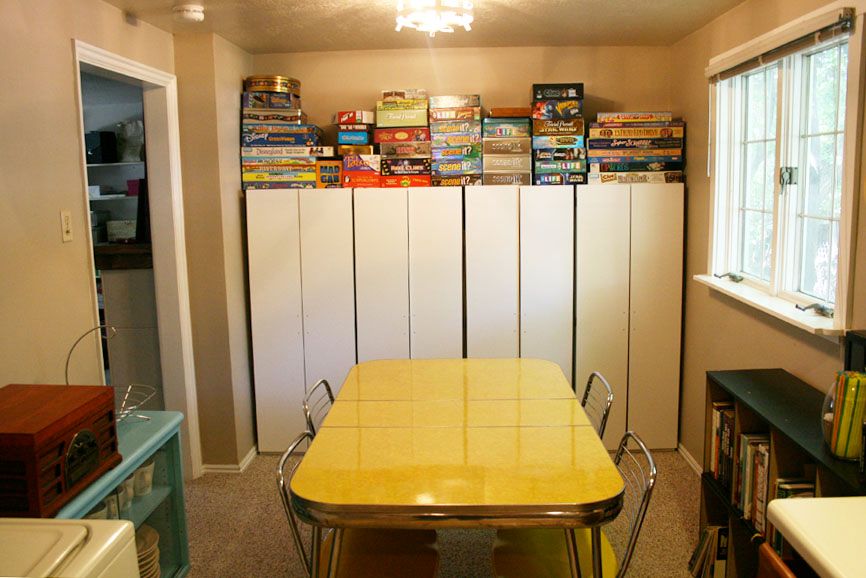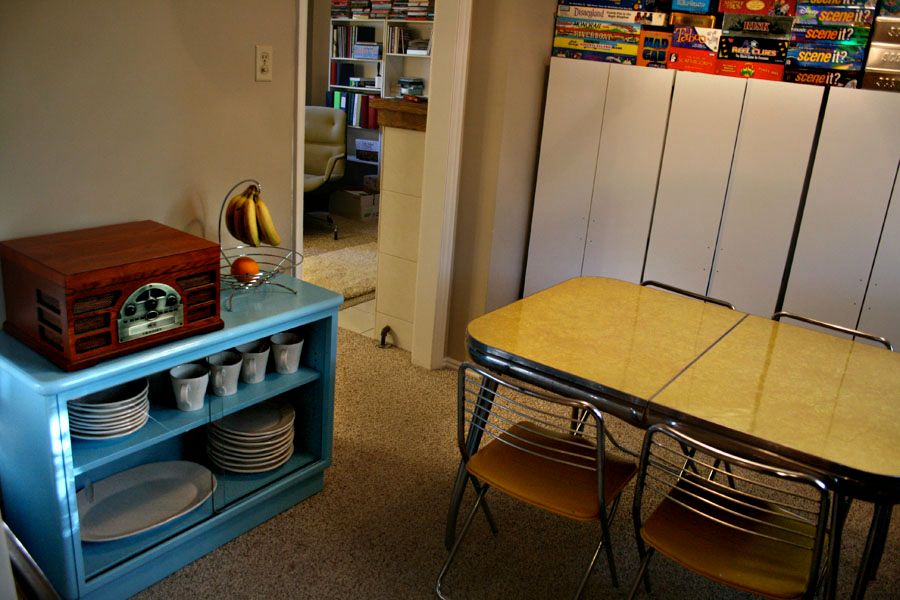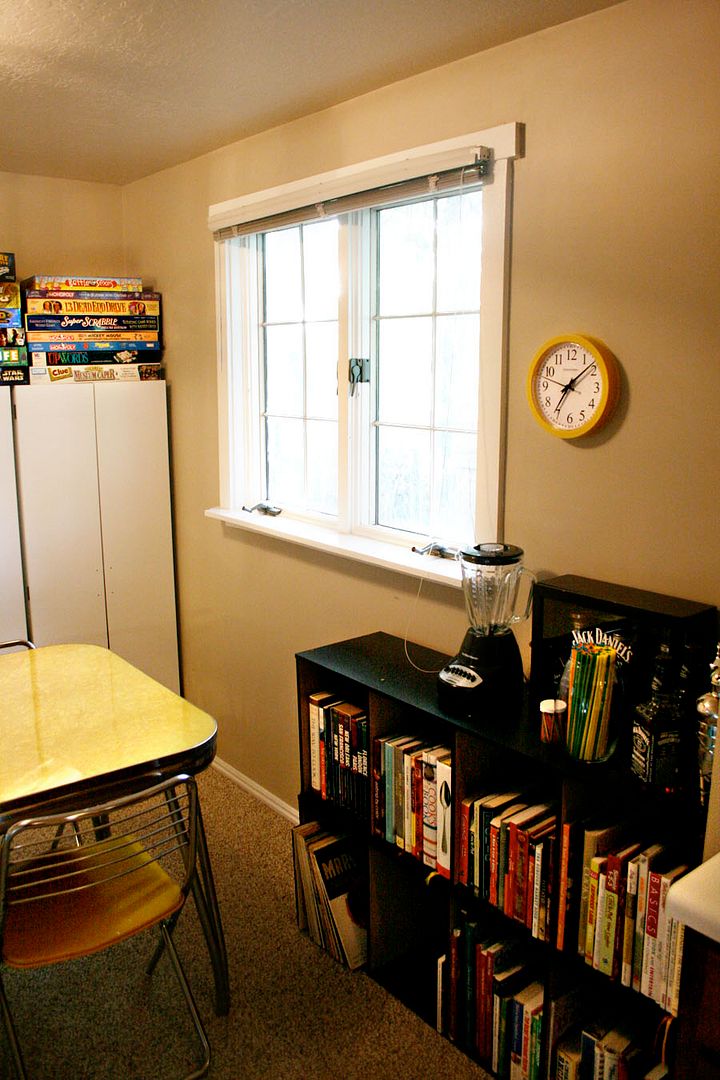 The dining room felt a little too crowded, with stuff piled on all three walls.
The storage cabinets I purchased and lined up at the back of the room were really cheap-looking, since I broke down and got them from Wal-Mart. I originally wanted to paint them, but mostly I just wanted to chuck them out the window. Unfortunately, we are in desperate need of the storage space they provide.
The cookbook shelves were handy, but they got in the way of sitting at the table and felt just a bit bulky and oppressive.
By last week, the whole dining room had spent six weeks being the place we piled everything we didn't want to deal with. (Laundry, packages to mail, bulk food containers, etc.)
DINING ROOM AFTER: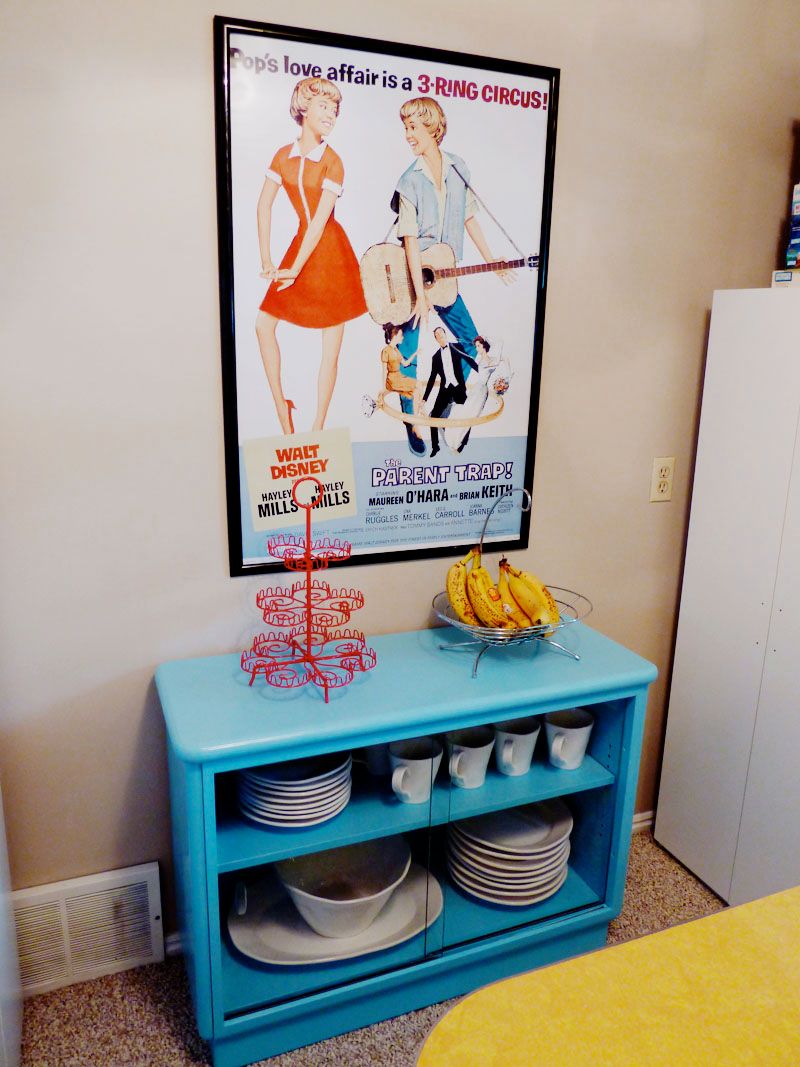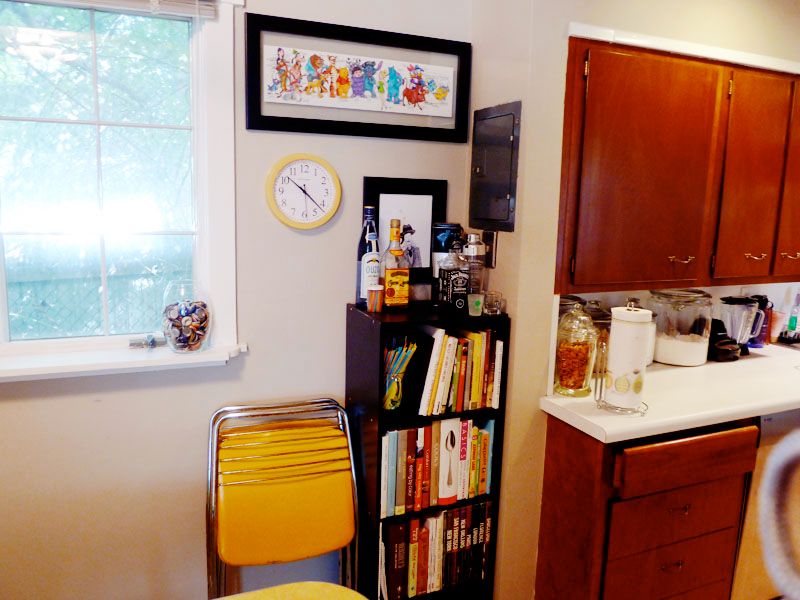 It's not perfect, but breaking up that line of cabinets really opened up the room and made it easier to move around in there.
We painted two of the black cookbook shelves white and put them in the guest room. We stood the remaining shelf up and stocked it with the cookbooks that we use most often. The rest went either to other parts of the apartment, where we can still get to them, or into storage for some future home that includes more shelving than what we have.
The Parent Trap print was scored on eBay for $17 and framed in a movie poster frame that I got from Deseret Industries for $2. It doesn't have any glass and is slightly pixelated when you really look at it, but that's worth the $60 price difference between what I paid and what I found when I originally looked. Since it isn't a photo or "real" piece of art, I'm perfectly happy with it as it is.
I wanted to make the focus of the dining room the poster and the cabinet holding our wedding dishes, so I moved them to the back. We can also get to the dishes more easily now.
It still isn't ideal or finished (I need window treatments and the cabinets need handles and don't get me STARTED on the chairs), but it's a big improvement over how it's been. It's also nice to be just a bit closer to the two cabinets that hold things like mixing bowls and kitchen appliances. The other two cabinets hold non-cooking stuff. One now holds a bunch of the games that were originally stacked on all four cabinets:
The other holds my craft supplies and other little projects, which is handy since I do many of them while sitting at the kitchen table: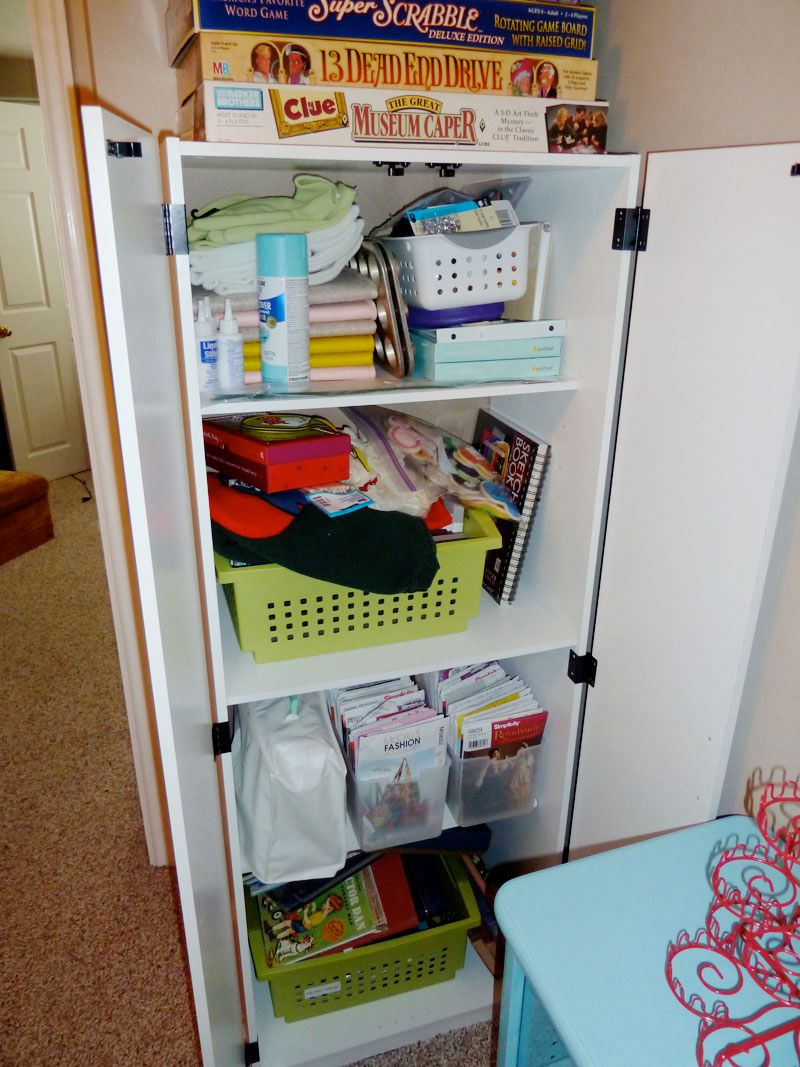 Being able to get this organized was only possible once we had freed up space in another part of the cottage: the closet. We have a large storage closet in our 2nd living room and up until now it's been a big pile of stuff sitting next to the catbox. Kyle helped me clear it out and then he hung up some rods from IKEA. The result is much better: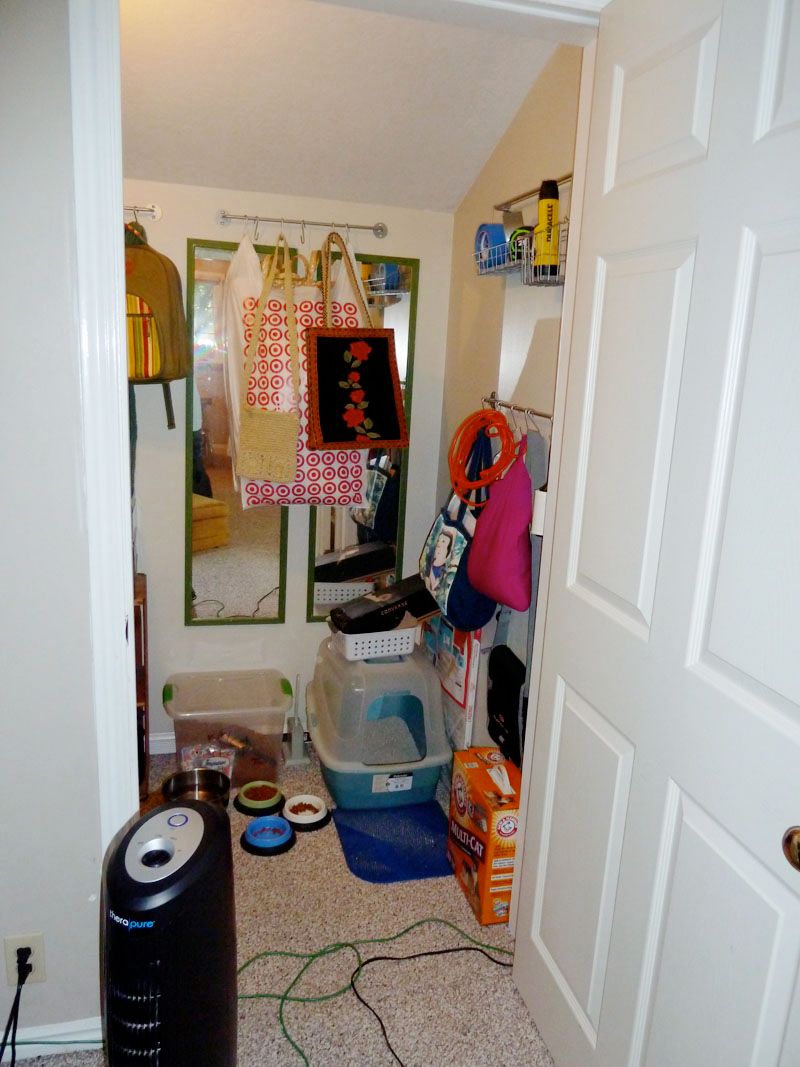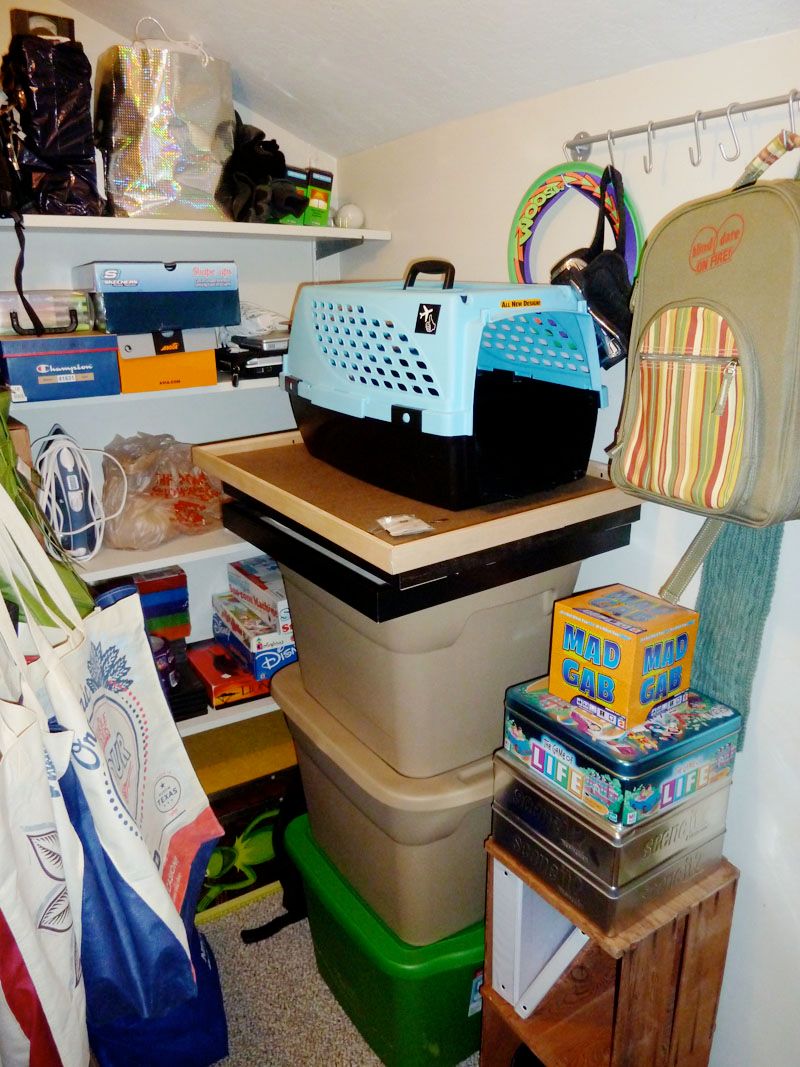 I can get to everything easily and the cats aren't too crowded when they're trying to eat dinner or use the litter box. There's a light in the closet, but we usually leave the door mostly shut, with the air purifier on outside, so that we don't have a home that smells like cats. I love my furbabies, but I hate going into someone's home and smelling nothing but litter box. I think that might be a deal breaker for me. Luckily, Kyle takes full charge of the cat box and I never have to deal with it.
Moral of the story: I simply couldn't do a thing without my amazing husband.