We're slowly but surely doing new improvements on the cottage. I'm hoping that the crisp fall air brings a new wave of productivity, because summer has sucked it out of me and there are still lots of things I'd like to do. At this rate, we'll put the window treatments up in March and move in May.
Still, I am enjoying the cottage more, especially since we made some changes to the living room. The living room is where Kyle and I spend most of our time together, because it has the TV, the couch, the piano, and the guitar. We also eat dinner in the living room because we're too lazy still to use the dining room. (Sadly, the dining room is going to go unused until I get some decent dining room chairs.)
When we first moved in, the living room started out as something of a man cave. The sloped roof and dark furniture made it feel very cozy and a little cramped and messy. There was also limited seating, which meant we were dragging chairs into the living room whenever anyone came over.
We were going to get a recliner, since Kyle loves them, but ultimately I decided it didn't work for the room. We used to have two recliners, which was great because we entertained a lot more often in Ohio. Now that we're here and our friends no longer live within a ten block radius, it's mostly just the two of us, so a couch and two recliners was really going to be too much. We didn't want to have no seating at all for when people come over, though, so we were looking for something to put in that room.
Luckily, I found a bright green chaise lounge in the As-Is section of IKEA for 70% off and it worked to add seating and brighten up the room. We also added a rug and some pillows and did a little rearranging.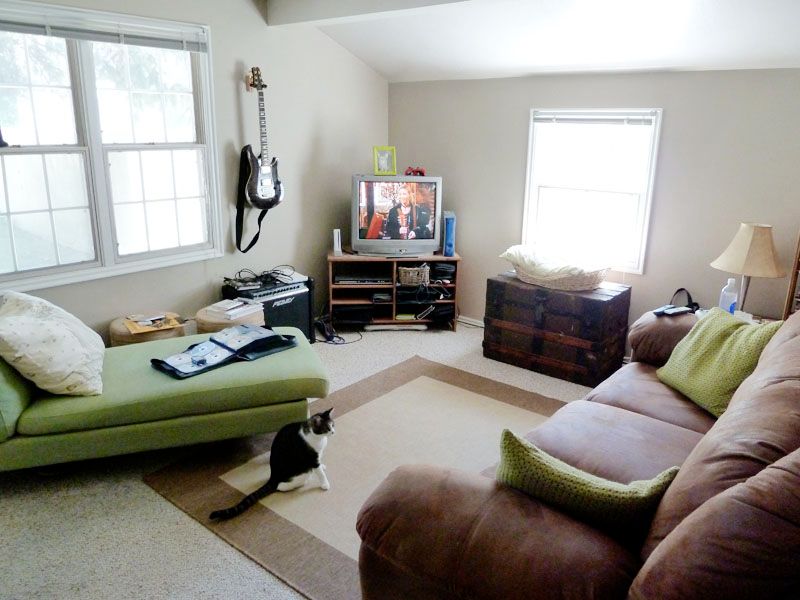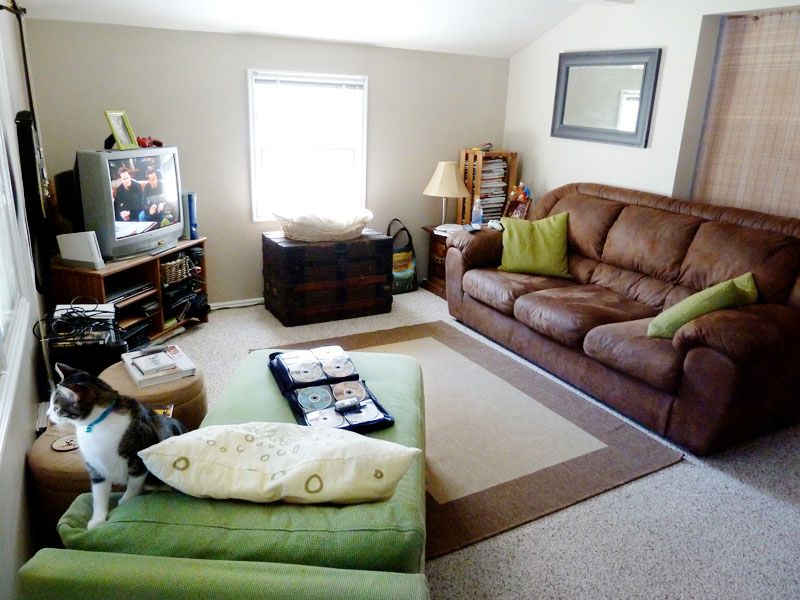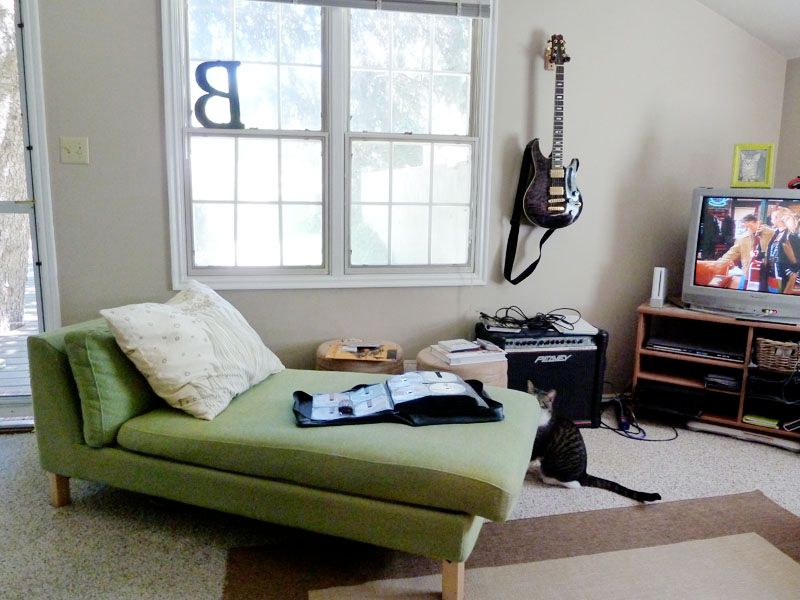 It's nice that we now each have a place to stretch out and we have enough seating for 5-6 people if friends come over to chat. It's still a little awkward for hosting movie nights, but until we upgrade the TV we're not too worried about it. The TV is something I got as a housewarming present in 2003, long before Kyle and I were living together, and it has been dragged to no fewer than 13 apartments. We keep saying that we're going to spring for a new one, but then something comes up. Oh well, one of these days…maybe Santa will bring one if Kyle is a good boy…
The other change that we've made is one that I mentioned in the last cottage update. We dragged the treadmill out of the guest room to free up the space, so it's now in the second living room. It's sort of tucked away and not too intrusive, but I still wish we had a separate room to put it in. It's just not worth getting rid of it though, because we both use it and it saves us from needing a gym membership, at least for now. I thought about trying to do something to hide it, but I think this is about as hidden as it gets.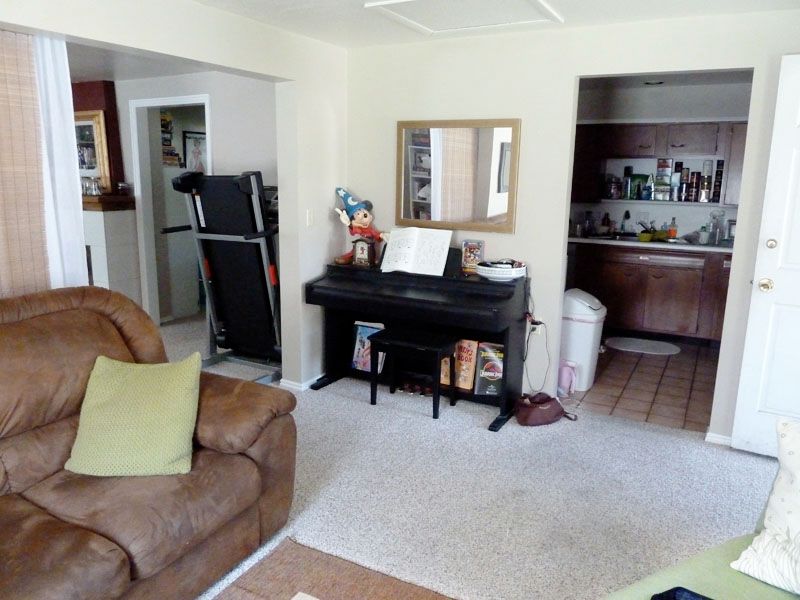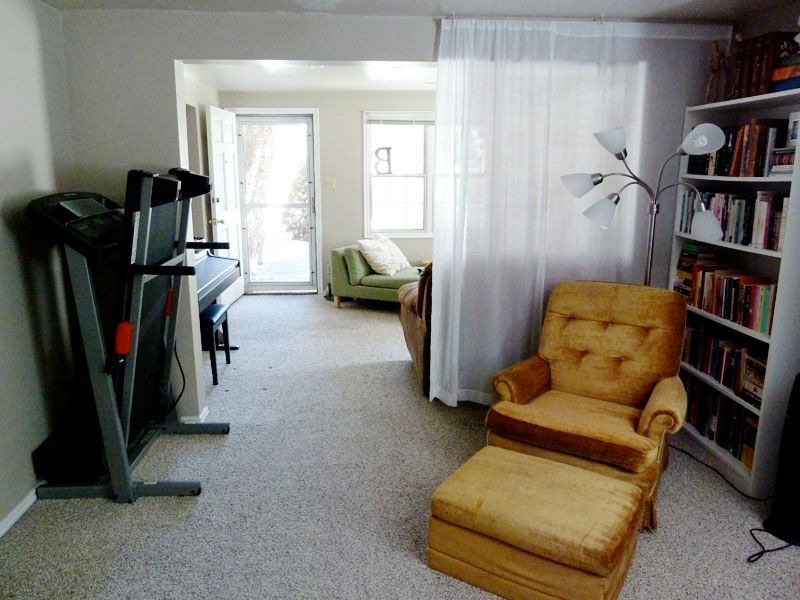 That's going to be it for a little while as far as big changes go. We still have lots of little changes…namely the window treatments that haven't happened in any room but the bedroom. I also have little projects that need to be done in every single room, so I'll be a busy bee this winter. I love it though, even if we don't own our cottage. It's so nice to live in such a nice place and I have a lot of fun making it our own.