I've been doing a bit of "Hello, 2012" blog clean-up and found this post on the wedding blog of all places. Since I didn't want to lose these tips in the chaos, here's another peek at some of the plans I made for my sister's baby shower a couple of years ago:
One of the easier things I did for my sister's shower was to make these fake hostess cupcakes with my new niece's name written across them:
Cute, no?
I love the look Hostess Cupcakes because these treats are fun and friendly. Plus, you can customize them however you want. You could put the future bride's name on there for bachelorette parties, the couple's initials on there for cute wedding favors, or just a row of small hearts where the loop-de-loops usually go. The best part about these particular cupcakes is that they simply couldn't be easier!
To make your own fake-out Hostess Cupcakes, just make chocolate cupcakes from one of those box mixes or make your own chocolate cupcakes from a home recipe if you're feeling fancy. I chose the Betty Crocker path to cuteness myself and whipped up some devil's food cupcakes for the shower.
After you've taken the cupcakes out and let them cool completely, grab a can of chocolate frosting (the darker the better). Put a couple of spoonfuls in a microwave-safe dish and microwave the frosting for about 25 seconds, keeping an eye on it. You want it to be liquified, but not bubbly because you don't want to scorch it.
Once the frosting is liquified, carefully dip the tops of the cupcakes into the liquid frosting, turning them to make sure you completely coat the top. Place the cupcake on a baking rack to set. This can be kind of a drippy project, so baking racks work better than cookie sheets here because the frosting can drip down, away from the cupcake. Ideally, you want it to drip as little as possible, though, so your cupcake isn't all sticky for the person who eats it.
Once the frosting is pretty much set (about a half hour to an hour later), use white frosting to decorate the tops. Again, I just used a tube of store-bought frosting because I'm super lazy, but if you want to whip up your own, knock yourself out.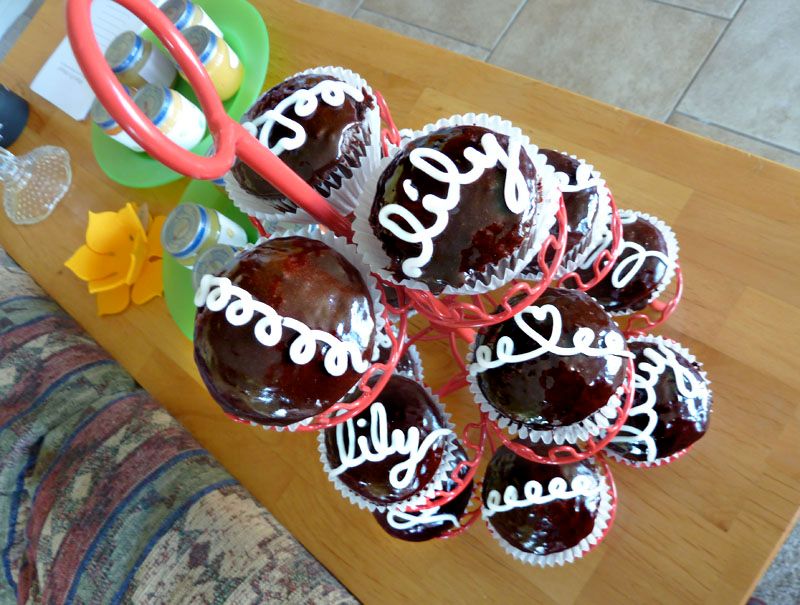 Vintage Cupcake Tower from Etsy Seller DSSDesigns
Voila! Fake Hostess Cupcakes! Note: I didn't fill these, so they aren't a perfect copy of the real thing. There's lots of recipes out there for filled fake Hostess Cupcakes, though, and I recommend this one to anyone who wants to try it. (Thanks, Megan!)
* * * * *
I'm a huge believer in doing little things that end up really adding to a nice atmosphere at a party or any event that I'm hosting. Here are a few of the little things that I did for my sister's baby shower:
Fruit Hearts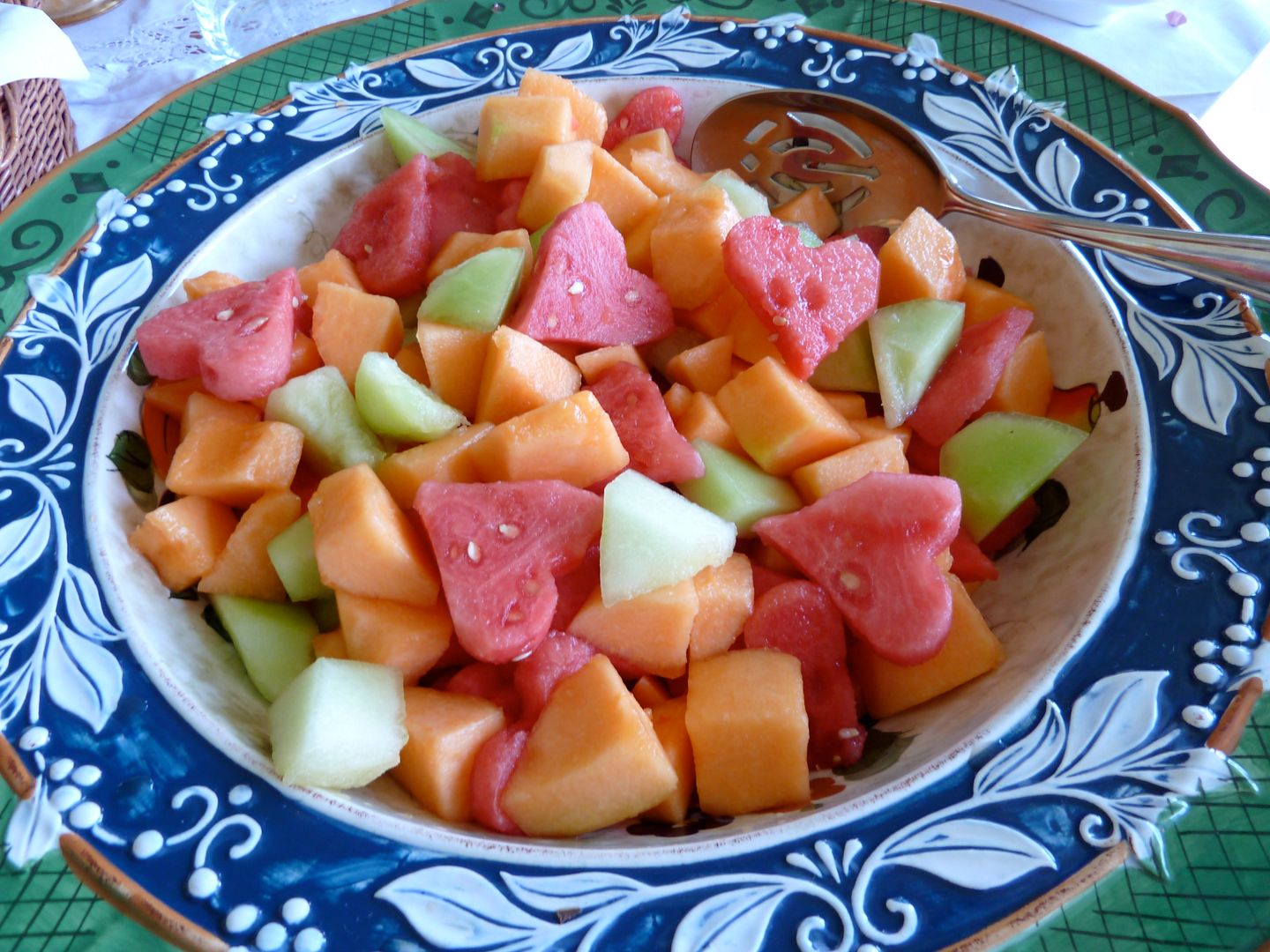 We had a simple salad made up of cantaloupe, honeydew, and watermelon from Costco. It didn't cost much, but there's nothing better than cold melon in the summertime. To make it a bit more special, I cut the watermelon into thin slices and then used a heart-shaped cookie cutter to give the salad a bit of life. I love this idea for engagement parties, bridal showers, and day-after wedding brunches.
M&Ms by Color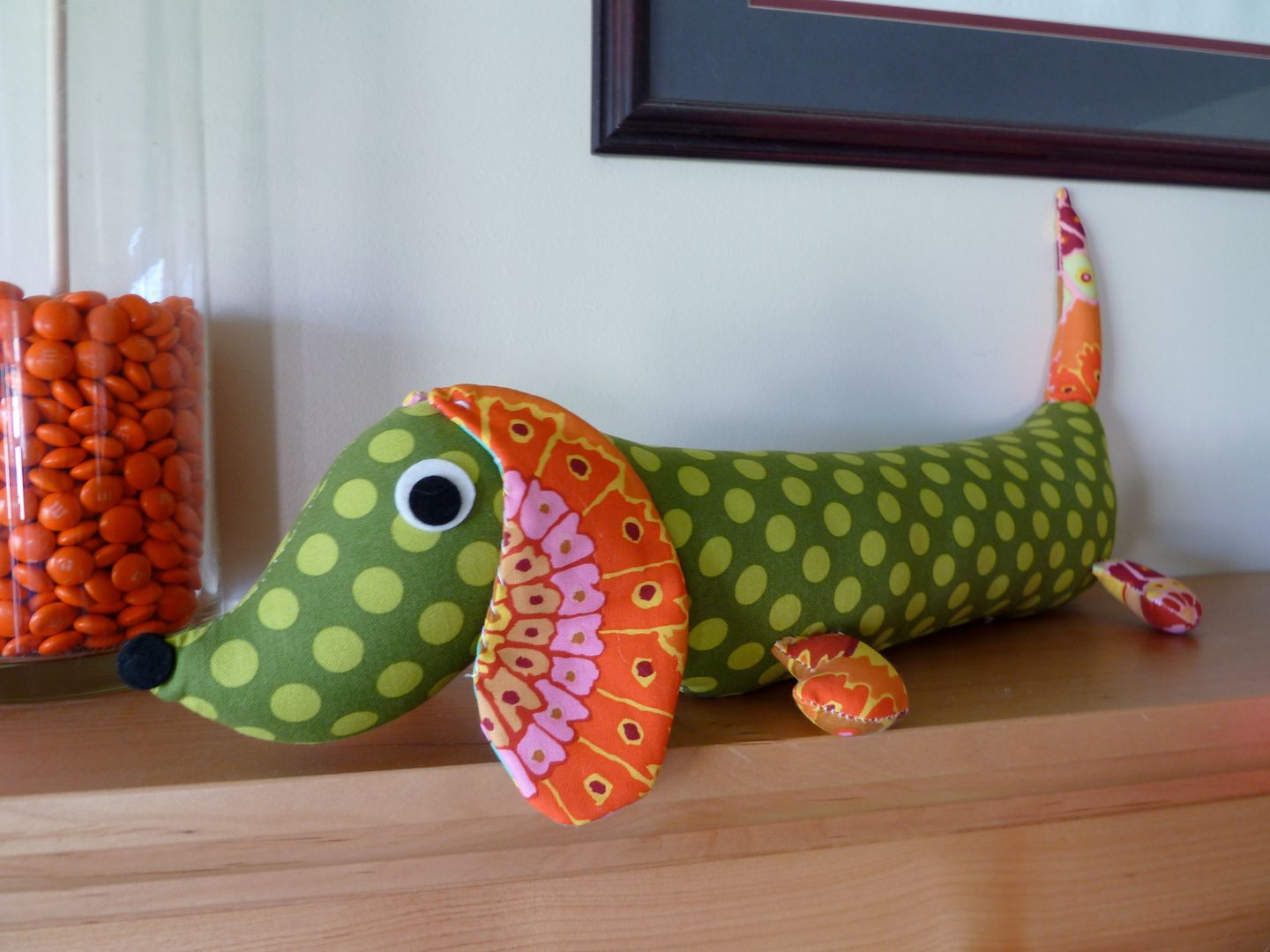 I once read that Martha Stewart only serves m&ms in one or two colors at a time because it makes a bigger impact. Unfortunately, you can only get single-color m&ms at party stores around here and it costs an arm and a leg. However, I happened to have a coupon for the big bags of m&ms at Costco, so I snagged them. Call me crazy, but I decided to separate them out and I actually sat down and split those big bags into different colors.
In all honesty, it didn't take that long and I think the results were so cute. I was able to put the yellow m&ms with the yellow flowers, the red ones with the red cupcake holder, etc. If you're willing to put in the leg work, separating out the m&ms is worth the impact. Plus, you can hide the ugly brown ones (which are currently in my freezer, being delicious as I snag a handful here and there).
Don't Forget the Bathroom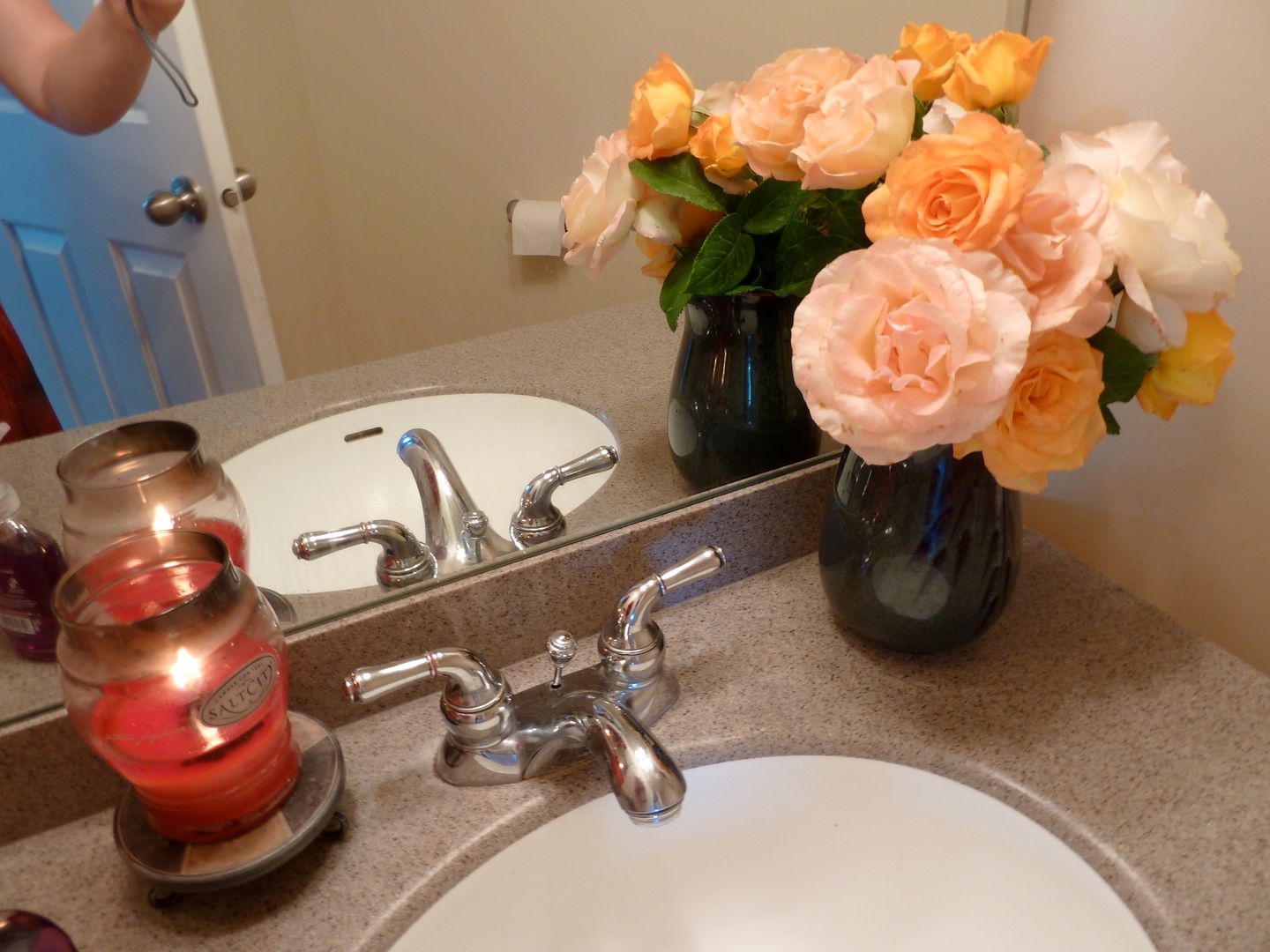 I never forget the bathroom when I'm hosting an event, since most people end up being in there for at least five minutes. At our home reception, I put in candles and some nice soap and hand lotion. At the baby shower, we already had the nice soap covered, so I added a candle and some fresh roses from the garden. It's a five minute thing, but I think it makes guests feel a lot more welcome. (Plus…not to get into ickiness…but candles in the bathroom are a must if you've got a lot of traffic in there. Just sayin'.)
Ok, I admit it. I don't like shower games. I've often been uncomfortable when it comes to playing ridiculous games with people I don't know, so my idea of baby showers has been permanently tainted by the dread of playing shower games.
That being said, I understand that you have to have them. They're expected and they're good ice breakers. Plus, there are lots of people out there (including my sister) who actually look forward to them. So, I knew I had to find at least a few games and activities for the shower. Here's what I came up with:
The Baby Food Game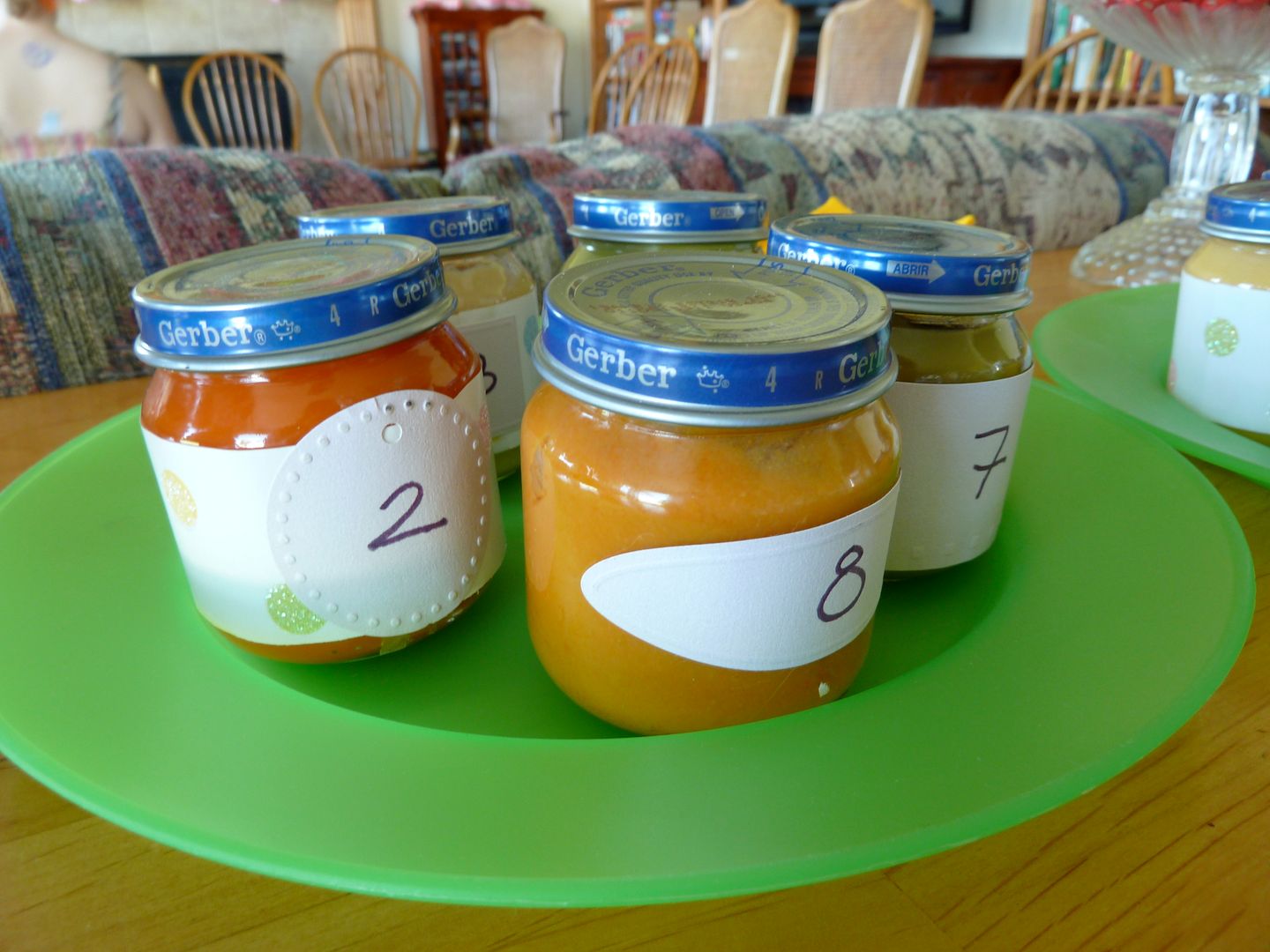 This is an identify-the-baby-food game. I collected ten flavors of Gerber baby food that ranged from ok (applesauce) to gross (mac and cheese) and I pulled all the labels off and numbered them. We passed out cards and guests had to try to figure out what the flavor was for each jar of baby food. The guests who had the most right answers got to take a prize from the prize basket.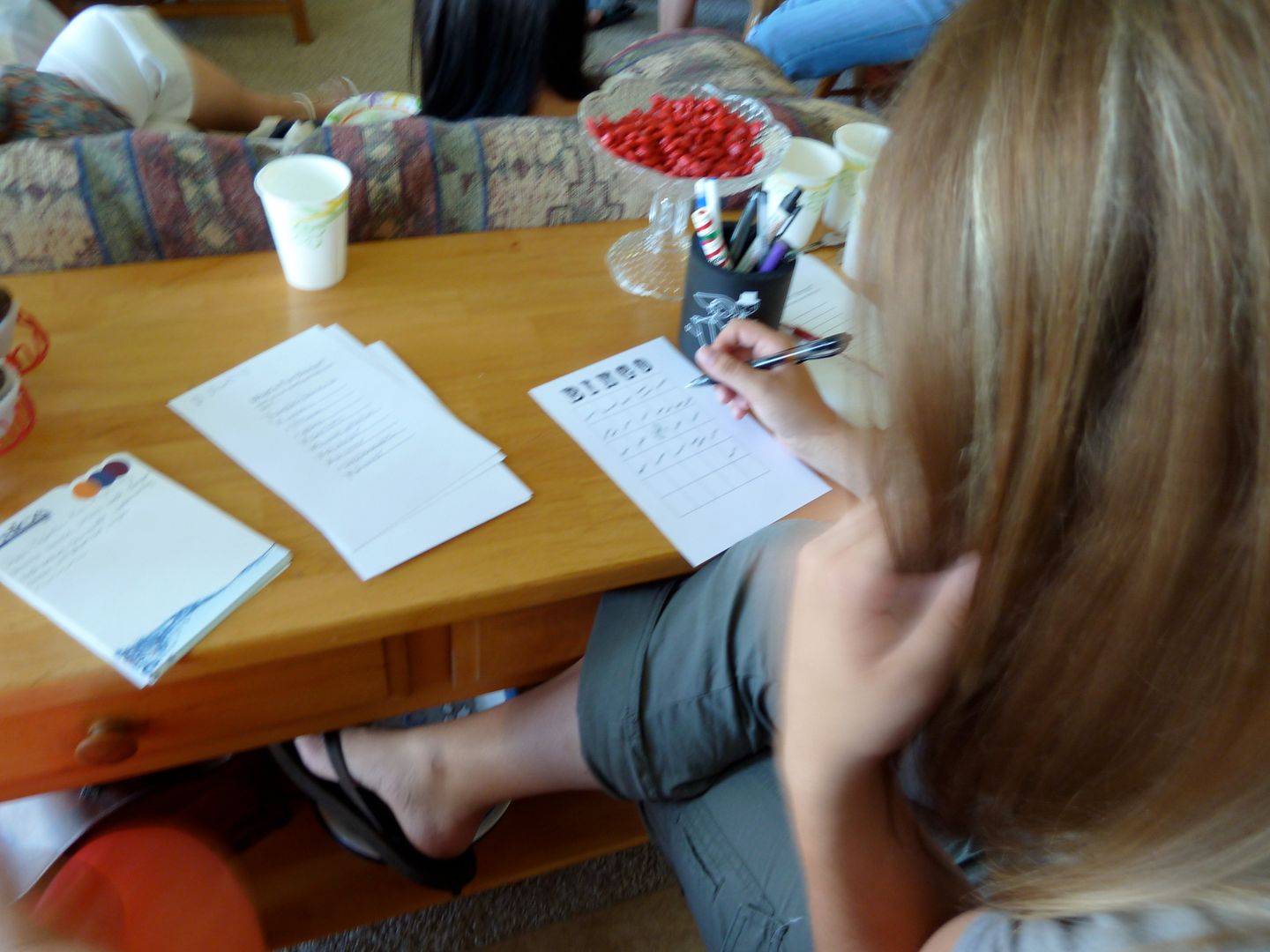 This game was a little harder to get started, because it takes more guest involvement. I passed out blank bingo cards and guests were asked to fill out the squares with things they thought that my sister might be receiving at the shower (example: shoes, blanket, rattle, diapers, book). As she opened presents, guests checked off the squares that matched the gifts. Guests who got bingo pulled a prize out of the prize basket.
Advice Cards/Color-Me Onesies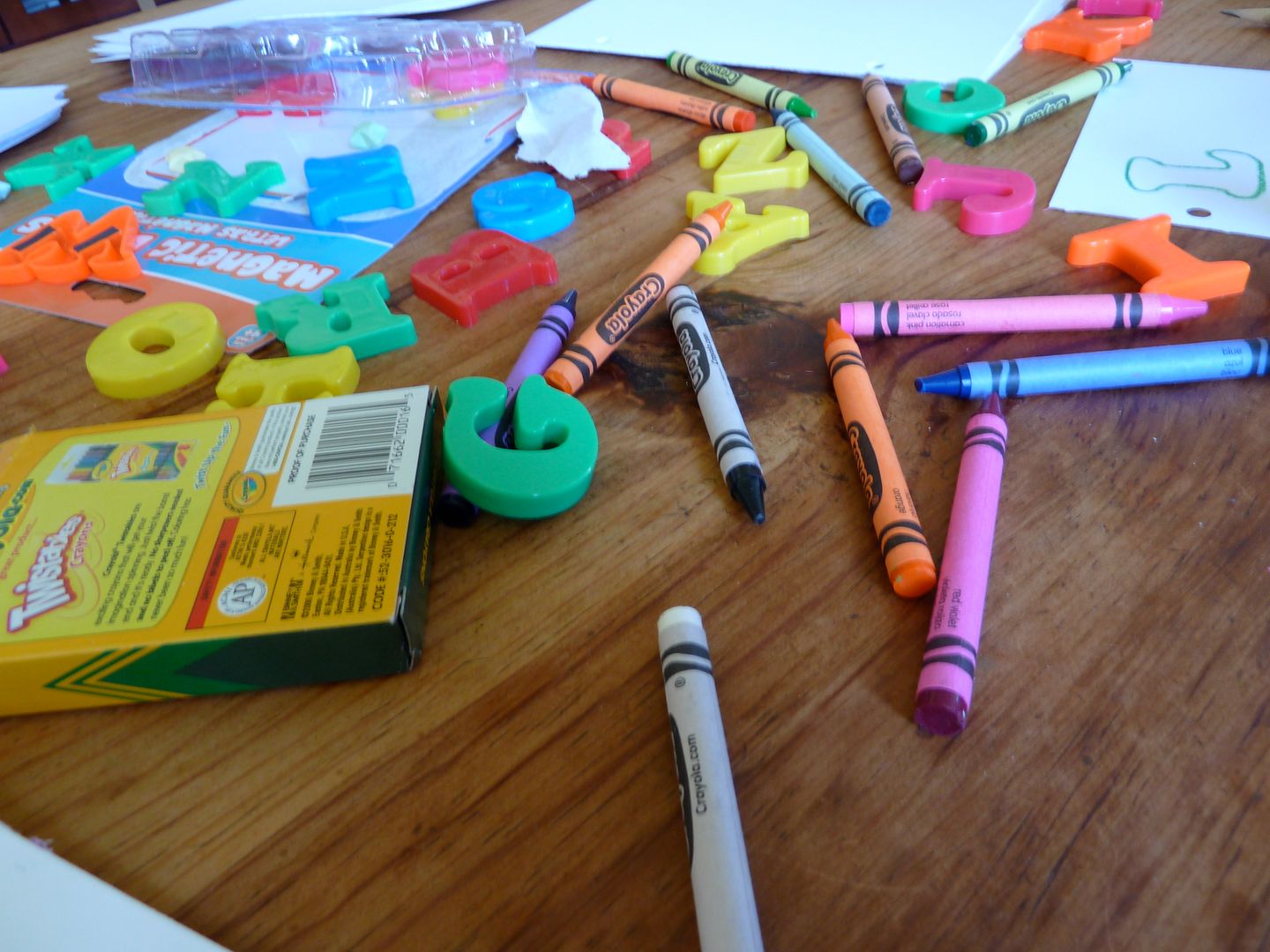 This was an activity, rather than a game. I cut out cardstock onesies and guests decorated them with crayons. On the reverse side, they wrote their name and a piece of advice for my sister. We then hung the finished onesies up on a clothesline with clothespins so everyone could see them.
The Prize Basket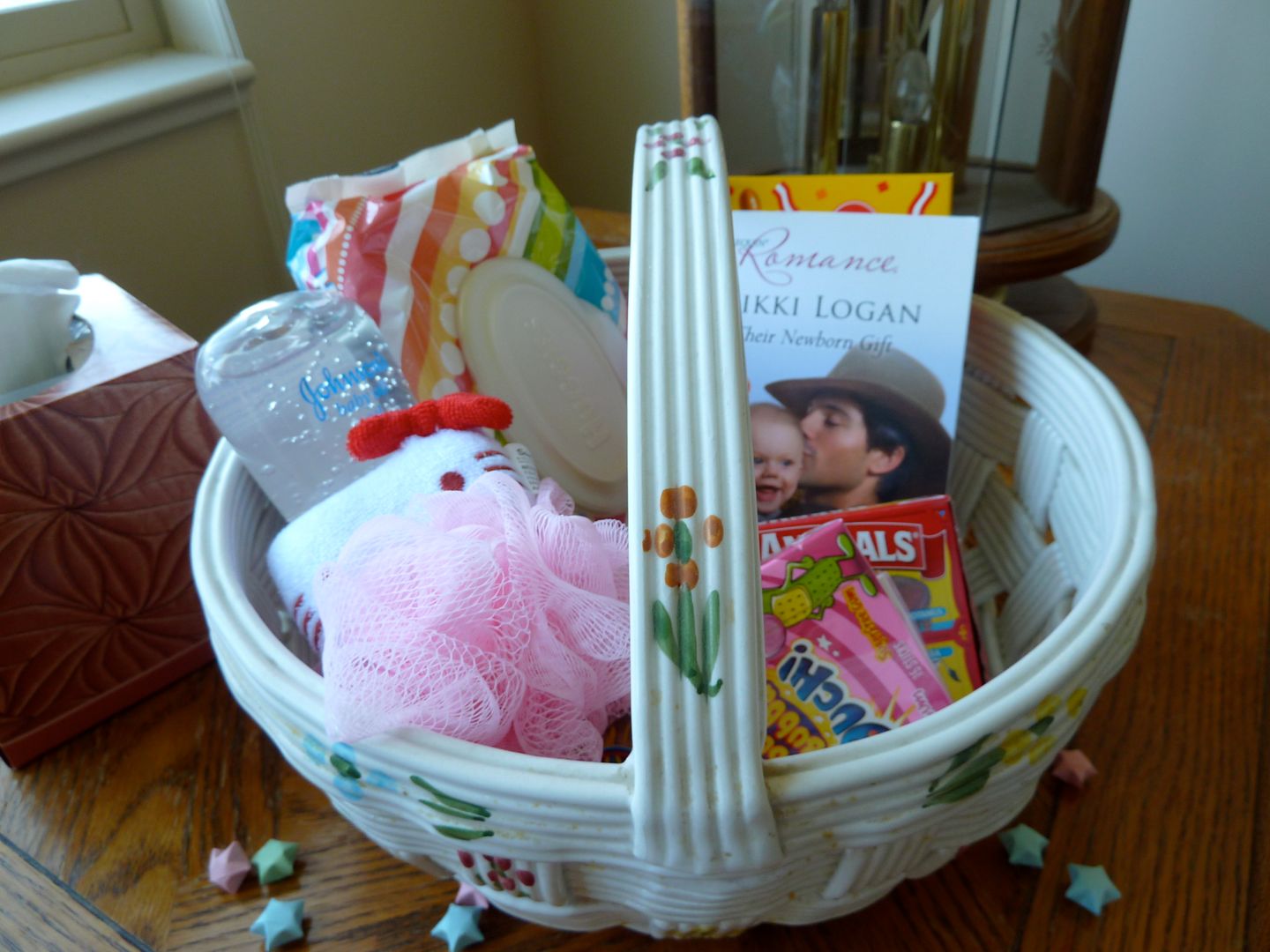 Some of the things that I had in the prize basket: baby oil lotion, baby wipes, pink gum, a romance novel with a baby on the cover, a Hello Kitty loofah, Sugar Babies candy, a box of animal crackers, and lavender post-it notes.