Today is our eight year wedding anniversary and I marked it by doing something a little bittersweet. For the last nine years I've run a blog about Disney weddings, which started when I was planning our wedding at Walt Disney World, but for the last three or four years I really haven't been able to put my heart into it. So, I spent the weekend clearing the blog out to get it ready to be deleted. I'll miss it, but I didn't want it to sit around getting stale.
The fun part about this is that I had the chance to go back and read a ton of posts from 2008 and 2009 including my ridiculously detailed recap of our wedding trip. How detailed? Well, let's just say if you wish you were at my wedding, you can read this and feel like you're there. In fact, you could probably read this and then remember the event even better than people who actually were there!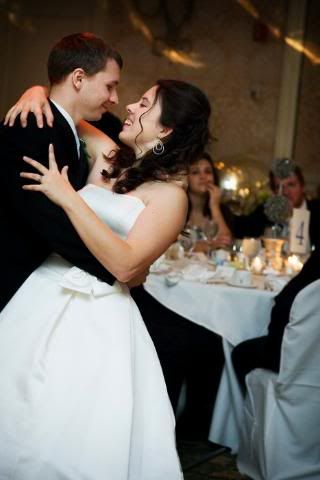 Our Wedding Trip Report
We spent a week in Walt Disney World with friends and family, with our wedding occurring mid-trip. These posts have been organized accordingly…
~Enjoying WDW with friends and family~
Day One, Part One (Delta sucks)
Day One, Part Two (Pop Century and Splash Mountain)
Day Two, Part One (My family discovers the Magic Kingdom)
Day Two, Part Two (10 adults on a flume ride)
Day Three, Part One (4 wheelchairs and 400 pins)
Day Three, Part Two (Evening in Epcot)
Day Four, Part One (On Safari)
Day Four, Part Two (Luau at the Polynesian)
~The Day Before the Wedding~
Day Five, Part One (Deathly Ill at Pop Century)
Day Five, Part Two (Rehearsal and Bridal Tea at the Grand Floridian)
Day Five, Part Three (I'm getting married tomorrow and I want my mother)
Day Five, Part Three Cont. (Fireworks from our room at the Grand Floridian)
~Our Wedding Day~
Part One (A rocky start to a lovely day)
Part Two (Getting ready to go)
Part Three (Picture time)
Part Four (Just us and the Roots)
Part Five (It's almost time…)
Part Six (It begins)
Part Seven (Walking down the aisle)
Our Ceremony
Part Eight (So this is getting married)
Part Nine (Mr. and Mrs. Kyle Morgan)
Part Ten (Bubbles and group photos)
Part Eleven (Just us and our 15 attendants)
Part Twelve (Post-wedding portraits at the Grand Floridian)
Part Thirteen (Sneak peek at the reception)
Part Fourteen (The pre-reception)
Part Fifteen (Video of our entrance and first dance)
Part Fifteen Cont. (The story of our first dance)
Part Sixteen (The incredible buffet)
Part Seventeen (Father/Daughter dance)
Part Eighteen (Reflections and Mother/Son dance)
Part Nineteen (On the dance floor)
Part Twenty (A special dance for my grandparents)
Part Twenty-one (Top ten things I learned about receptions)
Part Twenty-two (Top ten things I learned about receptions cont.)
Part Twenty-three (A magical end to an incredible party)
Just a few more pictures
Part Twenty-four (Taking the bus in my wedding gown)
Part Twenty-five (Ending the night at Raglan Road)
~After the Wedding~
Day Seven, Part One (Hollywood Studios)
Day Seven, Part Two (Friends, family, and a painted niece at Epcot)
Day Eight (Grandpa goes to the hospital and we go to Epcot)
The End
~Our Home Receptions~
Our California Reception
Our Ohio Reception
Can you believe I wrote all that about one week?